This Smoked Chili recipe is savory and full of so much flavor. It's an easy dish that can be made for any occasion and it will wow your guests with its smoky taste. This dish can be prepared well ahead of time making it perfect for entertaining on those busy days when you don't have hours to spend in the kitchen!
This Smoked Chili Recipe is amazing in so many ways. The addition of the smoky taste gives this recipe a unique flavor that makes it ideal for any party or family gathering. This dish also has a subtle heat from ground chili powder which gives it some kick without overwhelming anyone who isn't looking for something too hot!
Jump to: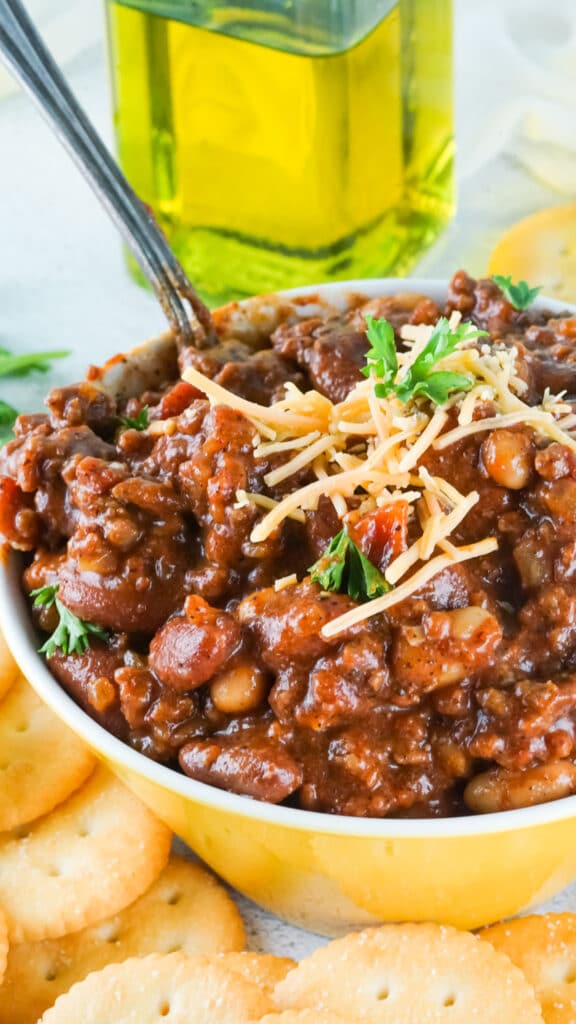 ❤️ Why You'll Love This Recipe
Different chili version – If you're tired of the same chili recipe, give this Traeger Chili Recipe a try!
Change out the toppings – You can place whatever type of toppings you want on this chili. It's versatile, which means your whole family will love it.
Dutch oven – You can add this recipe to the list of foods you can make in that dutch oven of yours!
Perfect for a cold day – This chili has a delicious flavor profile and makes for a great comfort food on a chilly winter day.
🛒Ingredients
The following are affiliate links. We are a participant in the Amazon Services LLC Associates Program, an affiliate advertising program designed to provide a means for us to earn fees by linking to Amazon.com and affiliated sites.
Ground beef, browned and drained
Tomato Sauce
Tomato Paste
Petite Diced Tomatoes – undrained
Northern Beans- undrained
Red Kidney Beans – undrained
Chili Powder
Butter
Coarse Black Pepper
Diced Dried Onion
Granulated Garlic
Coarse Salt
Beef Broth or beef stock (optional)
See the recipe card below for quantities.
🔪 How to Make Smoked Chili
Preheat your smoker to 250 degrees.
Place all the ingredients in a dutch oven and stir well.
Cook for about 3 hours, stirring every hour. If it's too thick to your liking, you can add a bit of the beef broth until the desired consistency is reached.
Taste about an hour in and add more seasonings as desired.
Serve and enjoy!
Hint: If you don't have a dutch oven, you can use a foil pan that is at least 9×13 to smoke this chili in.
📝Variations
Do you want to change up this recipe and make it your own? Here are some ways that you can do that!
Keep it simple or crank up the heat – Some people LOVE their chili super spicy and some people like it normal. This chili is interchangeable, which means you can cook it how you like it!
Change up the meat – Another variation that you can try is adding different types of meat to the chili. You can add ground beef, pork, or turkey to the recipe. If you're looking for something a little bit different, you can also add sausage to the chili.
Leave the meat out – Chili is one of those meals that if you leave the meat out, it's not going to be that big of a deal! If you've never had meatless chili, now is your chance to try it.
See this Instant Pot White Chicken Chili for even more chili inspiration. It's equally delicious!
🥄 Equipment
🥫 Storage
Chili can be stored in the fridge for up to 3 days.
If you want to freeze it, let it cool completely before transferring it to a freezer-safe container. It will keep in the freezer for up to 2 months or more.
💭 Tips
Want to add a bit of spice to your chili? Add in some crushed red peppers or freshly chopped jalapenos.
Alternatively, I like to sometimes swap out half of the tomato sauce for a can of El Pato. It's a Mexican style tomato sauce that adds the perfect flavor and spice. Found at most grocery stores.
If you decide to drain and rinse your beans, you will need to add a bit of beef broth to this chili so that it has some liquid in it.
Do not cover the chili while it is the smoker, you need the chili to get the smoky flavor, so it needs to remain uncovered.
Want to skip the smoker, but still get that smoky flavor? Add in a tablespoon of liquid smoke and cook this on the stove, or in the oven, instead.
I used hickory pellets for this recipe, but just about any wood option will do. Make note that fruit woods are lighter in flavor.
A dash or two of cayenne pepper or crushed red pepper flakes would give a tasty spice to this recipe.
If you are using lean ground beef, you may want to add a little olive oil to the dutch oven when you are browning it.
Diced bell peppers are delicious when added to this chili, I like to use a green bell pepper but you can use whichever color your family prefers.
Garlic powder can be used in place of granulated garlic, either one will give a great flavor to this delicious recipe.
Top with diced yellow onions, cheddar cheese, or a dollop of sour cream for a hearty bowl of chili.
A splash of worcestershire sauce will add a rich flavor to this delicious recipe.
Instead of ground beef you can use leftover brisket for a great smoke taste to this chili.
⁉️ FAQ
Do you have questions about this recipe? Here are the answers to the most commonly asked questions.
What happens if you smoke chili in a dutch oven?

When you smoke chili in a dutch oven, the smoky flavor will be infused into the dish, making it extra delicious. The dutch oven will also help to keep the chili warm for hours, so it's perfect for parties or gatherings.
What goes good on smoked chili?

Some good toppings for smoked chili are shredded cheese, diced onions, and sour cream. You could also try adding avocado, jalapeno peppers, or green onions.
Is this chili spicy?
There is some heat from the chili powder in this recipe, however it is not overly spicy. You can add more heat by adding in peppers if you prefer.
🍽 More Chili Recipes
Do you enjoy chili? Try these delicious recipes:
🧾Smoked Chili Recipe
Want to make this delicious recipe? Print the recipe card below, or toggle on Cook Mode to prevent your screen from going dark. Not ready to cook this recipe yet? Pin this recipe so you can find it later.
Want to pin this recipe from your cell phone? Turn your phone horizontally and a red Pin and blue Facebook button will appear on the left-hand side of the screen. How easy is that?
Smoked Chili
There's something about smoked chili that just makes everything better. It's smoky, spicy, and hearty, and it always seems to hit the spot.
Print
Pin
Rate
Servings:
8
One Cup Servings
Ingredients
3

pounds

Ground beef

browned and drained

16

ounces

Tomato Sauce

6

ounces

Tomato Paste

6 ounces

14.5

ounces

Petite Diced Tomatoes

undrained

15.5

ounces

Northern Beans

undrained

15.5

ounces

Red Kidney Beans

undrained

¼

cup

Chili Powder

3

tablespoons

Butter

2

tablespoons

Coarse Black Pepper

2

tablespoons

Diced Dried Onion

2

tablespoons

Granulated Garlic

1

tablespoon

Coarse Salt

1

cup

Beef Broth

optional
Instructions
Preheat your smoker to 250 degrees.

Place all the ingredients in a dutch oven and stir well.

Cook for about 3 hours, stirring every hour. If it's too thick to your liking, you can add a bit of the beef broth until the desired consistency is reached.

Taste about an hour in and add more seasonings as desired.

Serve and enjoy!
Nutrition
Serving:
1
Serving
|
Calories:
689
kcal
|
Carbohydrates:
42
g
|
Protein:
43
g
|
Fat:
40
g
|
Saturated Fat:
16
g
|
Polyunsaturated Fat:
2
g
|
Monounsaturated Fat:
16
g
|
Trans Fat:
2
g
|
Cholesterol:
132
mg
|
Sodium:
1793
mg
|
Potassium:
1675
mg
|
Fiber:
14
g
|
Sugar:
8
g
|
Vitamin A:
3013
IU
|
Vitamin C:
16
mg
|
Calcium:
155
mg
|
Iron:
10
mg