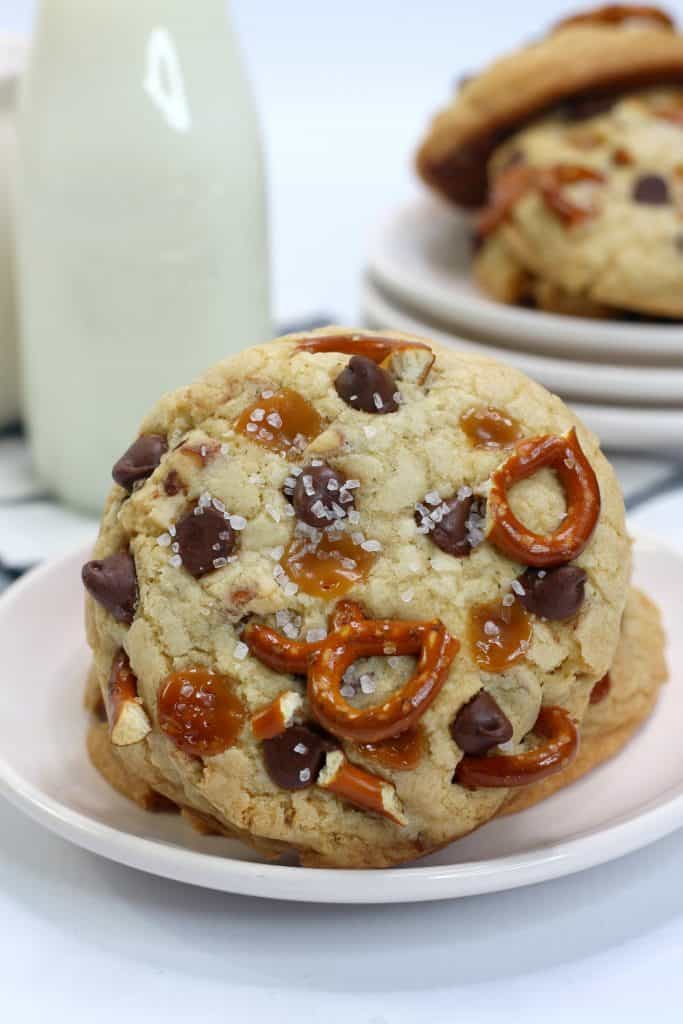 Have you ever sat there and had a craving? A sweet and salty craving? That is the exact craving I got when I made these cookies. Sweet and Salty Kitchen Sink Cookies are delicious in so many ways. When you take that first bite, you get a little bit of salty and a little bit of sweet. You won't believe your own taste buds when you make these cookies for the family. They're the perfect dessert.
Sweet and Salty Kitchen Sink Cookies
Think about the last time you had your favorite dessert. You took a bite and you were so excited. The dessert was delicious and you savored it. This is what will happen with these cookies. The sweetness and saltiness of the cookies will get you super excited. You'll love the taste and everything about it! Shall we get started on making them? YES!
The sweetness of this cookie comes from the chocolate chunks. The saltiness of this cookie comes from the salt put on top of the cookie. When you take a bite, none of the flavors are overpowering, they all work together to make a delicious cookie!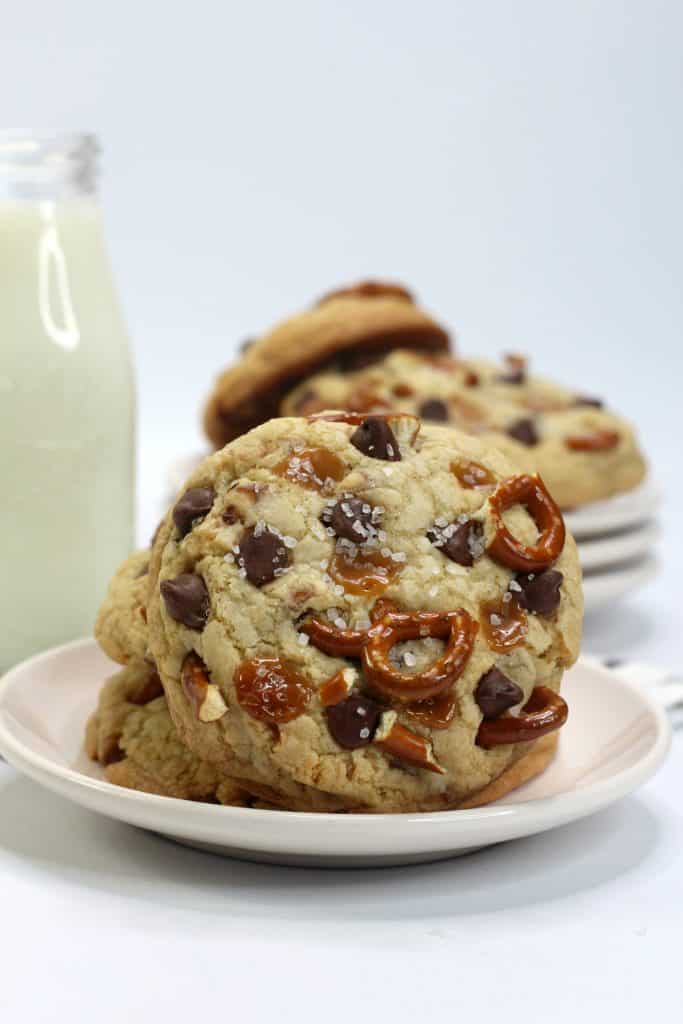 What is a Kitchen Sink Cookie?
You are probably staring at this recipe wondering what in the world a kitchen sink cookie is. Well, that's easy! This type of cookie is filled with all types of ingredients. We're talking caramel, pretzels, chunks of chocolate, and you'll finish it off with that flaky salt on top. This Kitchen Sink Cookie is the perfect ending to any day.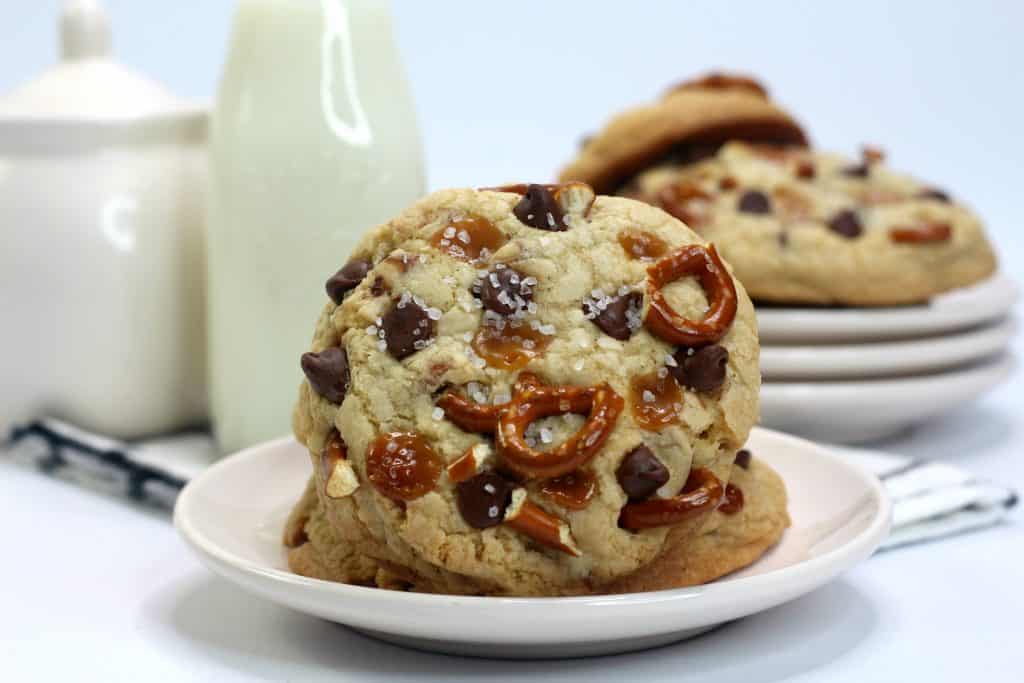 Why are they called Kitchen Sink Cookies?
Kitchen sink cookies are a weird name for cookies, however, they make perfect sense when you think about it. These cookies have everything but the kitchen sink in them, which makes them the ideal kitchen sink cookies. Sometimes it's fun to have a little fun with the titles of the food that we eat!
Why is a cookie called a cookie?
The history of the cookie is quite interesting. You may be wondering why a cookie is called a cookie. Well, that is simple! In the 7th century, Persia cookies started to appear, which eventually led to these cookies. In the 14th century, they showed up in Spain and then eventually it was introduced to the rest of the world. And here we are, baking cookies in our very kitchen, not really thinking of the long journey that these cookies took. Some of the first names of cookies were called a jumbal or a macaroon. Of course, the names were dependent upon where they were in the world.
These Sweet and Salty Kitchen Sink Cookies are perfect for making right at home or taking with you to a potluck. You can freeze these cookies and save them for a rainy day when you are really wanting something to savor and enjoy! I bet your friends would even love this if you gave this to them as a gift, they are that delicious!
Other Cookies to Enjoy
LIKE OUR FACEBOOK PAGE SO YOU NEVER MISS A RECIPE!
Ingredients
1

cup

unsalted butter

browned

1 ½

teaspoon

vanilla extract

1 ½

cups

brown sugar

½

cup

granulated sugar

2

large eggs

room temperature

2 ½

cups

all purpose flour

2 ½

teaspoon

baking powder

½

teaspoon

sea salt

plus more for sprinkling

¾

cup

broken pretzel pieces

plus more for sprinkling

1 ½

cup

caramel bits

plus more for sprinkling

¾

cup

semi sweet chocolate chips

plus more for sprinkling
Instructions
Line a large cookie sheet with parchment paper or silicone baking mat

Preheat oven to 350F degrees

To brown the butter: In a saucepan, melt butter over medium heat, whisking as it melts, foams, bubbles, and eventually little brown bits form and it turns amber

Immediately pour into a large heatproof bowl and use a spatula to scrape all the little brown bits into the bowl

Using a stand or hand mixer, beat the vanilla and sugars into the butter for a couple minutes, until it lightens a bit

Beat in eggs for about 30 seconds

Add the baking powder, 1/2 tsp. salt, and about a third of the flour.

Mix slowly, add another third of flour, mix, and add the last of the flour until just combined

Stir in the pretzels, caramel bits, and chocolate chips until evenly distributed

Scoop out very large balls of dough and place on the prepared baking sheet, leaving plenty of space in between

Add more broken pretzel pieces, caramel bits, and chocolate chips to the tops of the dough balls to preference

Bake 13 minutes until golden around the edges

Remove and allow to cool on the sheet for 5 minutes

Then, transfer cookies to a wire rack to cool completely
Nutrition
Serving:
1
cookie
|
Calories:
577
kcal
|
Carbohydrates:
88
g
|
Protein:
6
g
|
Fat:
23
g
|
Saturated Fat:
13
g
|
Cholesterol:
71
mg
|
Sodium:
343
mg
|
Potassium:
213
mg
|
Fiber:
2
g
|
Sugar:
59
g
|
Vitamin A:
530
IU
|
Vitamin C:
1
mg
|
Calcium:
133
mg
|
Iron:
3
mg