Have you ever been to Disneyworld and tried their Mickey Mouse Churros? They are the perfect blend of sweet and crunch and make your taste buds sing.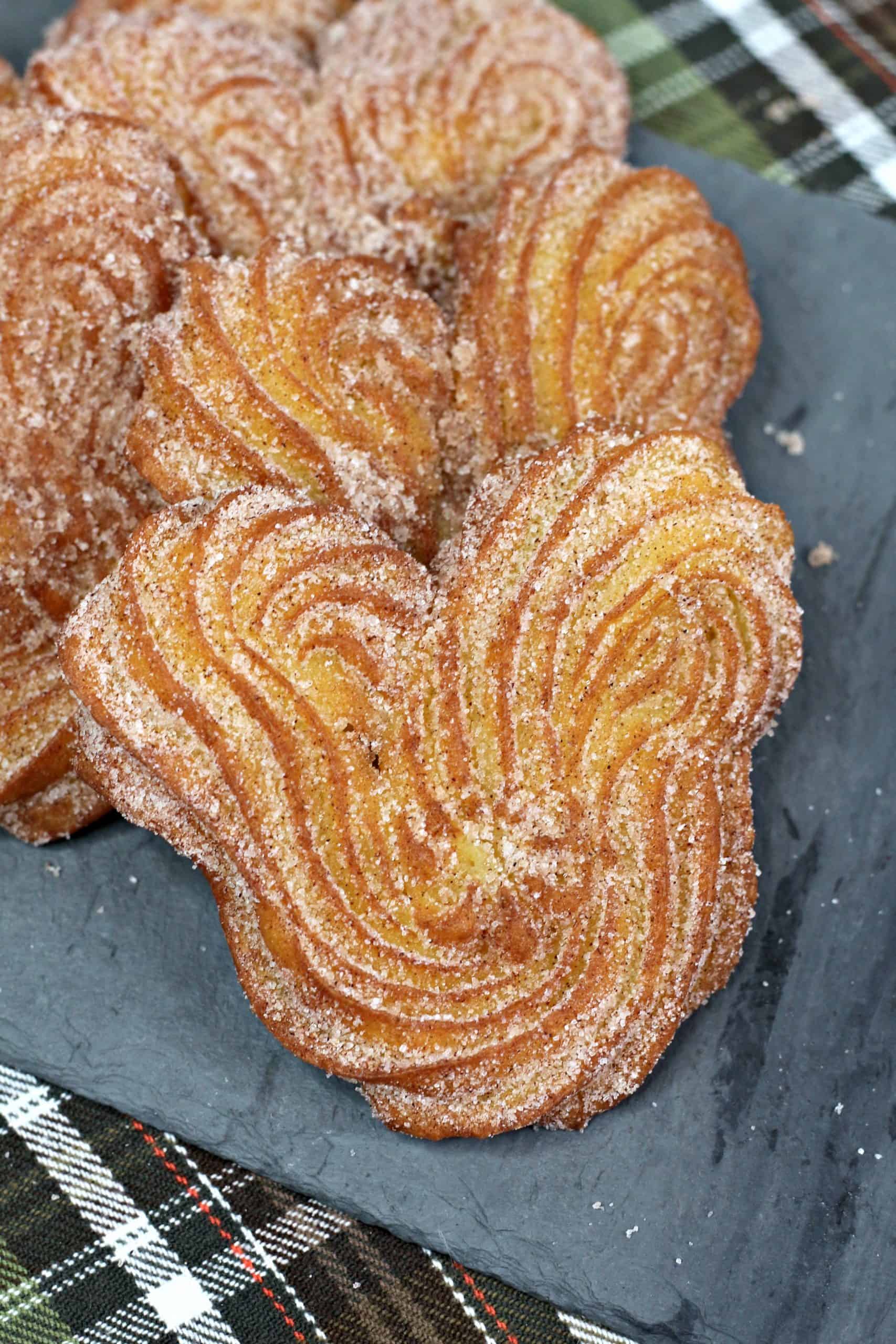 I decided to make my own churros at home to get that delicious taste without leaving the comfort of my home. I don't know about you, but I like to keep the food in our household adventurous so that we spend less money eating out.
What is a MIckey Mouse Churro?
A churro is a fried dough pastry that is usually rolled in cinnamon sugar. Churros are crunchy and lightly sweet. For these Mickey Mouse Churros I took my basic churro recipe and I used a Mickey Mouse shaped cookie cutter to turn them into a Mickey shaped churros.
Churros are a delicious treat that originated in Spain and Portugal. But, there is nothing better than taking an already delicious dessert and making it into a fun shape like this. It's been proven that food always tastes better when it looks good! I know that my 10 year old always seems to eat her food better especially when it's a new food when it's in a fun shape.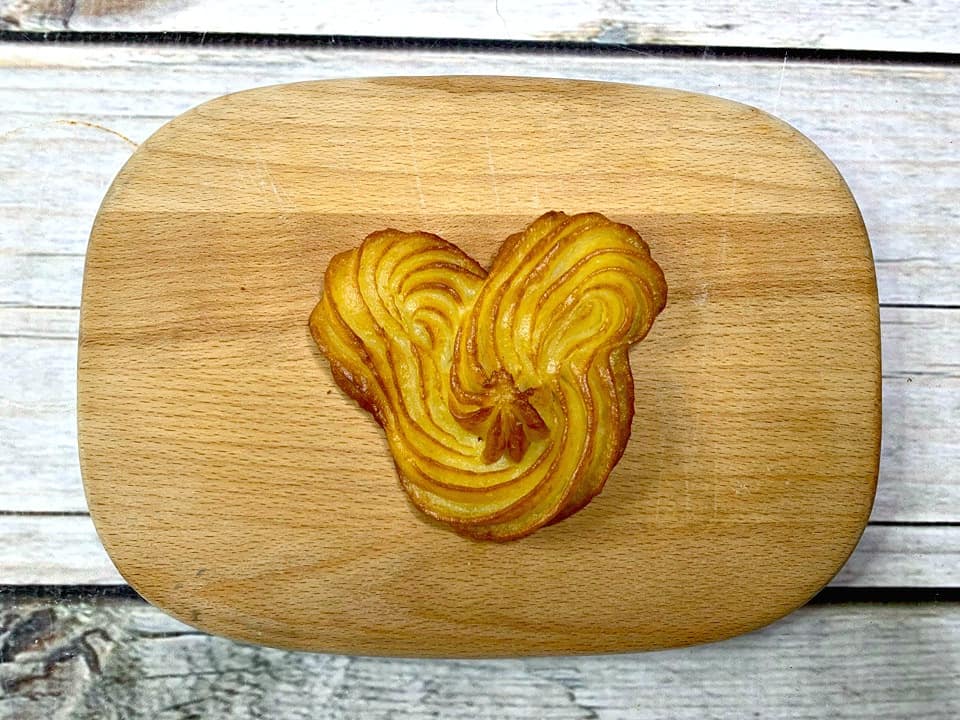 Can I use a different oil for frying these?
Yes, you can use any kind of oil to fry these Mickey Mouse Churros in. I've found that my family prefers the taste of canola oil which is why I used it for frying. I don't recommend frying this in olive oil as it will change the taste of them quite a bit. Frying them in coconut oil may add a slight hint of coconut flavor to them which I think would be delicious! Vegetable oil would work just fine as well. Be mindful of nut allergies if you are planning to use peanut oil.
Tips for making Mickey Mouse Churros
Using Kosher salt gives the churros a little less of a salty taste. Kosher salt has less salt flavor than table salt does.
I used a Mickey Mouse shaped cookie cutter to trace my Mickey Mouse Churros on the parchment lined baking sheet. If you are artistic you can most likely free hand your shape. I'm just not that talented!
Be sure to freeze your dough. If you do not freeze your dough it will not hold its shape when you are frying your churros. This is a very important step so be sure to not shortcut the step.
Related Recipes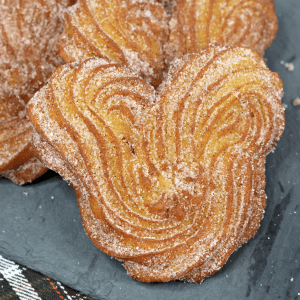 Equipment
1 large piping bag with star tip

1 cookie sheet fitted with parchment paper

6 mickey heads traced onto parchment paper
Ingredients
1

tablespoon

ground cinnamon

1/2

C

sugar plus 1 tablespoon sugar

½

C

whole milk

6

tablespoon

unsalted butter

1

teaspoon

kosher salt

1

C

flour

3

large eggs

Canola oil for frying
Instructions
In a medium bowl, whisk together the cinnamon and 1/2 C of sugar, set aside

Using a medium pot over medium to high heat, bring the butter, salt, 1 tablespoon sugar, and ½ C of water to a simmer

Using a rubber spatula, whisk in the flour until its combined and a ball of dough

Remove the dough and place into a standing mixer

Allow to cool for 10 minutes

Once cooled, using a paddle attachment, beat in 1 egg at a time until combined

Scoop the dough into the piping bag

Using the cookie sheet with the traced mickey heads, pipe the detail of mickeys head

Place cookie sheet into the freezer for 30 minutes

About 10 minutes before removing tray from freezer, heat up canola oil

in a large deep skillet or pot or deep fryer if you have one

Remove tray from freezer and carefully remove 1 of the mickey shaped churros

Drop the churro into the hot oil

Once it starts to brown on the bottom carefully flip it using a fork

Once the entire churro has browned, remove from oil and place onto a paper towel

Dab oil off the churro and place into the cinnamon sugar mixture and toss to coat the churro

Repeat steps with remaining churros

Enjoy!
Notes
You could also fry in vegetable oil.  Whichever oil you prefer best. 
Nutrition
Serving:
1
Churro
|
Calories:
289
kcal
|
Carbohydrates:
35
g
|
Protein:
6
g
|
Fat:
14
g
|
Saturated Fat:
8
g
|
Cholesterol:
114
mg
|
Sodium:
430
mg
|
Potassium:
79
mg
|
Fiber:
1
g
|
Sugar:
18
g
|
Vitamin A:
507
IU
|
Calcium:
55
mg
|
Iron:
1
mg