This Instant Pot Guinness Bundt Cake is sinfully delicious.
My Instant Pot Guinness Bundt Cake is rich, moist, and chocolate cake, topped with a creamy Guinness glaze. No need to wait for St. Patrick's Day you can enjoy this rich cake any day of the week!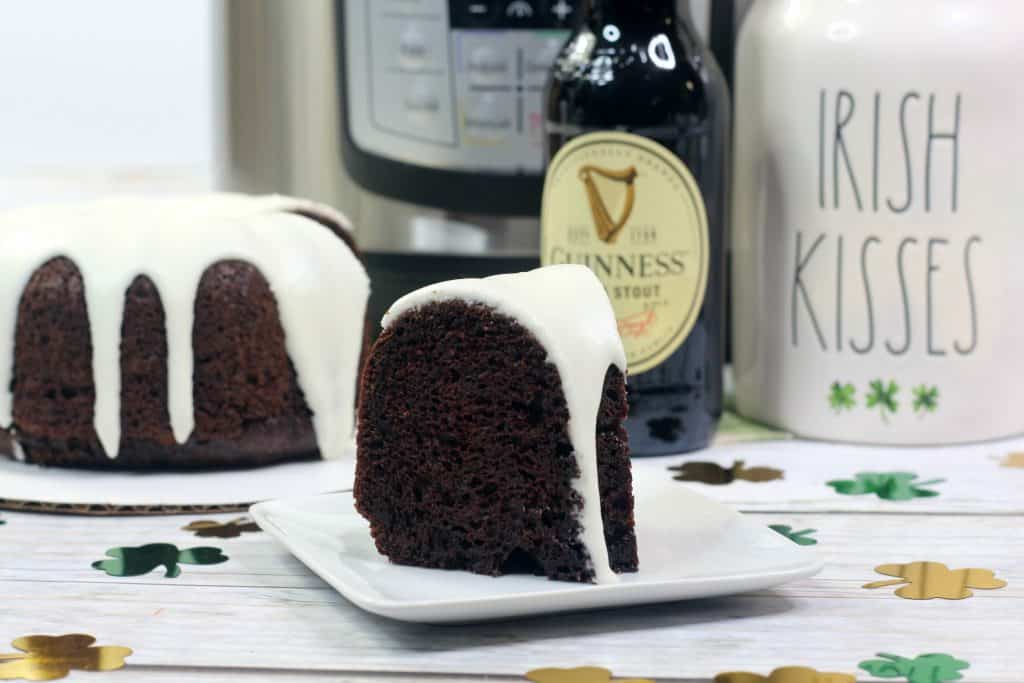 I love instant pot recipes because they take some of the stress out of cooking.  I don't know about you, but when I"m backing a cake I'm always concerned with if the cake is going to fall in the oven.  With the pressure cooker that takes some of the guesswork out of baking for me. My instant pot cakes seem to always come out perfectly every time. 
Guinness is one of the most popular Irish beers.  No doubt that with St. Patrick's Day on the horizon you will find Guinness specials at all your local bars and watering holes. I'm not really into the bar scene so I thought "hey why not put it in a cake?". 
The cake base for this recipe is simple to make, it requires nothing fancy to help you keep your costs budget friendly.   The sour cream that I added to this cake base helps to keep the cake moist and rich. It may seem like an odd ingredient but trust me it really helps this cake with it's moisture. 
I use a 6 inch bundt pan to make this instant pot recipe. Make sure that you use Pam Baking Spray as it helps to prevent the cake from sticking to the bundt pan. I used my stand mixer to mix my cake batter because it's easier in my opinion.  However, you are welcome to use a hand mixer to get the same results if you don't feel like lugging out your heavy stand mixer.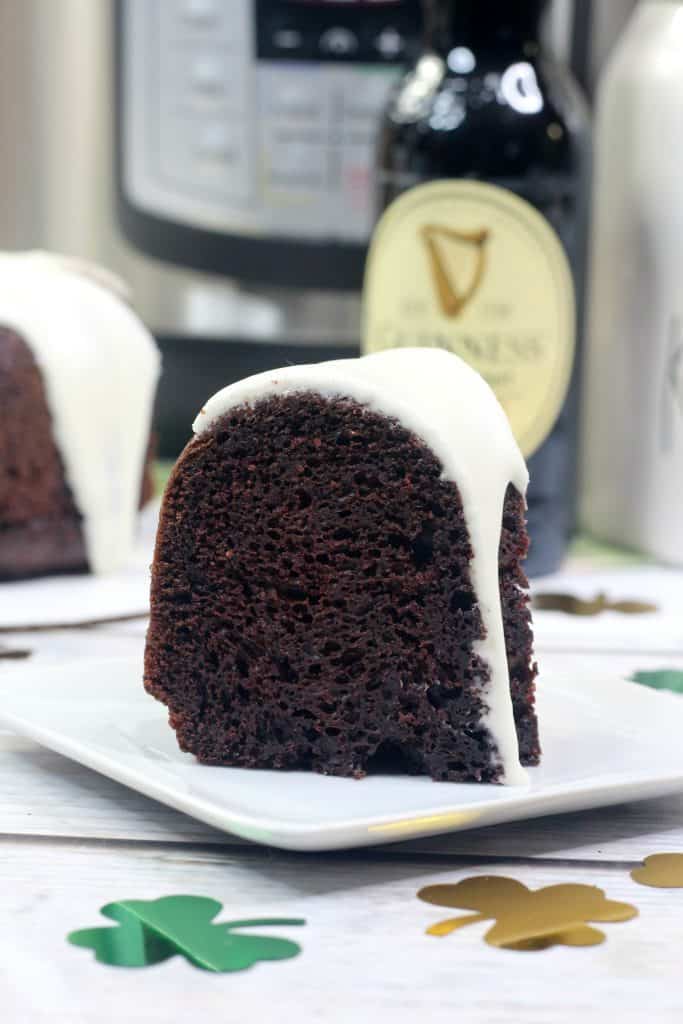 You will want to cream your softened butter, cocoa powder, sugar, egg, and pure vanilla extract until the mixture is smooth.  You will want your mixture to not have lumps when you are finished mixing it. After your mixture is smooth you will want to beat in your sour cream, baking soda and salt until combined. 
I strongly recommend that you add in your flour and beer in small portions.  You don't want your flour flying all over the place when you are adding it in, so be sure to go slowly. I recommend ¼ cup at a time. After you add all our flour and Guinness into your mixture you will want to place it into your prepared bundt pan.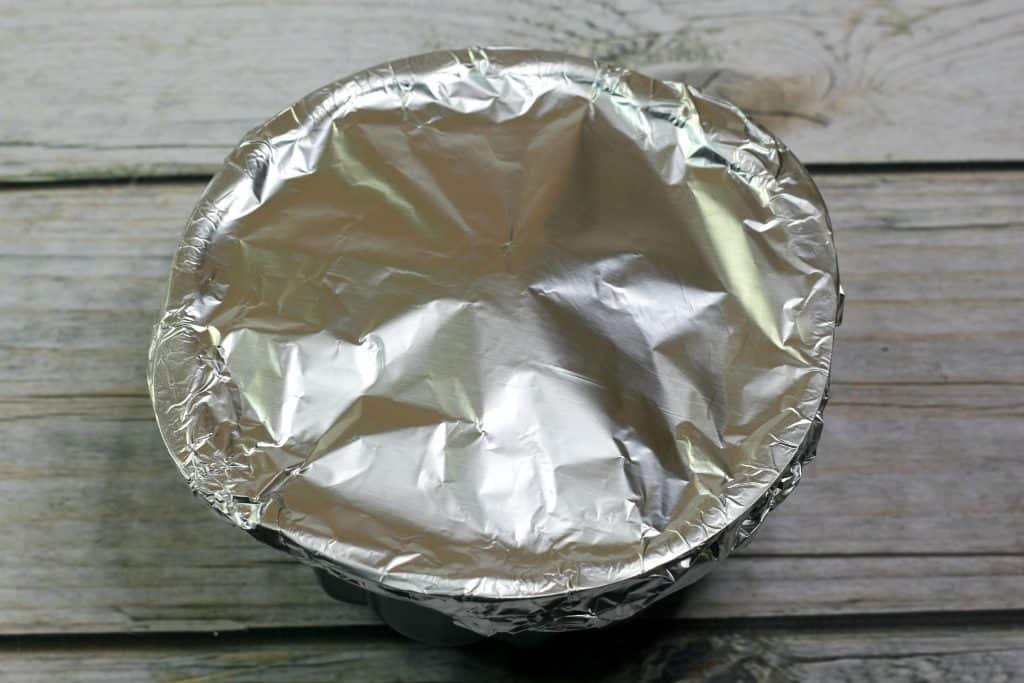 Before you add your cake into your Instant Pot you will want to add in some water for a water bath.  One of the best things about baking in your pressure cooker is that it requires you to include water.  And, that helps keep moisture in your baked goods.  Cover your pain with foil before you place it in the Instant Pot. 
Make sure when you place your cake into your pressure cooker that you place it onto a trivet.  You do not want to place your bundt pan directly into your water bath. You want to keep your pan on top of the trivet.  
You also want to cook your cake on the manual high pressure setting for 35 minutes.Make sure that your Instant Pot is set to sealing before you walk away from your pressure cooker.   After your timer goes off you will need to vent to release and wait until all the pressure and steam has been released from your pressure cooker.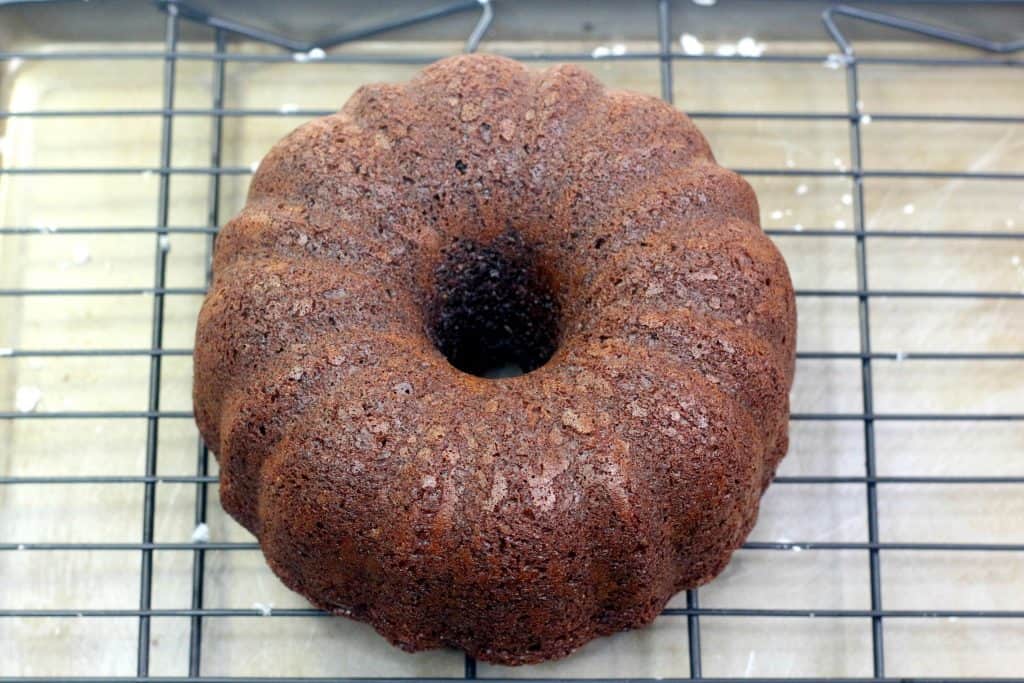 Once all the pressure has been removed from your pot, you will then take off the lid from your pressure cooker and remove your bundt cake.  Place your bundt cake on a wire cooling rack and allow your cake to completely cool. 
Once your cake has completely cooled, you will need to place your wire cooling rack on top of a baking sheet.  Then you will need to whisk your Guinness glaze to drizzle over the top of your bundt cake.  
Making a glaze to top your favorite desserts is simple.  All you need is milk, confectioners sugar, and the flavoring of your choice.  For this cake we are using Guinness as our flavoring of choice. Whisk all your ingredients together and voila you have an amazing and delicious glaze for the top of your cake. Drizzle the glaze of the entire top of your bundt cake, and then allow it to sit and harden.  Once it has hardened you are ready to serve and enjoy. 
This Instant Pot Guinness Bundt cake is so delectable that your family and friends will be requesting that you make it over and over for them.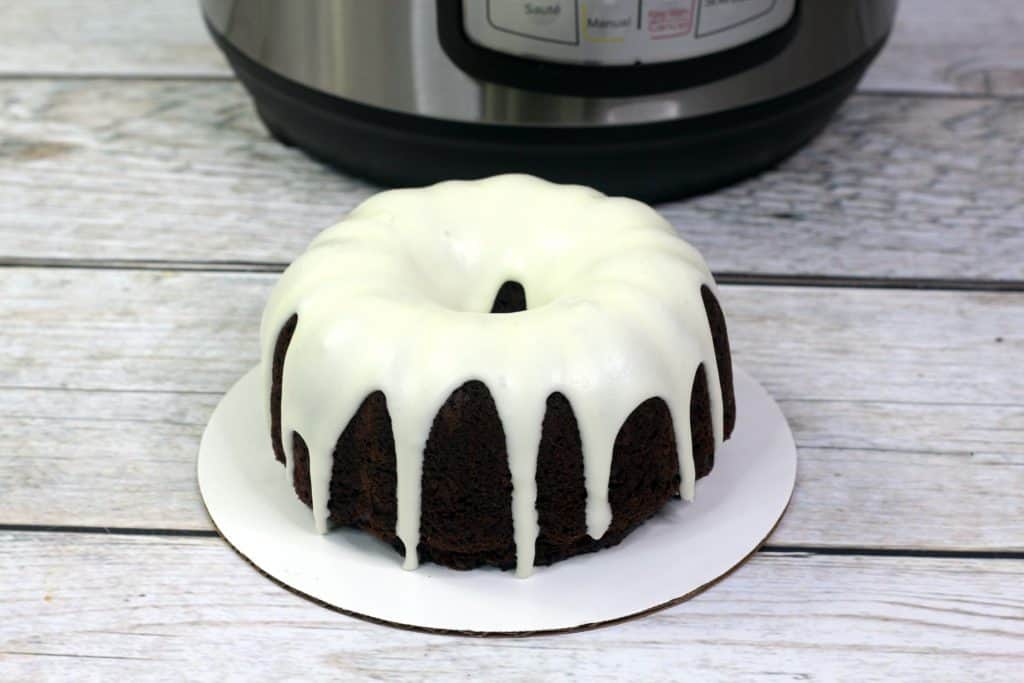 I personally would not serve this dessert to children because the beer in the glaze has not had the alcohol cooked out of the cake. Instead I would serve my children one of my other fun desserts such as these Lucky Unicorn Cupcakes.  Or even these Shamrock Cupcakes. This Guinness Bundt Cake is perfect for the adults and you will get rave reviews from everyone that tries the delicious cake.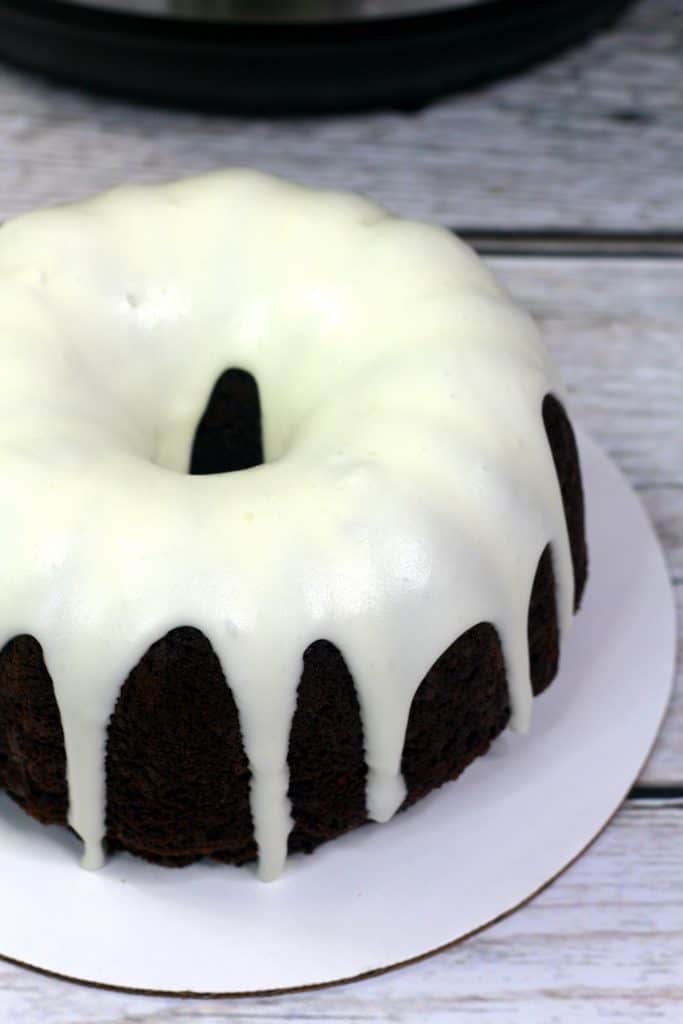 I would love for you to leave me a comment below if you try this recipe and let me know what you think about my Instant Pot Guinness Bundt Cake.  Also, be sure to let me know what your favorite instant pot dessert recipe is in general. I love to try new desserts! 
Equipment
Instant Pot or Pressure Cooker
Ingredients
Cake Ingredients
1½

cup

unsalted butter, softened

6

tablespoon

cocoa powder

1

cup

granulated sugar

1

large egg

½

teaspoon

pure vanilla extract

2

tablespoon

plus 2 teaspoon sour cream

1

cup

all purpose flour

1

teaspoon

baking soda

½

teaspoon

salt

½

cup

Guinness Beer
Glaze Ingredients
1¼

cup

powdered sugar

2

tablespoon

Guinness beer

2

teaspoon

whole milk
Instructions
Cake Directions
Grease a 6 inch round bundt pan with pam baking spray and set aside

Using a standing mixer, cream together the butter, cocoa powder,sugar, egg and vanilla until combined and smooth

Beat in the sour cream, baking soda and salt until combined

Mix in ½ C flour followed by ¼ C of beer and mix until combined

Repeat until flour and beer is fully mixed in

Pour batter into the bundt pan and cover with foil

Pour 1 C of water into the pot

Place the bundt pan onto a trivet

Press the manual high pressure button and set the timer for 35 minutes

Once timer goes off, vent the steam

Once pressure is gone, remove the lid

Place the bundt pan onto a wire rack and allow to cool completely

Once cooled, remove cake from bundt pan and place onto a wire rack over cookie sheet
Guinness Glaze Directions
Using a medium mixing bowl, whisk all ingredients together until combined

Pour the glaze over the bundt cake and allow to set