Are you in the middle of cold weather and ready for something delicious? Instant Pot Chicken Gnocchi Soup is just what you need. It's a soup that's perfect for a cold day. Although, you can make it any time of the year. It's a creamy and savory soup that the whole family will enjoy. We love Instant Pot recipes around here and I'm sure you will too!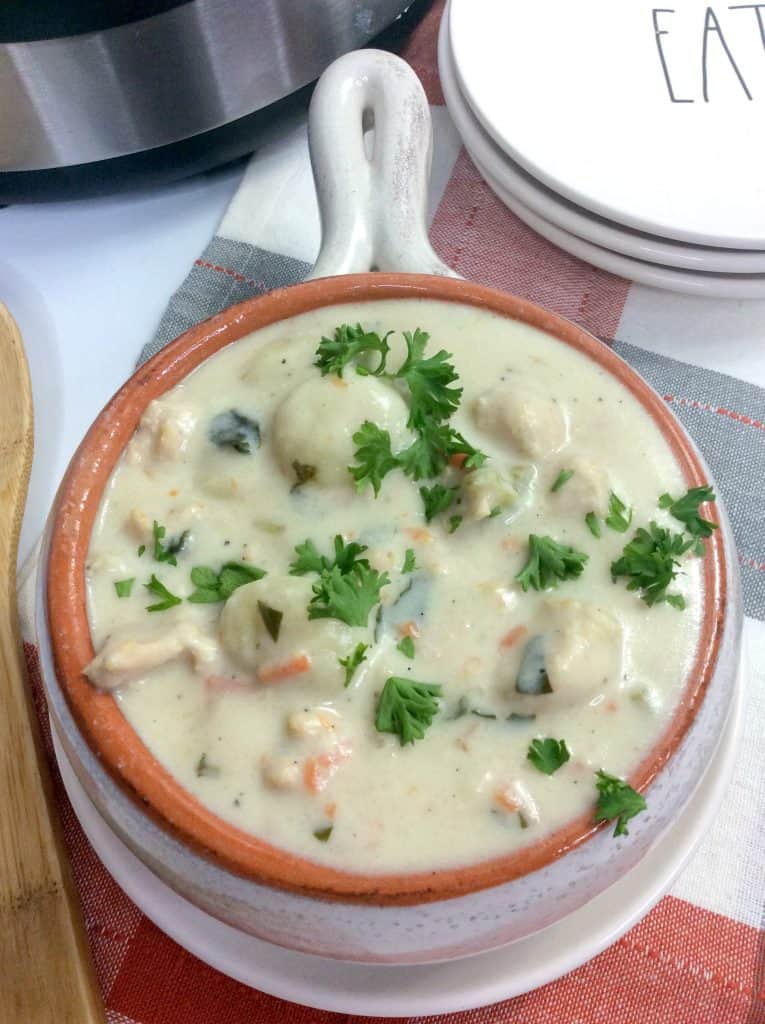 Gnocchi soup has always been one of those meals that makes me really happy. When you bite into it, it's just so comforting. The dumplings have always been my favorite. Some would describe this meal as being super hearty and I would have to agree with them. After you have a bowl or two of this soup, you are full and happy and that's all that matters.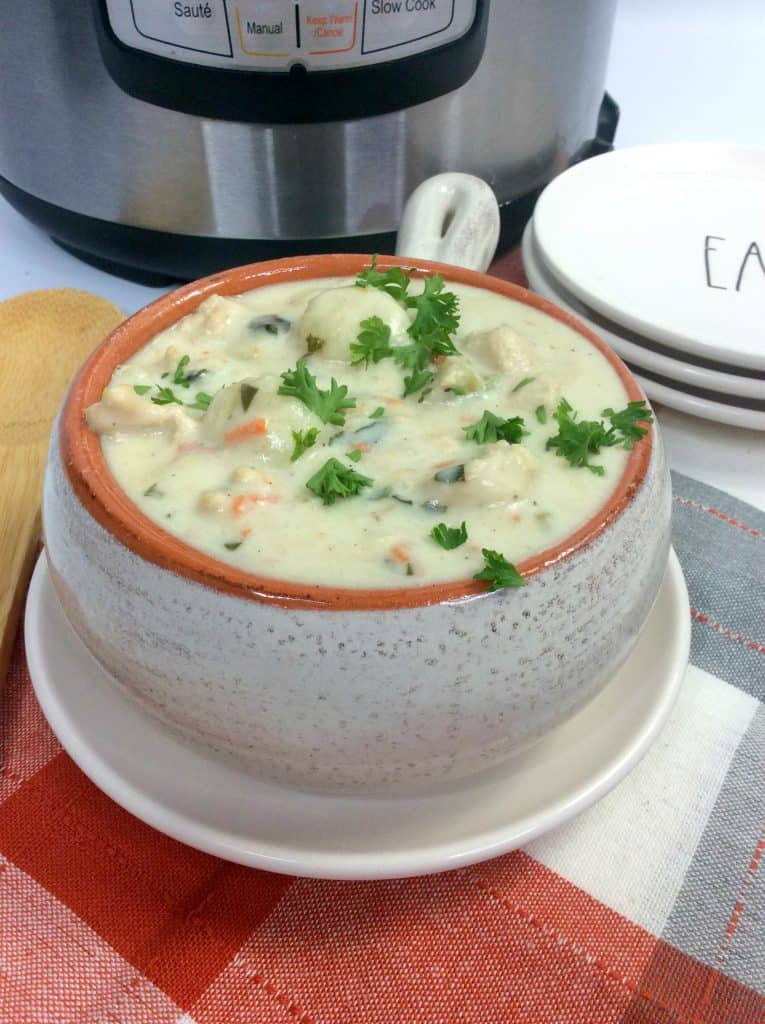 Instant Pot Chicken Gnocchi Soup
One thing that keeps me using the Instant Pot is the fact that it's so easy. It's not that I don't like using the slow cooker or the stovetop, but the Instant Pot just seems to make everything so much easier. My first time experiencing this soup was at Olive Garden, just like most people. I think they are well-known for their Gnocchi Soup. The only issue is that I don't have a personal chef to make this soup for me. As a busy mama, I have to utilize tools like the Instant Pot to help get me through making lunches and dinner.
I am not complaining though because the Chicken Gnocchi Soup in the Instant Pot is my favorite version. I am pretty sure this is my go-to soup in almost every situation. When someone is sick, when someone just had a baby or when I need to bring a meal for a potluck, Chicken Gnocchi Soup wins every single time. When it comes to Instant Pot recipes, this soup recipe is the King!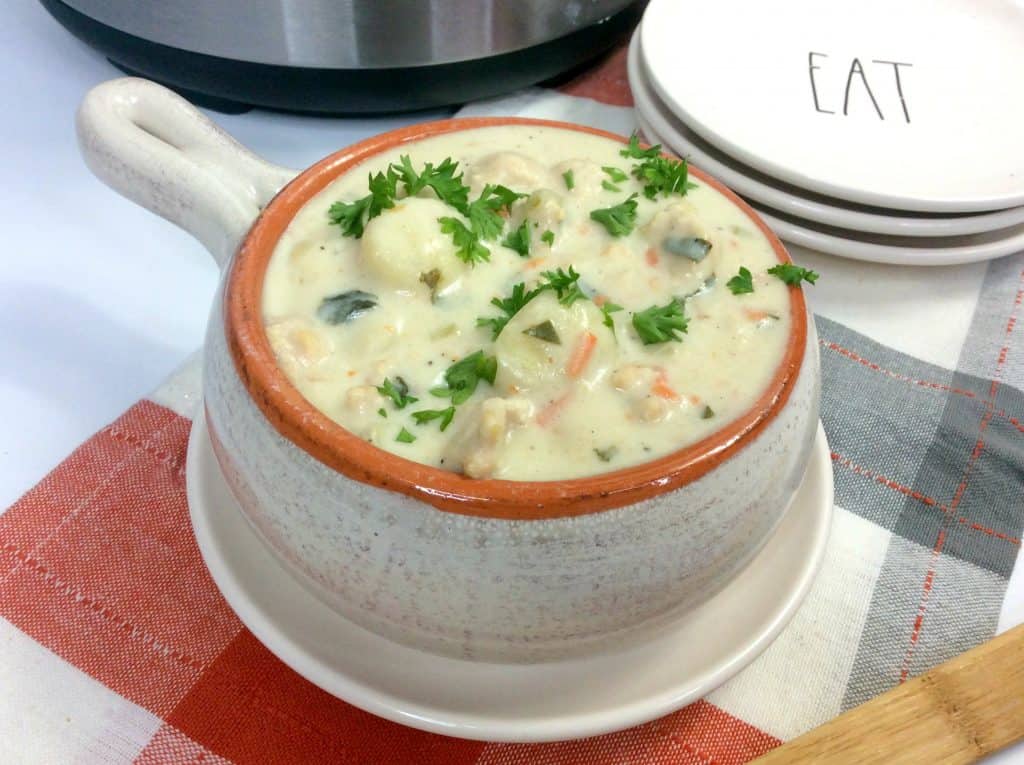 How to Make Instant Pot Chicken Gnocchi Soup
The moment you have been waiting for is here. I'm going to teach you how to use your Instant Pot to make the most delicious soup recipe out there. If you enjoy gnocchi soup, you know firsthand that it's hard to find a soup that even comes to a close second. The flavors of Chicken Gnocchi Soup are just amazing. Let's get started on cooking it, so you can enjoy it.
What is Gnocchi Made Of?
Have you ever stopped to think of what Gnocchi is made of? I have! Although I've eaten a ton, I had a general idea of what it may be. Thanks to our Italian friends for bringing something so delicious to the table. The word Gnocchi is an Italian word that also means "lumps." Made with potatoes, these lumps were the best thing to ever happen to the soup.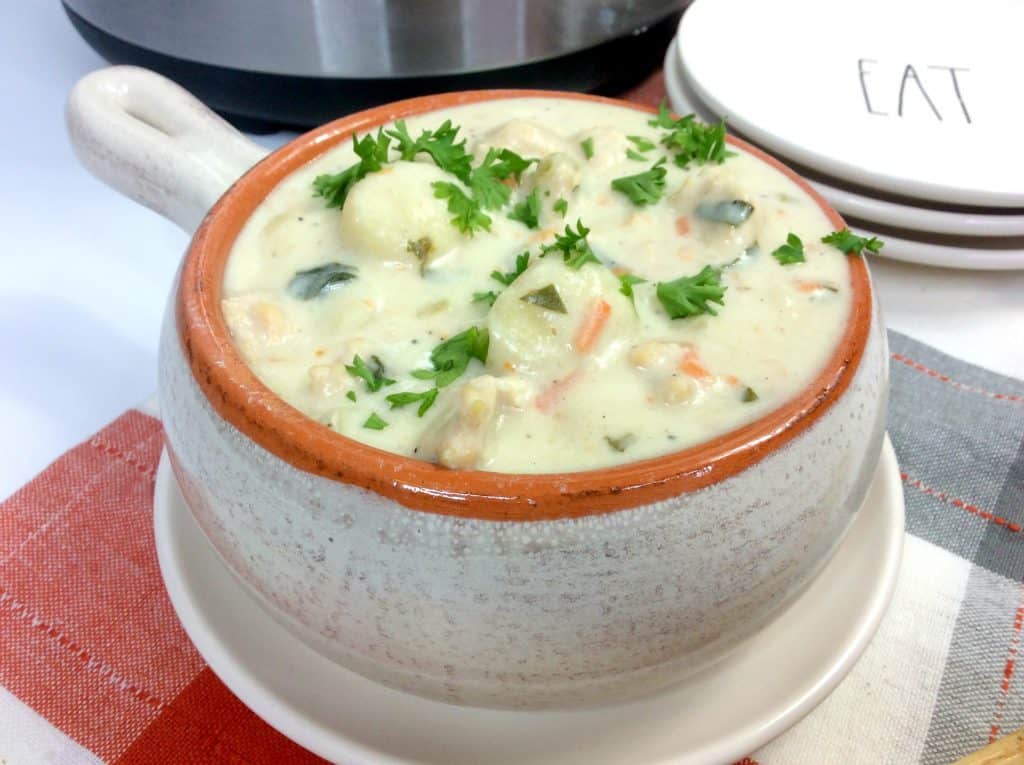 Can I Freeze Chicken Gnocchi Soup?
The good news is that you can. After you've taken the soup out of the Instant Pot and it's had time to cool down, you can freeze it. Just make sure that it's in an airtight container. The container will keep any air or bacteria from seeping in and will ensure your soup is good for a few months in the freezer.
Here's the recipe that you've been waiting for!
Ingredients
1

tablespoon

olive oil

1 ½

lb

cubed chicken

½

cup

chopped celery

½

cup

chopped yellow onions

2

cups

chicken broth

1

cup

matchstick carrots

1

teaspoon

dried thyme

3

cup

half and half

16

oz

gnocchi

2

cup

fresh spinach
Instructions
Push saute and place the oil, chicken, onion and celery into the instant pot 

Saute until the chicken is brown

Add chicken broth, carrots, dried thyme and mix until combined 

Place the lid on the IP and set the timer on manual for 4 minutes

When the timer goes off, do a quick release 

Turn on saute again and stir in the spinach, half and half and Gnocchi

Heat up the soup until boiling

Stir frequently and continue to cook until Gnocchi is cooked