These Loaded Smashed Potatoes are crispy, cheesy, and topped with delicious bacon. My family loves potatoes, and there is nothing better than fresh out of the oven crunchy, cheesy goodness! This smashed potatoes recipe is requested by my husband the most. He asks for it weekly. This recipe doesn't take a lot of time to prepare and you then pop in the oven! It's so simple anyone can do it!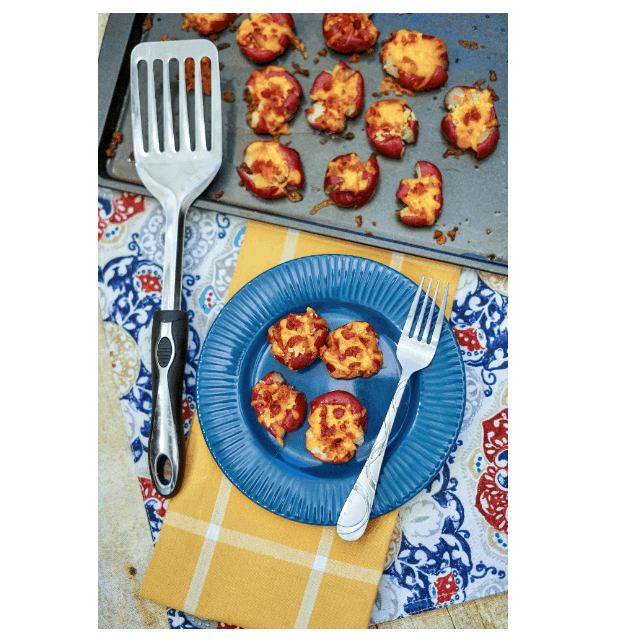 To make these smashed potatoes I prefer the very small baby potatoes.They are quick to cook and come out that perfect level of crispness that your family will crave. Sometimes I even get a little fancy and use the bag of baby mixed potatoes for these smashed potatoes. There is just something about the color that makes me happy when I see them all smashed and crispy on the pan. My husband loves these the most when I smother them in cheese.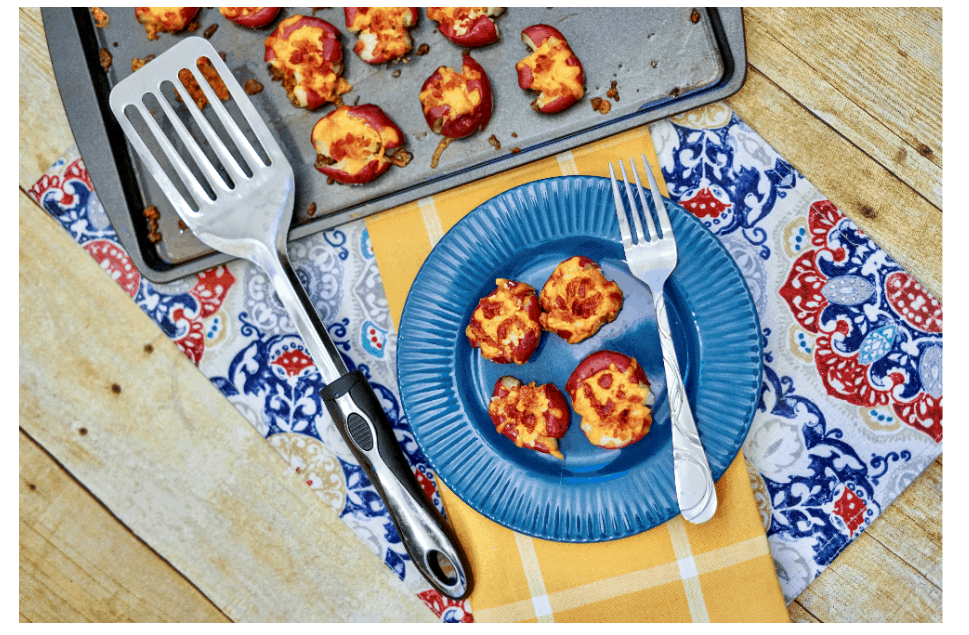 To make these smashed potatoes all you need is baby red potatoes, shredded cheddar cheese, bacon bits, olive oil, and minced garlic. That's it! No fancy ingredients are needed. Keeping the ingredients simple helps me stick to a strict budget to feed our family of three.
These smashed potatoes make a regular appearance on the dinner table at my house. And, they don't take a lot of time or effort. Perfect to get dinner on the table and little ones fed and bellies happy quickly.
This smashed potato recipe is loaded with my favorite foods, potatoes, cheese, garlic and bacon. I mean, what could go wrong? These will quickly become a staple at your house also.
Ingredients
Baby Red Potatoes (i use 1 lb for our family of three)

1

cup

cheddar cheese

½

cup

bacon bits

⅓

cup

olive oil

1

tablespoon

minced garlic
Instructions
Boil Baby Red Potatoes whole and place them on a baking sheet.

With a spoon or spatula slowly smash each potato. Sometimes I use a potato masher

Pour the minced garlic into the olive oil and mix well.

Coat each potato with the garlic/oil mixture.

Sprinkle with cheddar cheese.

Add bacon bits and place the oven for 10 minutes at 350 degrees.