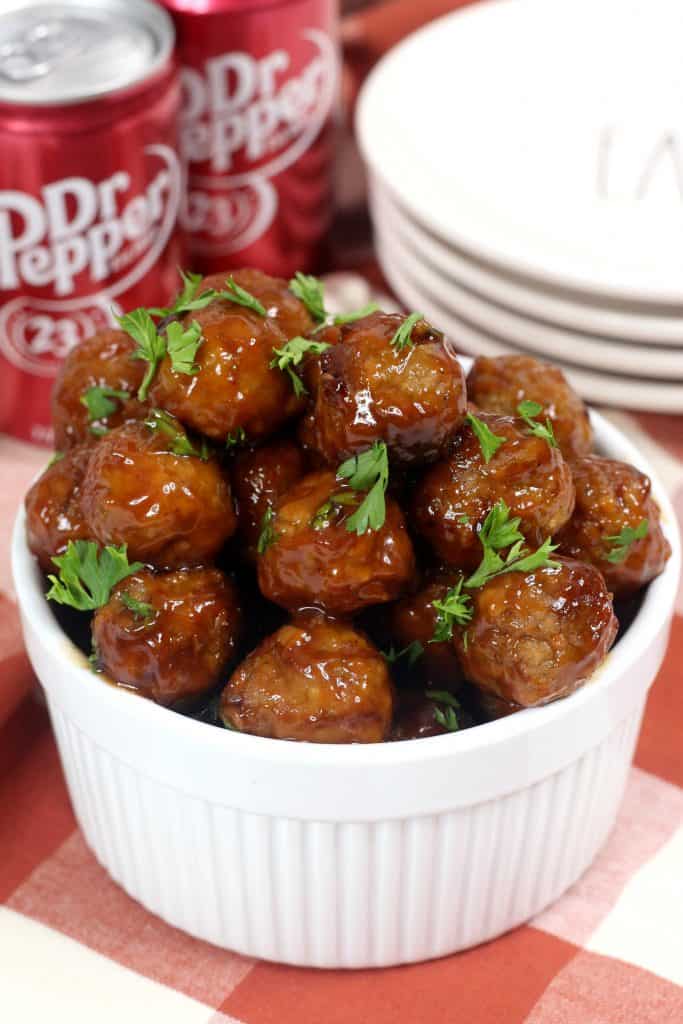 This is the best ever recipe for Instant Pot Dr. Pepper meatballs. They are covered in a sticky sweet sauce that is bound to have your family and friends wanting to lick their plates. I whipped up this recipe out of desperation for a quick and easy dinner one night and it did not disappoint. This is actually a great recipe for a party appetizer or a potluck!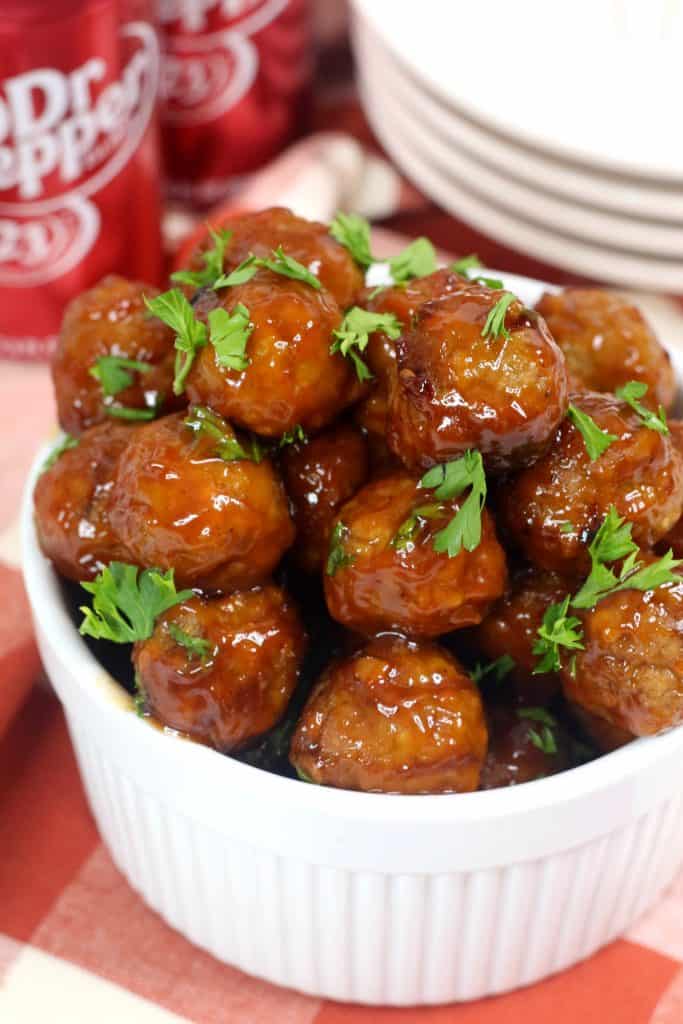 This instant pot meatballs recipe is perfect for a busy weeknight. It's so flexible that you can toss frozen meatballs into the instant pot and boom dinner is ready about 20 minutes later! I usually serve this Instant Pot Dr. Pepper Meatball recipe over white rice or mashed potatoes. Much to my family's dislike I always add in some kind of vegetable also because health you know!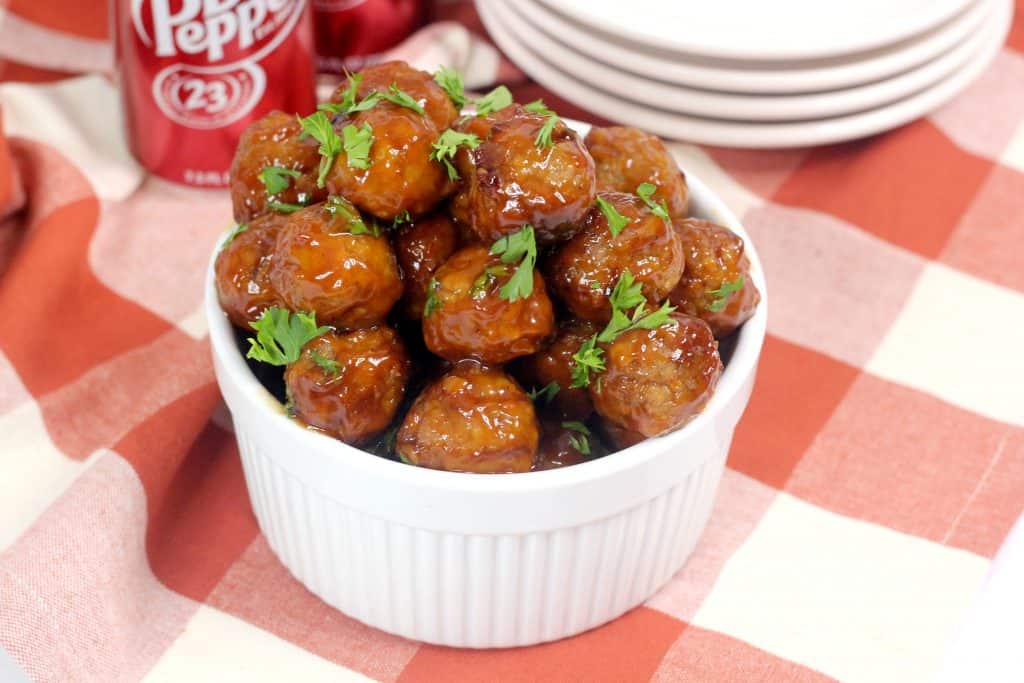 One of my favorite things about this recipe is that you don't need a lot of fancy ingredients. Most of these ingredients you will already have in your pantry and fridge. I get excited when I can make a recipe that doesn't require a lot of expensive or special ingredients because we stick to a tight budget as a family so we have to be careful about how much we spend on special ingredients. Keeping recipes simple and keeping a focus on ingredients that are common in other recipes really helps me stretch my grocery budget dollars as far as possible.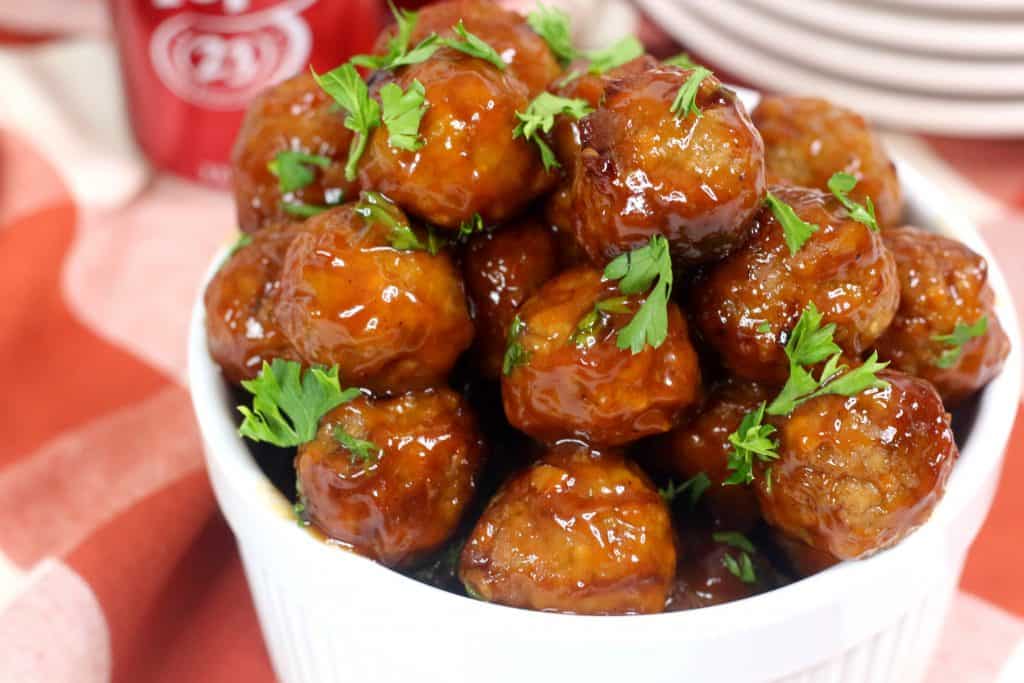 If you are like my family you will want to saute these meatballs for a few minutes at the end to give them a great outer texture. Instant Pot meatballs tend to be very tender, which is delicious, I just prefer a little crunch on the outside of my meatballs because I like some different textures. Is anyone else a weird food texture kind of person? My entire family has different texture issues.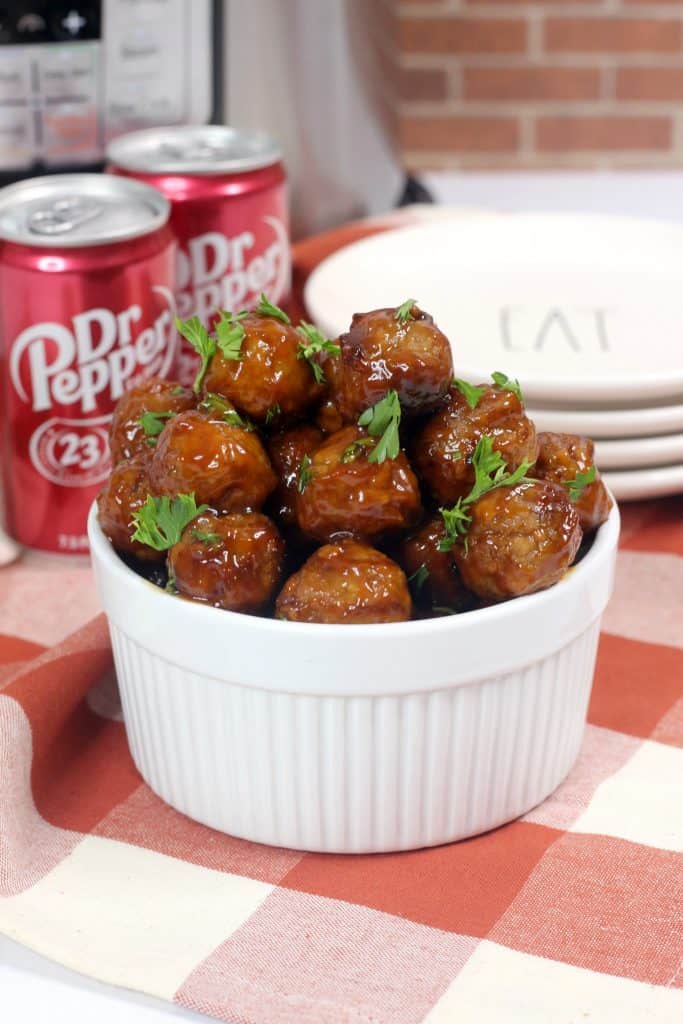 I promise this Instant Pot meatballs recipe will be a huge hit with your family. This recipe is perfect for any party or potluck that you may need a dish for. Plus, it's simple and quick and it can stay warm in your instant pot! What is your family's favorite way to meatballs?
Ingredients
1

cup

Dr. Pepper or Diet Dr. Pepper if you prefer


¼

cup

water

2

tablespoon

tomato paste

2

tablespoon

white vinegar

1 ½

tablespoon

cornstarch

2

tablespoon

brown sugar

1

tablespoon

Worcestershire sauce

½

teaspoon

salt

¼

teaspoon

onion powder

¼

teaspoon

garlic powder

½

teaspoon

Liquid Smoke - Optional

¼

teaspoon

black pepper

1

pinch red pepper flakes

3

lbs

ready make meatballs (frozen is okay)
Instructions
Combine all ingredients in a bowl with a whisk, pour into your Instant Pot.

Turn the Instant Pot to saute' high and bring to a simmer, whisking often.

Remove the bbq sauce from the Instant pot and set to the side.

Clean and dry the Instant pot insert.

Pour 1 cup of water into your Instant Pot.

Place the steamer rack inside your Instant Pot and fill it with the meatballs.

Cook at high pressure for 5 minutes.

Let the steam release naturally, then drain your meatballs and set aside.

Discard water from your Instant Pot and pour Dr Pepper BBQ sauce

Press "Sauté". and your meatballs and stir thoroughly.

Cook for 2 minutes, then serve hot.