These Healthy Mixed Berry Muffins are moist, soft, and filled with a delicious berry mixture. They don't require any fancy ingredients and you don't have to feel guilty about feeding them to your family.
Most of the ingredients that you need for this muffin recipe is already a staple in your kitchen and pantry. The only thing that you may not have is the frozen berry mix. One of the best things about keeping your ingredient list short and simple is that a short ingredients list helps keep your budget down a lot less. I'm always very careful to make sure that my recipes fit into my tight grocery budget.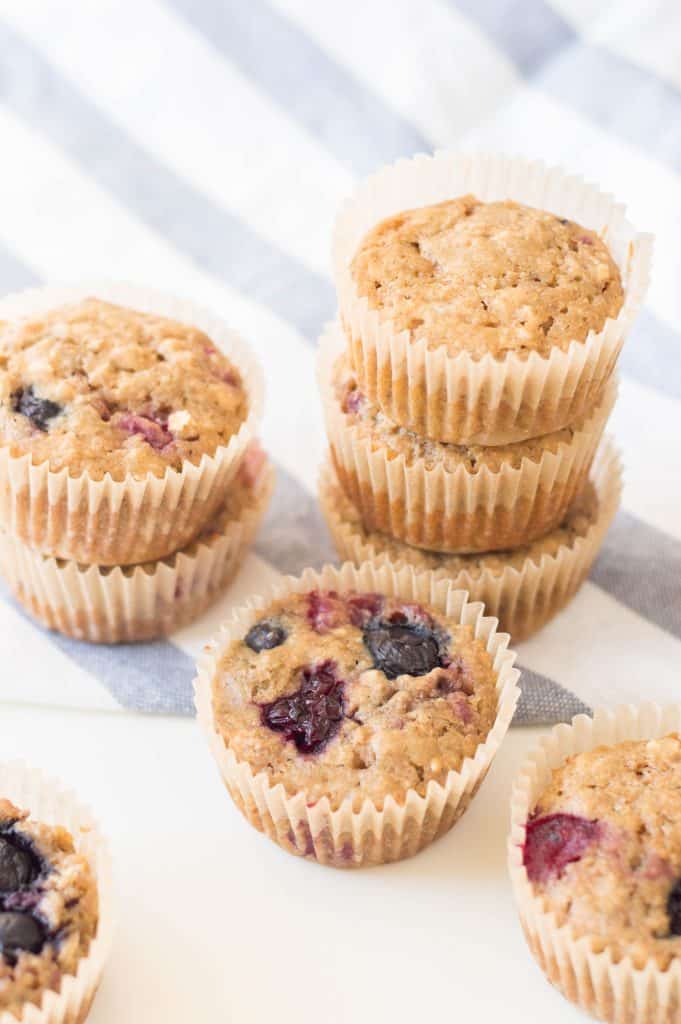 My daughter has always loved muffins and she seems to love them more when they have oatmeal in them. I think the oatmeal gives the muffins a texture that is pleasing to her. She has sensory processing disorder and one of the major issues that comes with SPD is food texture issues.
With her food texture issues I am always looking for ways to feed her healthy foods especially berries without having to go ten rounds with a food battle. I try very hard to not make eating a huge deal for her in order to have less stress on her little brain. These Healthy Mixed Berry Muffins make a great breakfast, snack or even perfect to take into the class party or for brunch!
Your family will live this muffin recipe. They are sweet and soft yet not filled with chemicals. They are don't take long to make and they also freeze perfectly. I can't wait to hear what your family things about these!
Ingredients
1

cup

unsweetened almond milk

3/4

cup

butter, melted and cooled

2

large eggs

½

cup

packed brown sugar

1 ½

white whole wheat flour

¾

large rolled oats

1

tablespoon

baking powder

½

teaspoon

ground cinnamon

¼

teaspoon

ground nutmeg

¼

teaspoon

salt

1 ½

cups

frozen mixed berries plus extra for topping
Instructions
Preheat oven to 350 degrees F.

Line a muffin tin with paper muffin liners and set aside.

In a large bowl, whisk together almond milk, butter, eggs and brown sugar. Set aside.

Slowly add dry ingredients into wet ingredients and mix thoroughly.

Once muffin batter takes form, fold in 1 ½ cups frozen berries

Fill up each lined section of the muffin tin with muffin batter, filling it up about 2/3 of the way.


Top with 2-3 frozen berries.

Bake for approx. 20 minutes or until a toothpick comes out clean when inserted in the center of a muffin.

Allow to cool for 10 minutes before serving. Enjoy!