Spring is right around the corner. Every time the weather warms up I can't help but immediately want to fire up the grill and toss something healthy onto it. After eating winter comfort food for months, something grill, loaded with veggies and light is just what my body is craving as soon as we have our first warm day.
To make these kebabs you will need to soak 8 wooden bamboo skewers. Or use metal skewers. I personally prefer the metal ones but you can use whichever work best for you.
Then you will want to dice your ham, peppers, onions, and pineapple into 1 inch pieces. You will need approximately 30 pieces of each item. Assemble kebabs by alternating the items. Then you will combine all of the marinade ingredients and marinate for one to two hours before grilling the kebabs.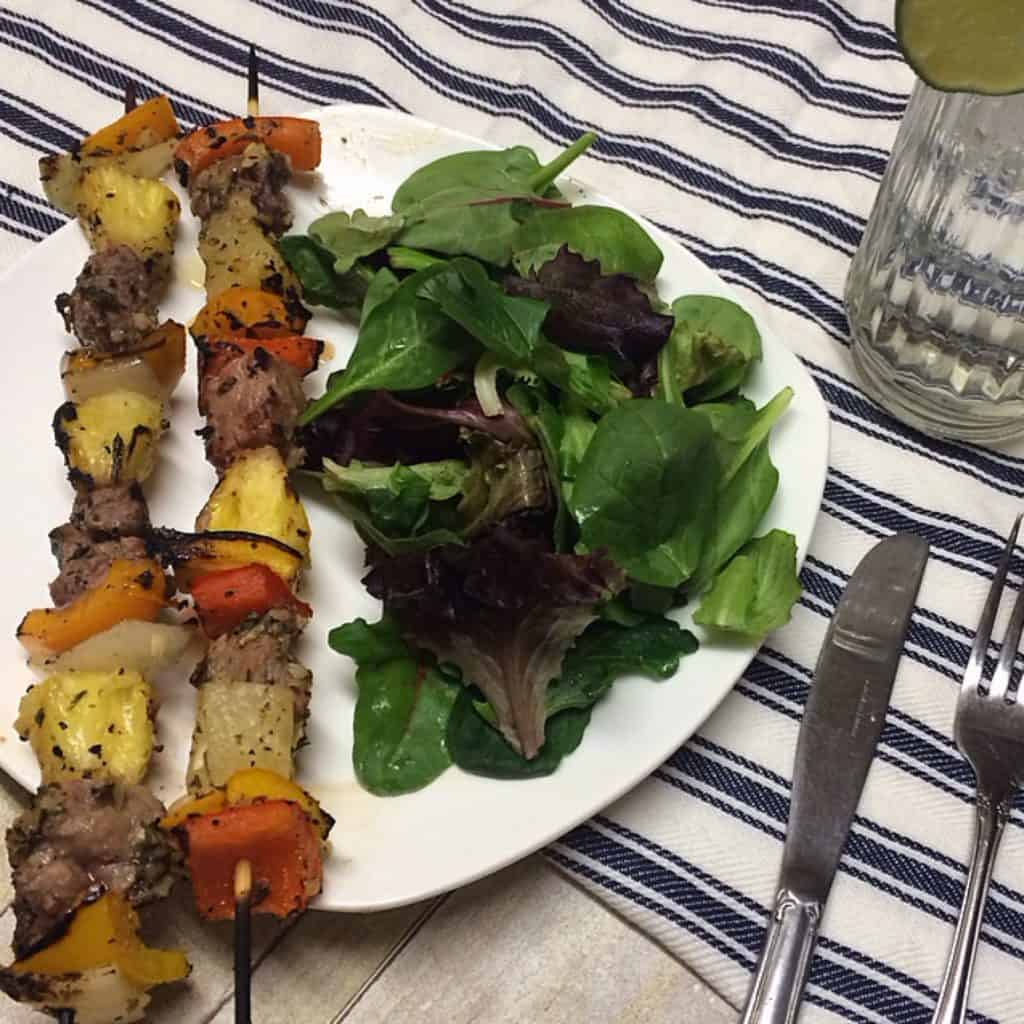 Your family will love this simple recipe. I always serve mine with a side of fruit and a salad. It makes for a fresh and light dinner that hits the spot when the weather warms up.
Ham & Pineapple Kebobs
Ham & Pineapple Kebabs are always a hit at your family's cookout or backyard party!
Print
Rate
Ingredients
1

lb

ham steak

2

bell peppers, multi colored

1

cup

pineapple chunks

1

medium onion cut in chunks
Marinade
1 ½

cups

lemon juice

2

tablespoon

olive oil

1

tbsp

worcestershire sauce

2

tablespoon

minced onions

2

teaspoon

salt

2

teaspoon

black pepper

1

teaspoon

onion powder

1

teaspoon

garlic powder

2

teaspoon

hot sauce -optional
Instructions
Soak 8 bamboo kebab skewers in a 9x13" dish of water. Dice ham, peppers, onion, and pineapple into 1" pieces - you will need approximately 30 pieces of each items. Assemble kebabs alternating pieces of ham, onion, pepper, and pineapple on each, using approximately three pieces of each per skewer. Place assembled kebabs in a 9x13" baking dish or container of similar size.




Combine all of marinade ingredients. Pour marinade over kebab skewers and cover. Place in refrigerator and let marinade for one to two hours. Grill until ham is cooked or until internal temperature is 165 degrees using a meat thermometer.