This Easy Strawberry Fudge is only three ingredients and simple to make! It only takes a few minutes to throw this fudge together and it has some great strawberry flavor! Plus, you have to admit it's a beautiful color. I love to make this Easy Strawberry Fudge with my daughter because it allows us to have some bonding time and it's so simple to make!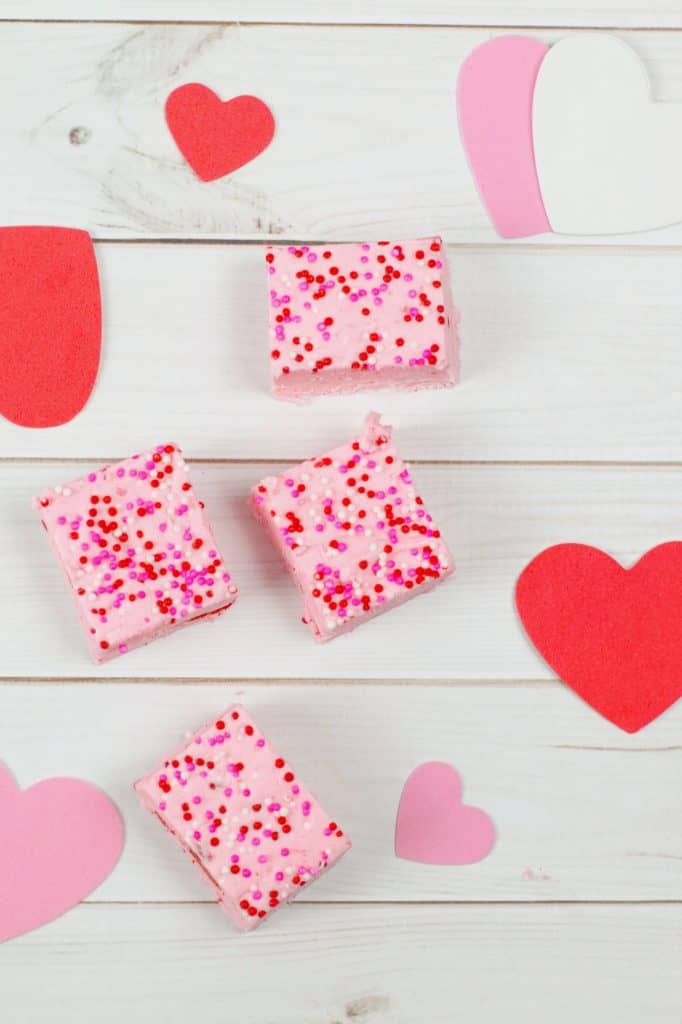 Valentine's Day is just about the corner. It's hard to believe that it's coming up so quickly. January has really flown by it seems. This Easy Strawberry Fudge is one of my favorite treats to make for my little one because she loves everything pink and fudge is always a hit. I usually try to make a nicer meal on Valentine's day but after all the effort I put into the meal I don't always feel like putting in a lot of effort to make a dessert. So, this Easy Strawberry Fudge is as simple as one, two, three and fits the bill for saving me some time spent in the kitchen.
When I was a child our family would take a yearly beach trip, and each year we would go down to the boardwalk along the ocean and check out the shops. One of our most have stops was the fudge shop. I would always pick peanut butter fudge. But, my cousin would always go for the strawberry. He loves something fruit flavored and the strawberry fudge would always call his name. It's one of my favorite childhood memories. He and I were inseparable but as adults have grown distant. I enjoy looking back and remembering the fun times of our youth.
When I first started cooking for my family the idea of making homemade fudge really intimated me. It just seemed so daunting and like it would be easy to mess up. With this Easy Strawberry Fudge recipe there is no worry about messing it up and it not setting, this recipe is so easy that my 10 year old makes it with no problems.
There are so many different kinds of fudge. And so many different ways to make fudge. But, with this Easy Strawberry Fudge all you need is frosting, white chocolate chips, and freeze dried strawberries. If you want to leave the dried strawberries out, you can and then you will a soft and smooth fudge. That's the way my husband prefer his fudge. He doesn't like "chunks" he says.
You can make this fudge in so many different ways. Want Lemon? Use Lemon frosting. Or you could use Chocolate, Vanilla, Cream Cheese, the options are endless! And, you can put any kind of sprinkles on the top that you have on had. I just had these little ball sprinkles and so that's what I used. I'm the queen of use what you have to save some money! Another reason why I love this fudge is because it doesn't need a lot of fancy ingredients. It's very easy on the grocery budget but yet still feels like a treat to your family.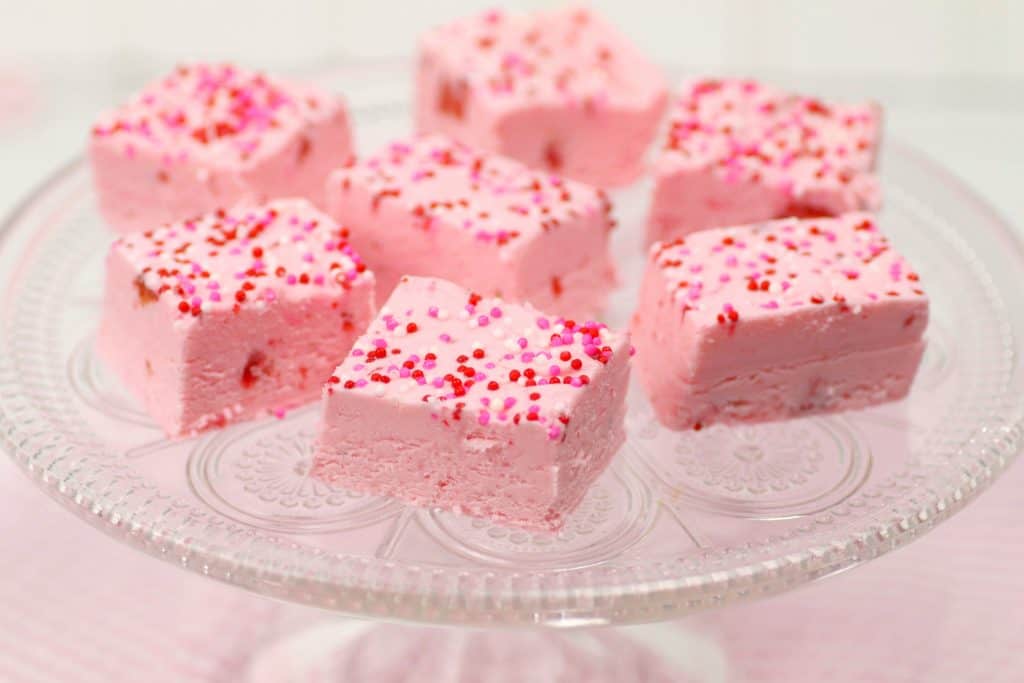 Be sure to come back and let me what your family thought of this Easy Strawberry Fudge. And, leave me comments with any changes that you made. I love to see creativity in the kitchen it always inspires me to try something new!
Easy Strawberry Fudge Recipe
Ingredients:
• 1 12-ounce bag of white chocolate chips
• 1-14-ounce container of strawberry frosting
• 1 cup of fresh or freeze-dried strawberries
• Valentine's Day colored sprinkles
• 8×8 baking pan lined with parchment paper
• Cooking spray
INSTRUCTIONS:
Step 1: Spray pan with cooking spray and cover bottom and sides of the pan with parchment paper and set aside. If using freeze dried strawberries, crush in a plastic bag. If using fresh strawberries, dice into small pieces.
Step 2: In a medium size bowl, melt white chocolate chips in microwave in 30 second bursts until completely melted and smooth. Do not cook for more than 30 seconds at a time or you will burn them. Fold in the frosting.
Step 3: Fold in strawberries.
Step 4: Spread mixture evenly into the pan.
Step 5: Press sprinkles into the top of the fudge.
Step 6: Cover baking pan with foil and place in refrigerator until fudge is firm.
Step 7: Place fudge on cutting board and cut into 1-2" pieces and enjoy!
Related Recipe:
Heart Chocolate Chip Cookie Cake