Rich and soft chocolate cake, topped with creamy vanilla Oreo frosting and topped with Oreo's.
In my lifetime, I have made some very amazing cakes. Some that I even impressed myself with. This Cookies and Cream Cake is not only a beautiful cake, but it's also delicious. Think about your favorite candy bar that is cookies and cream theme, that's exactly what this tastes like but with a little more chocolate flavor added. The next time you're looking for a delicious dessert to hit up, make sure you try this.
Cookies and Cream Cake
If you're curious about what this cake tastes like, let's talk about it for a minute. The first time I ever bit into this cake, it was very moist and flavorful. You can taste the cookies and cream amazingly. The Oreo buttercream is probably what makes this cake. When you want that amazing dessert that has all of the flavors, you have found it with this Cookies and Cream Cake.
This cake has layers of flavor and it's garnished with an awesome frosting and Oreos. I don't know if you're a huge fan of Oreos or not, but this cake will make you love them. I enjoy having a bowl of chocolate or vanilla ice cream with this cake!
How Do You Make Cookes and Cream Cake From Scratch?
While I won't give you the play by play of how to make this cake from scratch right in this section, I do in the recipe card. You all are going to love how easy these directions are and before long you'll have an amazing cake to share with friends and family.
What Kind of Cake is the Best?
Of course, this is a matter of opinion. However, chocolate cakes seem to be the winner in a lot of circumstances. This Cookies and Cream cake has chocolate in it, so it must be one of the best cakes ever made, right?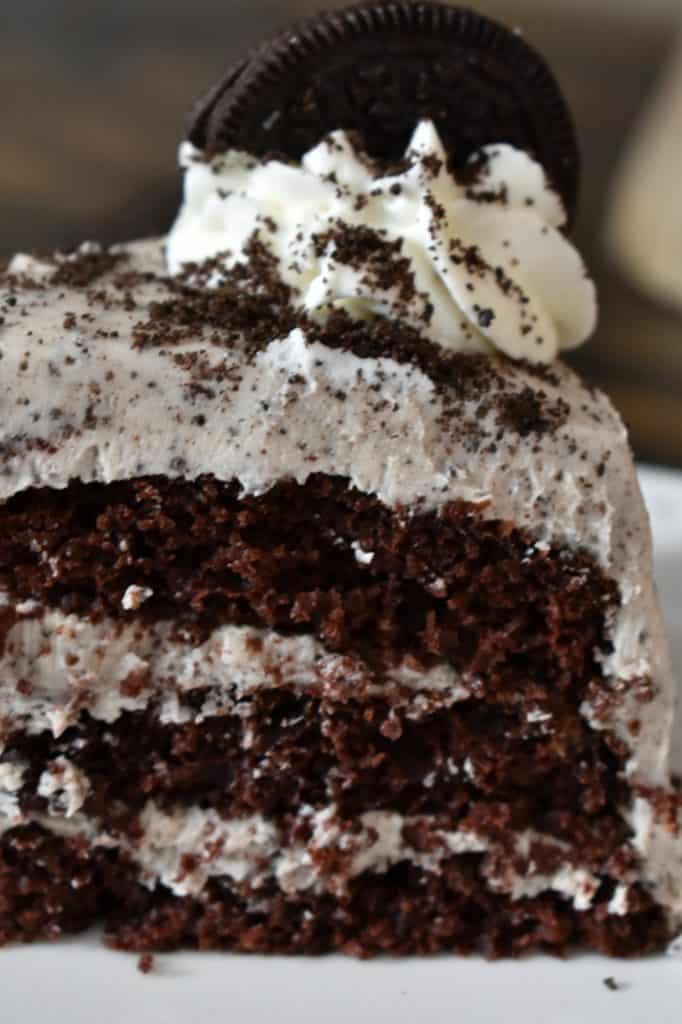 Tips for Baking This Cake
Since this is such a thick cake, being able to move the cake around in the oven, also known as rotating, helps it get done evenly. When the cake is about halfway done, I go to the oven and rotate the cake. I set a timer on my phone or otherwise I may forget.
Make sure you let the cake cool down all the way. You do not want to try and frost it with the cake still being warm. This is one major tip that you don't want to forget.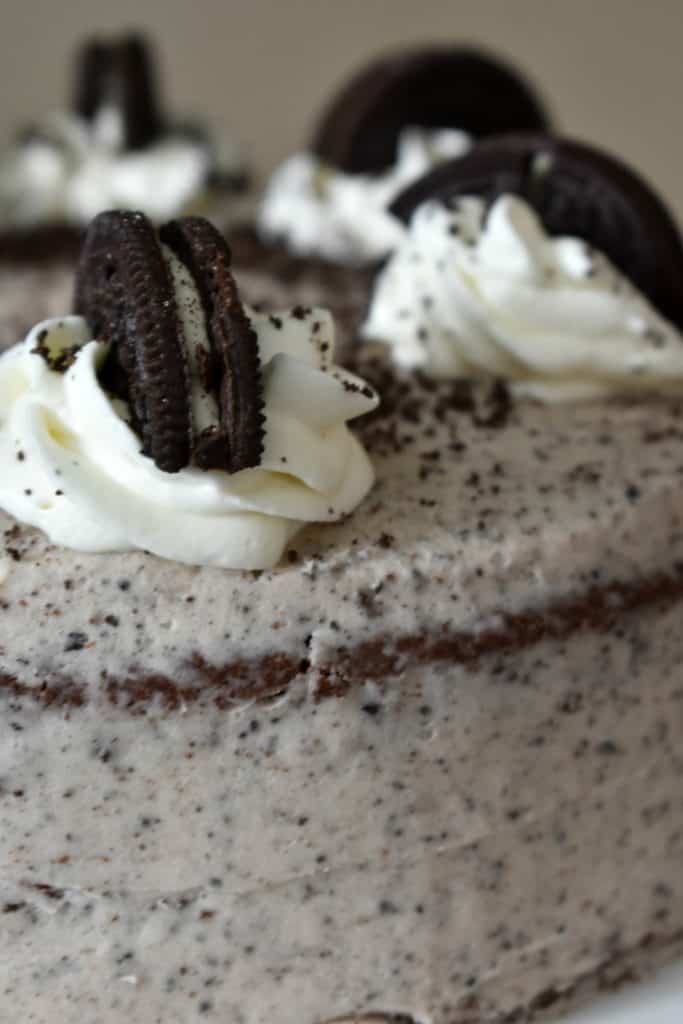 Ingredients
Cake Ingredients
2

cups

all purpose flour

2

cups

granulated sugar

¾

cup

unsweetened cocoa powder

2

teaspoon

baking powder

1 ½

teaspoon

baking soda

2

large eggs

1

cup

milk

½

cup

vegetable oil

1

cup

hot water

1

teaspoon

vanilla extract
Buttercream Frosting Ingredients
3

sticks

butter

softened

5

cups

powdered sugar

2

teaspoon

vanilla extract

2

tablespoon

heavy whipping cream

½

cup

oreo cookie crumbs
Instructions
Cake Instructions
Preheat your oven to 350 degrees F.

Combine all dry ingredients into a large mixing bowl and mix with a whisk to break up any lumps.

Add in all wet ingredients except the hot water and mix well until combined.

Add in the hot water slowly and mix in. The batter will look a little runny.

Prepare 2 8" cake pans with nonstick spray and distribute the batter evenly.

Bake for 20 - 25 until a toothpick comes out clean
Buttercream Frosting Instructions
Cream together the butter until light and fluffy.

Add in the powdered sugar one cup at a time until completely combined.

Add in the powdered sugar one cup at a time until completely combined.

Finally add in the cookie crumbs.(I use a food processor)

Level the cake by removing the dome of the cake and then cutting the cake evenly in half to create 2 pieces from each cake. (This is not necessary, you can simply stack the two cakes
and have two layers)

Place one piece of cake on a cake plate and top with a generous amount of the buttercream.

Continue with each layer and cover the outside of the cake.

Top with whipped cream and oreo cookies and enjoy!
Notes
For best results make sure your ingredients are at room temperature. 
Nutrition
Serving:
1
slice
|
Calories:
1138
kcal
|
Carbohydrates:
163
g
|
Protein:
8
g
|
Fat:
55
g
|
Saturated Fat:
36
g
|
Cholesterol:
140
mg
|
Sodium:
741
mg
|
Potassium:
243
mg
|
Fiber:
4
g
|
Sugar:
129
g
|
Vitamin A:
1223
IU
|
Calcium:
138
mg
|
Iron:
4
mg