This Cheeseburger Mac & Cheese is creamy, cheesy and so easy to make! This dish is bound to be a HUGE hit with your family! It's what our mom dreams are made of!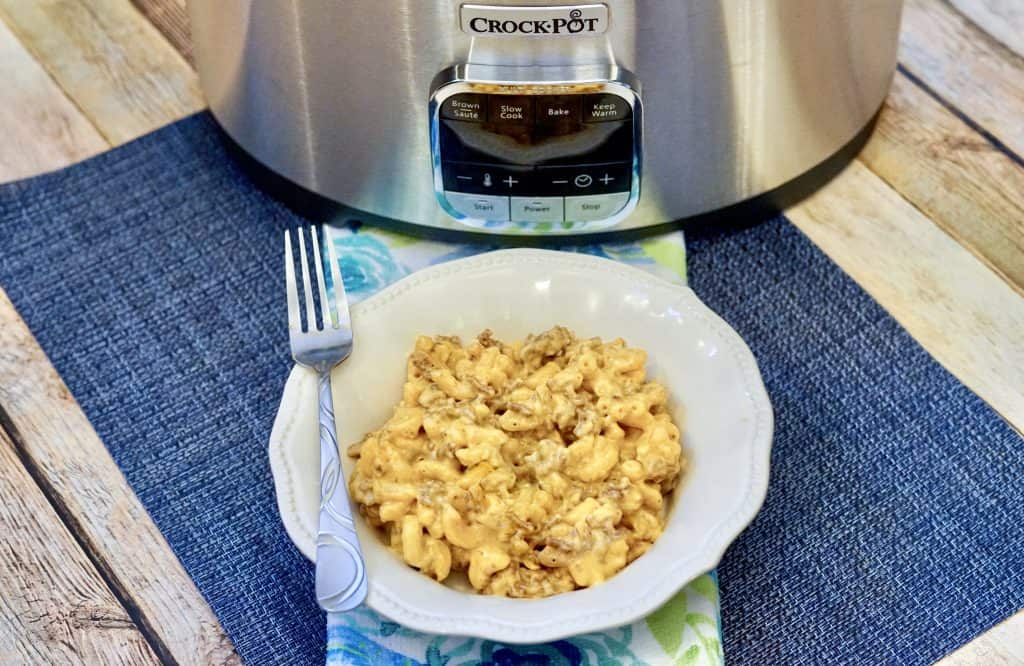 I am no different than most of the other mom's out there. I may work from home and homeschool but I still find myself overwhelmed and struggling to get dinner on the table with as little effort as possible. When you add that my daughter has some major food issues and texture issues it makes finding that perfect dinner balance even harder. But, this Cheeseburger Mac & Cheese reminds me of the hamburger helper we had when we were growing up as kids. It's' become a staple around the house. And, it's so simple to just toss it into your slow cooker to save yourself some effort!

If you don't know much about me, let me give you some background. My father was a long haul truck driver most of my life. But, I was also raised in the south. My father only wanted southern style home cooked foods. You know the meat and potatoes type of guy. So, when he was on the road and not home for dinner our mom would make a treat for us kids and make us hamburger helper. It was such a special treat for us and so different from our typical family meals that we would get so excited and enjoy every single bite.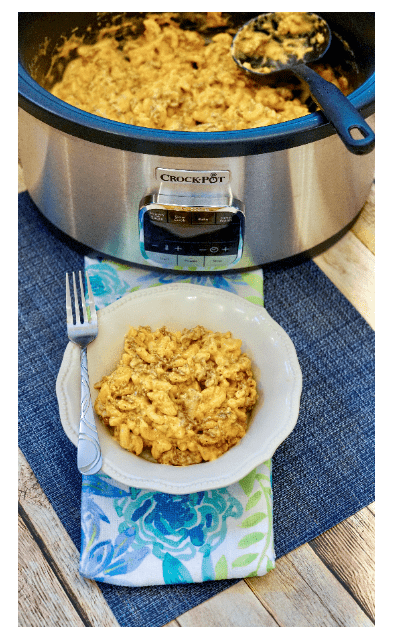 Making this Cheeseburger Mac & Cheese for my family brings back all the memories for me of being so excited for dinner while my dad was away. I want to give my daughter memories like that, when she's grown and has children. I'm hoping that this recipe will help bring your family together around the table so that you can share your childhood stories with your own family.
This Cheeseburger Mac & Cheese recipe is great for your budget. All you need is a handful of ingredients and your slow cooker. I love slow cooker recipes because it makes cooking seem so much less daunting to just able to toss and go. And, on the plus side you can use your slow cooker to keep your food warm! I can't wait to the hear the stories that your family makes around the dinner table. Leave me a comment below with your family's favorite comfort food recipe.
Ingredients
1

lb

browned ground beef

1

cup

elbow pasta

½

cup

beef broth

2

cups

milk

16

oz

Velveeta Cheese, cubed

1

tablespoon

ketchup

1

tsp

minced garlic

¼

teaspoon

salt

¼

teaspoon

pepper
Instructions
Cut Velveeta into cubes and place the Velveeta, uncooked pasta & ground beef into the crockpot.

Add the ketchup & garlic.

Pour in the milk & broth.

Sprinkle with salt and pepper (to preferred taste)