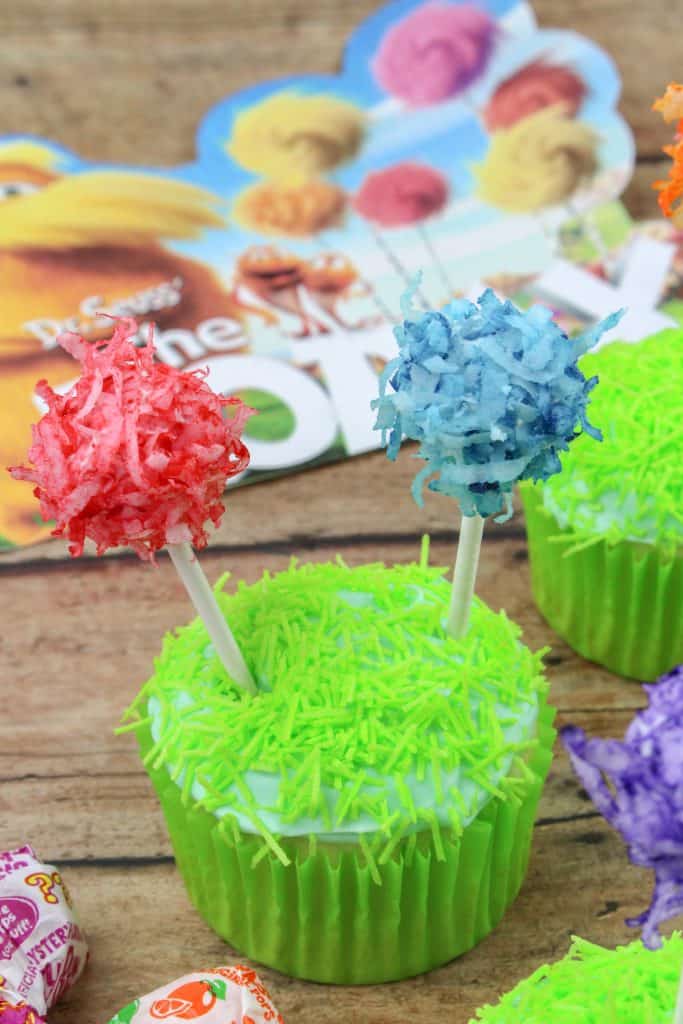 If you're celebrating a child's birthday or Read Across America these Dr. Seuss Truffula Tree Cupcakes are perfect for the party! Dr. Seuss's birthday is coming up soon on March 2nd. I can't think of a better way to celebrate than with these cute and delicious cupcakes. I don't know about your household but in ours a birthday isn't a birthday without cake or cupcakes, so Dr. Seuss should have his own also!
If you are unsure what a Truffula tree is, let me explain for you. They are the beautiful trees featured in Dr. Seuss's The Lorax. The tufts of the Truffula Tree are "softer than silk" and smell like "butterfly milk"! I'm not sure what butterfly milk smells like but it sounds heavenly to me!
I love that schools celebrate Read Across America the week of Dr. Seuss's birthday! I think there is no better way to celebrate such an amazing author than to read with children. We should all have a birthday party and I think Dr. Seuss would LOVE having his party as a national week of reading for children! After all, Dr Seuss says "The more that you read, the more things you will know. The more that you learn, the more places you'll go."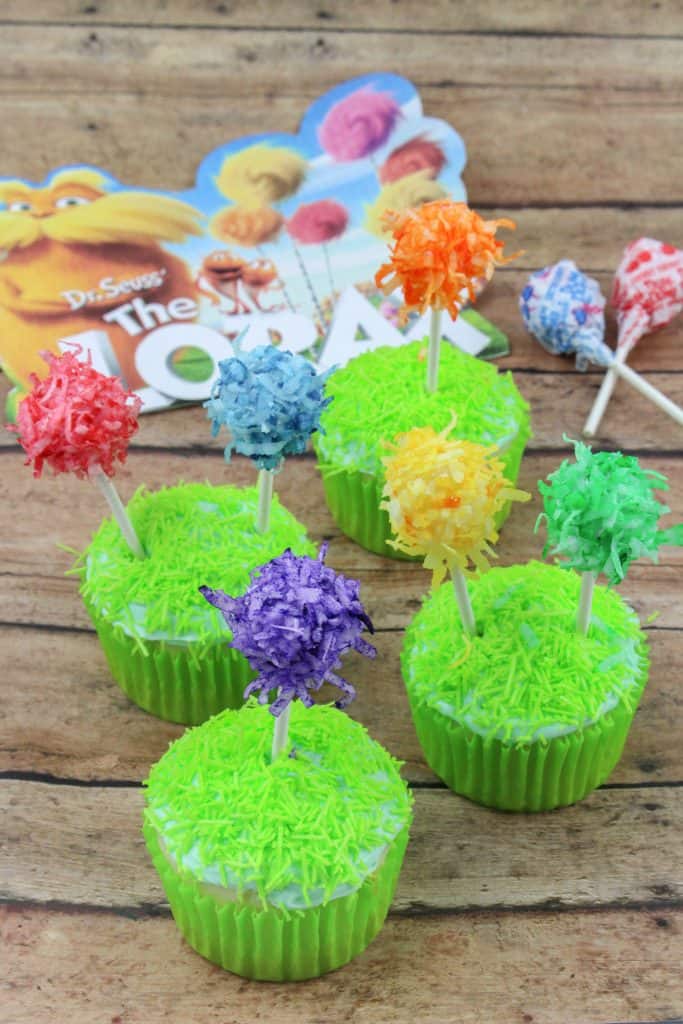 I've always been a huge lover of trees, to me trees are so amazing how they can go dormant in the winter and then bloom so beautifully in the spring. There is nothing that makes me happier than watching the buds pop open on a tree into a beautiful flower. I love the beautiful blooms on cherry trees the most, the pink blooms and tiny flowers just make me so happy. So, when I read The Lorax I always envisioned the Truffula Tree to have the same beautiful colors as my favorite cherry tree!
You will want to frost your cupcakes with some light green frosting. Just take some white frosting and add a few drops of green food coloring into the frosting. I prefer the gel frosting but the liquid will work also. I also like to use a whipped or fluffy white frosting. It just makes the cupcakes have a more fluffy frosting.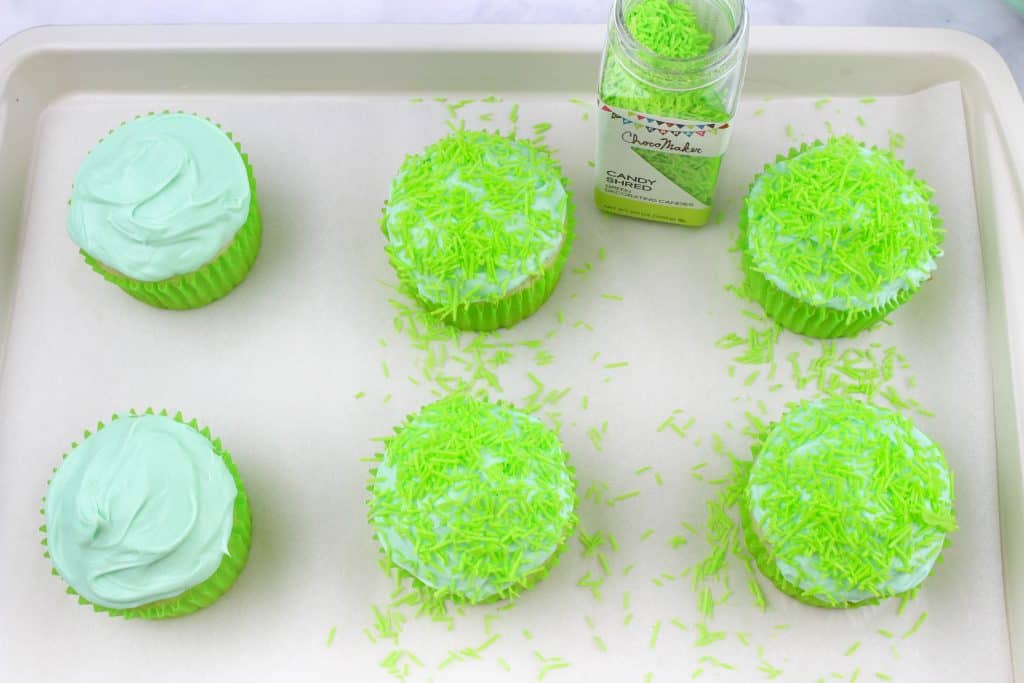 To make these cupcakes you will need some candy shreds. Or, Wilton grass candy sprinkles. Either one will work I found mine at Hobby Lobby but you can find them on Amazon from time to time or even at Walmart.
To make the Truffula Tree's for the cupcakes you will need to some Dum Dum's lollipop's. It doesn't matter the flavor or color of the Dum Dum's as you will be dipping them in frosting. Unwrap the Dum Dum's and then dip them in a little bit of vanilla frosting.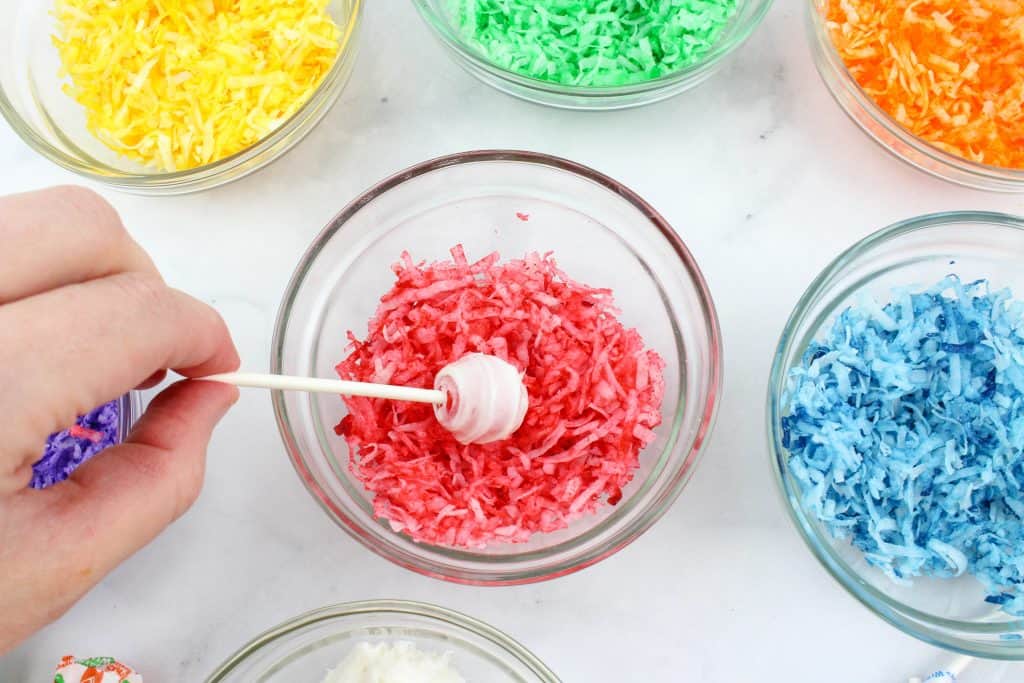 Once you've coated the Dum Dum lollipop's in frosting, you will want to dip them into shredded coconut that has been colored with food coloring. The colors I made are yellow, green, orange, red, blue and purple. This process is quick and only takes a few minutes.
You will to make two Truffula Tree's per cupcake so if you make more than 6 cupcakes you will need to make more Truffula Tree's to match the number of cupcakes that you make. These Truffula Tree Cupcakes are bound to wow the little ones in your life.
Dr. Seuss Truffula Tree Cupcakes
What's Needed
6 Prepared Cupcakes (I used white cake with green liners)
1 Can White Frosting
Green Candy Shreds or Green Jimmies
1 ½ Cups Shredded Coconut
10-12 Dum Dum Suckers
Food Coloring (Pink, Blue, Purple, Orange, Yellow, Green)
Directions
Place about ½ can of frosting in a small bowl and add 2-3 drops of green food coloring, mix well.
Frost each cupcake with a knife. Sprinkle on the green candy shreds or jimmies and set aside.
Divide the shredded coconut up between six bowls. Add 2-3 drops of different food coloring to each bowl and mix well.
Add a little white frosting to a small bowl. Unwrap a dum dum and twirl it in the frosting so it's coated nice and even but not to thick.
Place the frosted sucker into one of the coconut bowls and coat it well. Lay on a parchment lined cookie sheet. Repeat steps until you have all the "truffula" trees made.
Place 1 or 2 truffula trees into each cupcake.
Ready to serve and enjoy!! Perfect for any Dr. Seuss party!