Twix Fudge has caramel and chocolate and it tastes so divine
For a while now, I've been craving something decadent that I can make right in my own home. I got to thinking about how my favorite candy bar ever is the Twix. I also love fudge. So, I decided to make Twix Fudge. And yes, this recipe is just as delicious as I would have imagined it to be. It's got caramel and chocolate and it tastes so divine!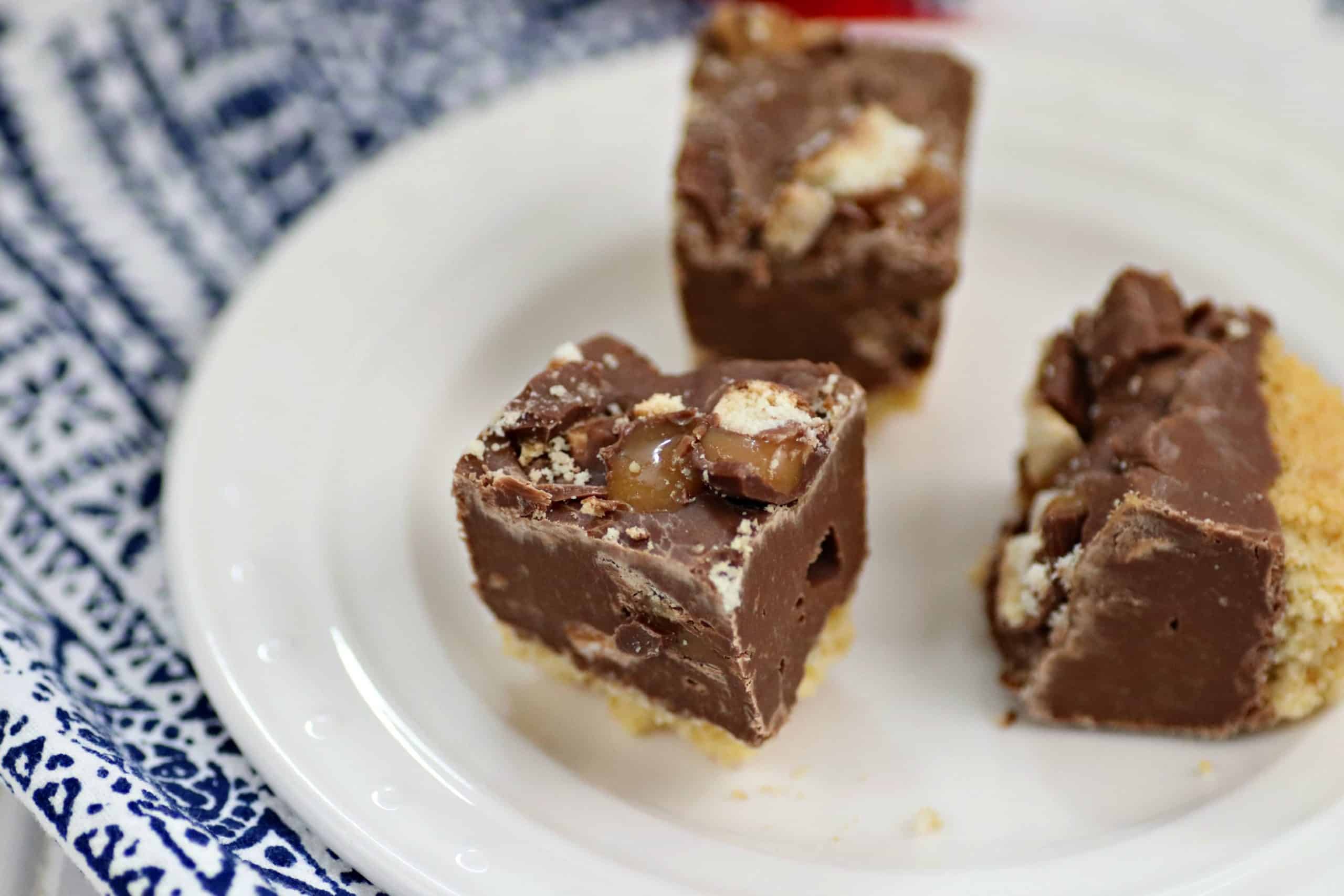 Twix Fudge
I have made fudge in the past, but I was never happy with the way it turned out. In order for me to like fudge, it needs to have some amazing flavor. I feel as though this Twix Fudge has so much flavor. This is the type of fudge you would make someone for the holidays and give as a gift.
What is Twix Fidge Made Out Of?
Now that I have gotten you excited about the idea of making Twix Fudge, you may be wondering how to make it. What's it made out of? Well, this recipe calls for Lorna Doon cookies, which are some of my favorites.
You can make some delicious recipes with Lorna Doon cookies! This fudge recipe is just an example of one recipe you can make out of the cookies. These cookies are also made out of chocolate chips, salted butter, condensed milk, vanilla extract, and Twix candy bars.
I'd say that every single ingredient is well worth using in this recipe. I also enjoy eating this fudge because it's something different. It's not just chocolate or peanut butter fudge, it's made out of Twix. How many people can say that they have had Twix Fudge?
Do You Need to Put Fudge in the Fridge?
After you have made this fudge, you are probably wondering if you should put it in the fridge or not. The good news is that most fudge can sit out on the countertop and it'll be just fine! I guess the biggest thing is your preference.
Do you prefer that the fudge be cold? If so, make sure you put it in the fridge. I personally love my fudge on the countertops at toom temperature. It's so much easier to eat that way. It's quite delicious!
How Long Can You Keep Fudge?
After you have made fudge, you may be wondering how long you can keep it. Well, there are a variety of opinions on this. Some will say that fudge doesn't stay long enough in their house for them to worry about this because it gets eaten so fast. Others will tell you that fudge will keep for as long as you store it properly.
Make sure that your fudge is stored in an airtight container. Without it, air will get to the fudge and make it as hard as can be. When properly stored, fudge can last 2-3 weeks. I'd say that's a pretty long shelf life for something so delicious.
The next time you want to make something delicious, give this Twix Fudge recipe a try! I think you'll like the flavor and the Twix flavor in this fudge is awesome. Have you ever made fudge before? What did you think?
Related Recipes
Twix Fudge
Twix Fudge has caramel and chocolate and it tastes so divine
Print
Pin
Rate
Ingredients
2

cups

Lorna Doone Cookies

or Pepperidge Farm Chess Cookies

3

cups

milk chocolate chips

2

tablespoon

salted butter

melted

14

oz

sweetened condensed milk

1

teaspoon

vanilla extract

2

cups

Twix Candy Bars

chopped
Instructions
Preheat oven to 350. Line pan with foil and spray with cooking spray.

Add cookies to food processor or gallon size bag and either crush in processor or bag. Add to a small bowl with the melted butter. Mix well.

Press into bottom of pan. Place in oven for 7-10 minutes and bake, but don't let it get brown. Remove from oven and allow to cool.

 Add chips, sweetened condensed milk, butter and vanilla extract in a microwave safe bowl.

Melt ingredients in microwave on half power in 25 second bursts, stirring or whisking after each until mixture is completely melted.

Pour the melted chocolate into the pan. Add Twix and lightly press into chocolate.  

Cover baking pan with foil and place in refrigerator until fudge is firm.

Place fudge on cutting board and cut into 1-2" pieces and enjoy!
Notes
Any type of shortbread cookie will work for this recipe. 
Nutrition
Serving:
1
Serving
|
Calories:
1119
kcal
|
Carbohydrates:
150
g
|
Protein:
14
g
|
Fat:
52
g
|
Saturated Fat:
29
g
|
Cholesterol:
51
mg
|
Sodium:
561
mg
|
Potassium:
353
mg
|
Fiber:
4
g
|
Sugar:
107
g
|
Vitamin A:
463
IU
|
Vitamin C:
2
mg
|
Calcium:
303
mg
|
Iron:
3
mg