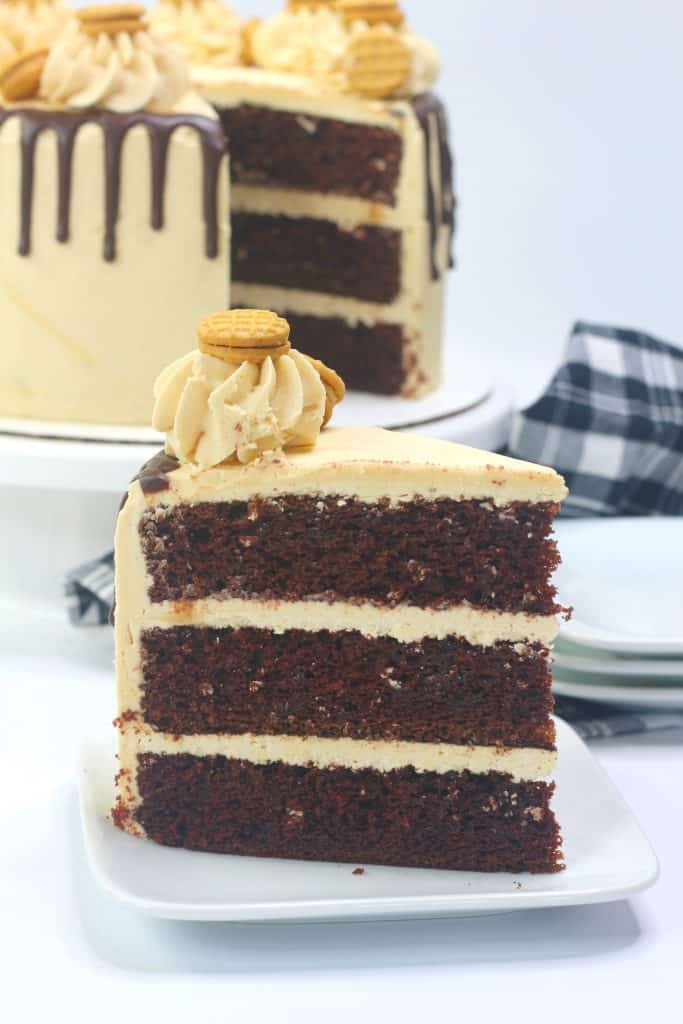 This Reese's Peanut Butter Nutter Butter cake is rich, moist and downright sinful! It's a chocolate cake topped with peanut butter frosting and then garnished with Mini Nutter Butter cookies and rich chocolate ganache. This cake is bound to wow your guests at any party!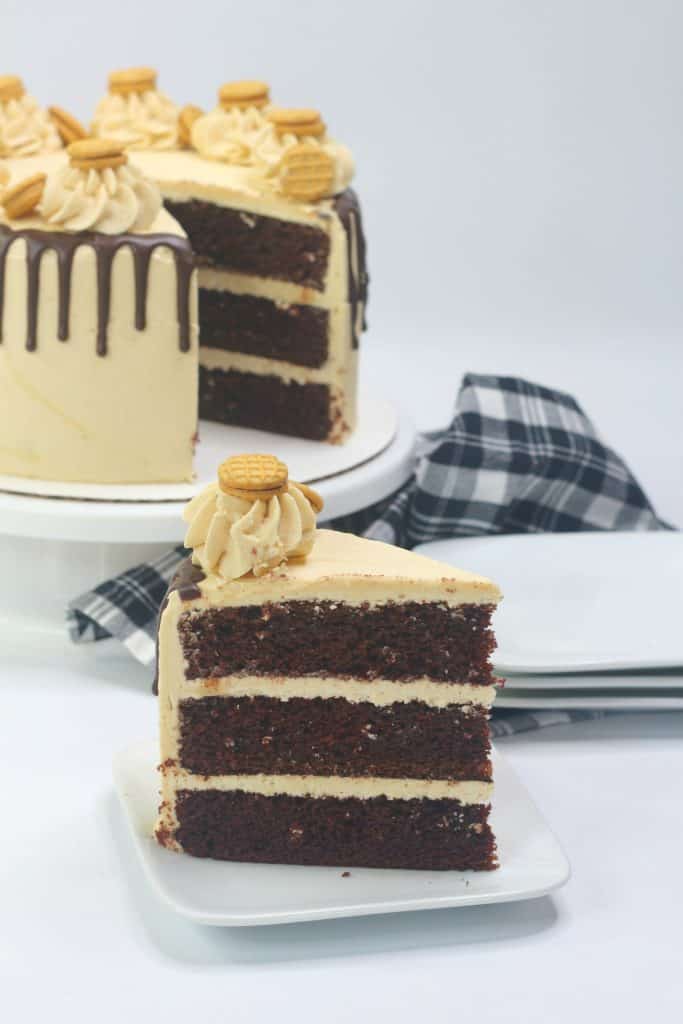 In our household birthdays are a big deal. I try to always celebrate my family every chance I get. I feel like life is so to short and we never know when it will end so I don't want to waste a minute of our time together.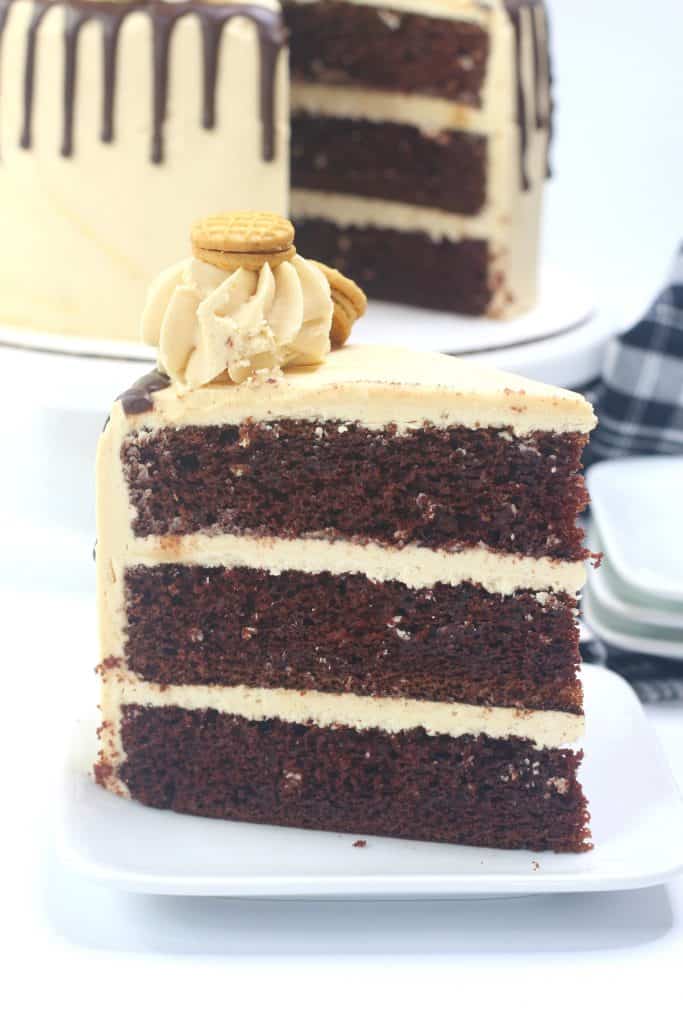 One of the things we do to celebrate birthdays in our household is everyone gets to pick a cake of their choice. It can be something simple or it can be a decadent cake like this Reese's Peanut Butter Nutter Butter Cake. This year my husband decided he wanted a peanut butter cake. I went straight to this recipe to grant his wish.
Every time we go on a road trip the first thing I want to eat is a Reese's Peanut Butter Cup. My husband is pretty lucky because I usually share my Reese's peanut butter cups with him. When I was thinking of ideas for this peanut butter cake recipe Nutter Butter Cookies came to mind because as a child my dad would always buy the Nutter Butter wafers. It felt like such a treat to share those with him. So, when deciding on what to add to this cake I couldn't help but go with Nutter Butters.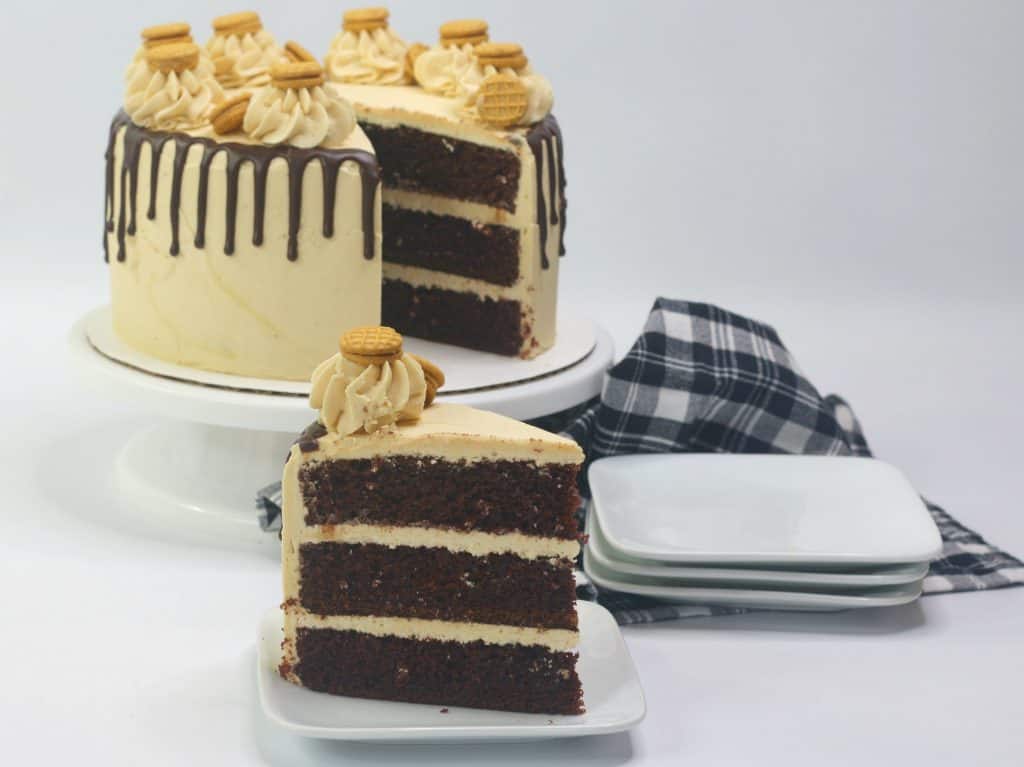 We like Reese's peanut butter in our household which is what I used for this recipe. You are welcome to use your favorite peanut butter I won't judge! We just think that Reese's gives it just a little more richness to the cake but then again it may be all in our heads!
Equipment
Three 9 inch round cake pans
Ingredients
Cake Ingredients
2

boxes of milk chocolate cake mix

2 ½

cups

milk

2

cups

unsalted butter

softened

6

large eggs
Peanut Butter Frosting Ingredients
2

cups

unsalted butter

3

cups

powdered sugar

4

tablespoon

heavy whipping cream

½

cup

Reese's peanut butter

1

teaspoon

vanilla
Chocolate Ganache Ingredients
1

cup

semi sweet chocolate chips

½

cup

heavy whipping cream

1

bag

Mini Nutter Butter Cookies for topping
Instructions
Cake Directions:
Preheat oven to 350 degrees and spray three 9 inch round cake pans
with pam baking spray, set aside

Using a hand mixer and a large mixing bowl, beat all cake ingredients
together until fully combined.

Divide batter between the two baking pans and bake in the preheated
oven for 25-35 minutes or until a toothpick comes out clean in the
center

Allow to cool completely on the counter.

Once cooled, remove cakes from cake pan and cut the domes off


Frosting Directions
Using a standing mixer, combine the butter, powdered sugar, heavy
whipping cream, peanut butter and vanilla and mix on medium speed
until smooth and creamy.
Building Cake Directions
Place the first cake layer onto a serving plate

Scoop 1 C of frosting onto the first layer and smooth out evenly

Place the second layer of cake onto the first layer of frosting

Place another scoop of frosting onto the second layer of cake and smooth evenly

Repeat steps with remaining cake layers

Once all layers have been frosted, frost entire cake

Scoop remaining frosting into a piping bag and set aside
Chocolate Ganache Directions:
Using a small pot, heat up the heavy whipping cream until steaming

While heavy whipping cream is heating up, place chocolate chips into a
heat-proof bowl

Once the heavy whipping cream is heated, pour over the chocolate chips

Allow to sit for 1 minute before whisking until smooth

Pour ganache into the squeeze bottle
Decorating Directions
Using the squeeze bottle, to create a drizzle effect around the top of
the cake, squeeze some ganache over the side allow the chocolate
ganache to drip down

Pour ganache onto the center of the top of the cake and smooth evenly
to coat the top

Allow to sit for 10 minutes to allow ganache to harden

Pipe dollops of frosting onto the top cake

Place a nutter butter cookie onto the top and side of the frosting dollops

Cut into slices and grab a large glass of milk!
Notes
You can use any type of peanut butter that you wish. 
Nutrition
Calories:
925
kcal
|
Carbohydrates:
43
g
|
Protein:
9
g
|
Fat:
82
g
|
Saturated Fat:
48
g
|
Cholesterol:
271
mg
|
Sodium:
119
mg
|
Potassium:
282
mg
|
Fiber:
2
g
|
Sugar:
39
g
|
Vitamin A:
2319
IU
|
Calcium:
112
mg
|
Iron:
2
mg