Pork Bao Buns are snow colored fluffy buns filled with a flavor pork mixture.
Instant Pot Pork Bao Buns are snow colored fluffy buns filled with a flavor pork mixture.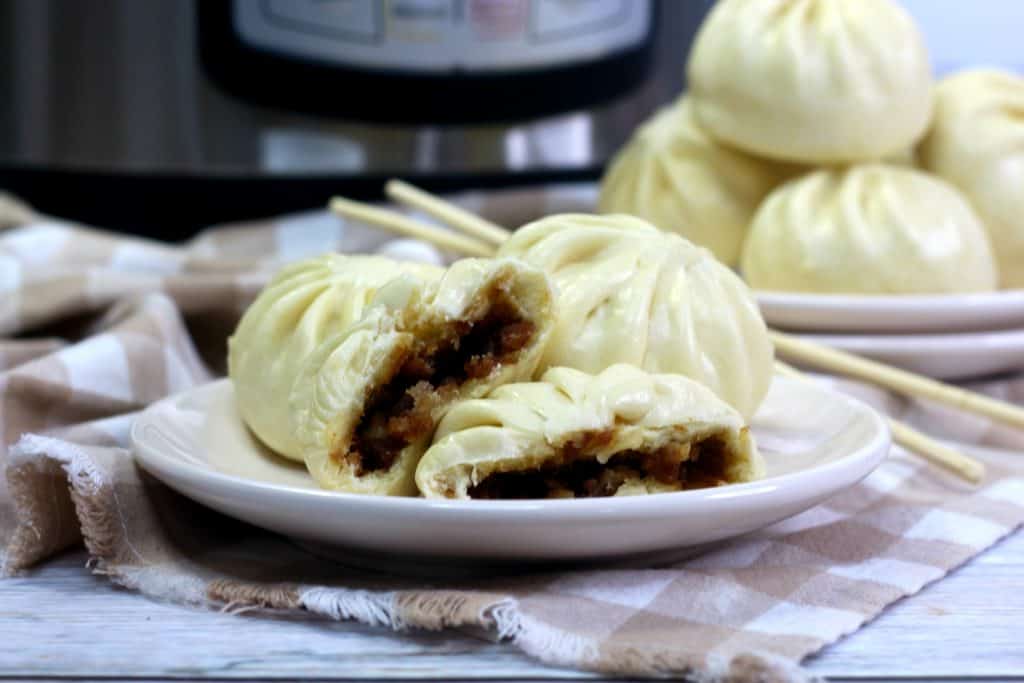 What does Bao mean?
Bao is translated to mean little steamed bun. Bao Buns have originated in China. And, they tend to be popular at Chinese Restaurants.

What are bao buns?
Bao Buns are bite sized steamed buns. Filled with pork, beef, or vegetables and often ginger and oyster sauce. A fluffy white dough is wrapped around the filling and then typically steamed in a bamboo basket.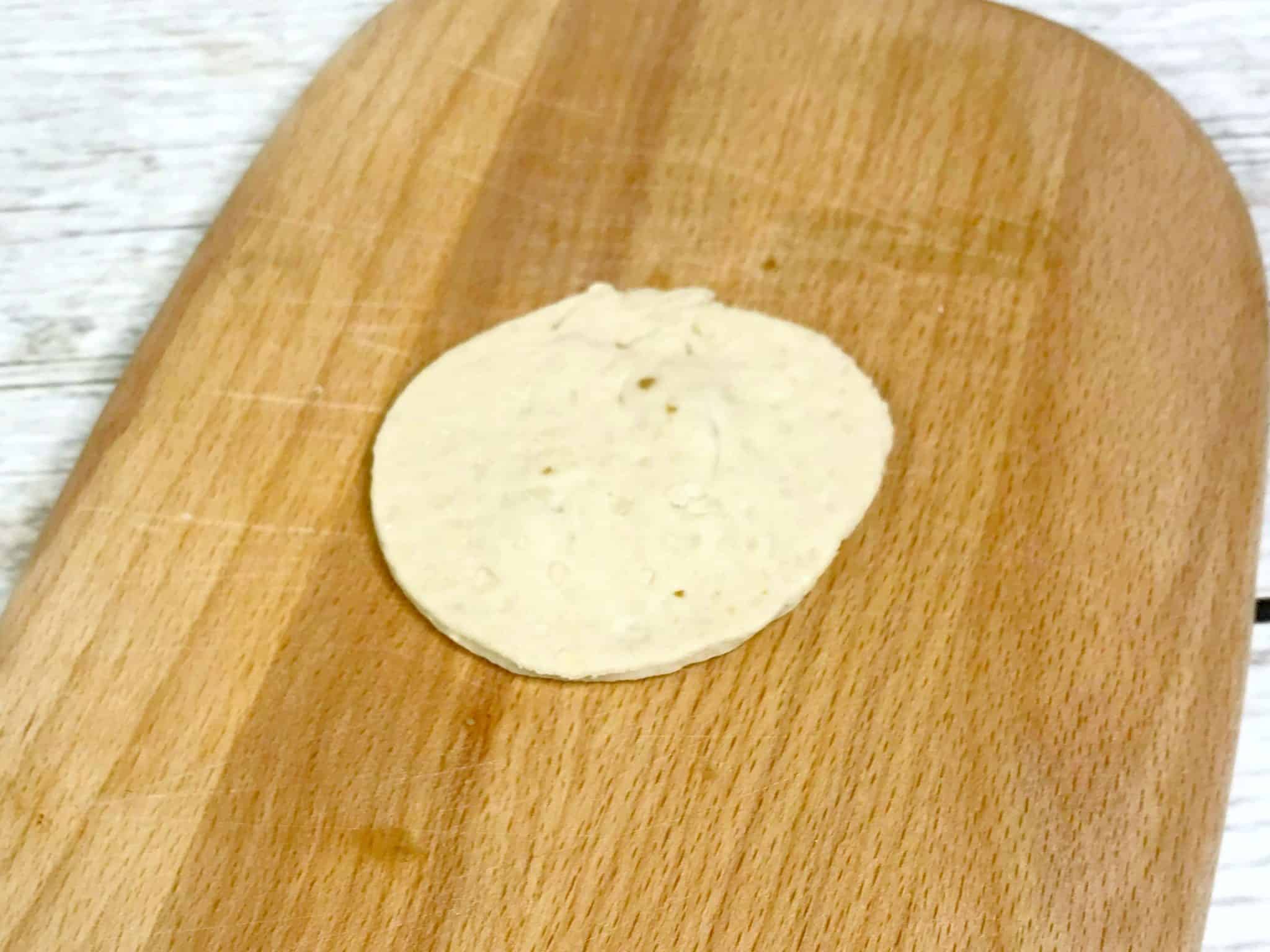 Can I use a different meat?
Yes, you can use a different meat. You can use chicken, beef or pork. Whichever you prefer. Some even just use vegetables instead of adding meat to the filling. These fluffy little steamed buns are very flexible when it comes to the filling. I don't recommend making any changes to the dough however.
What if I don't have an Instant Pot?
If you do not have an Instant Pot you can use a steamer and steam your buns. Typically a bamboo steam basket is used inside of a large pot. However, if you have a stainless steel steam basket that should work just as well for this recipe.
Can I still make these if I don't have a stand mixer?
Yes, you can make these buns without a stand mixer. However, they will be more labor intensive because you will need to knead them for five minutes by hand. It's a great workout for your arms!
What are some tips for making Bao buns?
I recommend using plain flour or all purpose flour. I've found it's best to get the correct color to use bleached white flour. If you are having trouble finding bleached whilte flour you can find it in Asian grocery stores. However, unbleached will also work just fine. You just won't have that snowy white color in your buns.
How can I reheat Bao buns?
I highly recommend storing your leftover Bao buns in the freezer inside of a freezer bag. I would reheat them, by steaming them for five minutes. You can put them back in your Instant Pot for reheat but I would use manual pressure for 3 minutes.
Pork Bao Buns
Pork Bao Buns are snow colored fluffy buns filled with a flavor pork mixture.
Print
Pin
Rate
Equipment
Pressure Cooker/Instant Pot
Ingredients
Dough Ingredients
2

cups

all purpose flour

1

teaspoon

salt

1

teaspoon

yeast

1

teaspoon

sugar

3/4

cup

room temperature water
Filling
2

cups

ground pork

¼

cup

minced onion
Sauce
1

tbsp.

light soy

1

tbsp.

oyster sauce

1

tbsp.

hoisin

1

tbsp.

sugar

1/2

cup

water

1

tbsp.

cornstarch
Instructions
In a small bowl add your soy sauce, oyster sauce, hoisin sauce, sugar, corn starch, and water.

Stir to combine.

In the Instant Pot add your pork, and onion.

Cook until almost done add your sauce,

Stir to combine.

Saute for 5 minutes.

Once done remove from the Instant Pot and set to the side.

Clean the Instant Pot and dry.

In a small bowl add your flour, instant yeast, and sugar.

Stir to combine.

Add your flour mixture to a stand mixer, use a dough hook attachment.

Add your room temp water to the mixture.

Knead the dough mixture for 5 minutes.

Add in the salt and continue to knead until the dough is smooth.

LET it rest, covered, till double, about 45 mins.

Roll the dough out on a flour coated surface.

Using a 4-5 inch circle cookie cutter, cut your buns out.

Work with one dough at a time.

Place the filling at the center and then gather the sides to enclose

the bun and pinch to seal.

Cover with a clean cloth and let them proof for about 15 minutes.

Let the dough rise at room temperature.

This may take about 10-15 mins at warm temperature.

Pour 1 cup of water into the inner pot of Instant Pot.

Place a metal trivet in there.

You can use either a bamboo basket or a plate to steam the buns.

Place it on top of the trivet.

Arrange 3-4 proofed buns in the basket or on a plate.

Close the lid.

Turn the steam release valve to "sealing".

Press "Steamer" and set the timer to 3 minutes.

After 3 minutes of steaming, wait 1 minute and then release pressure.

Serve and enjoy..
Notes
You can change the filling to chicken or beef or anything that you prefer. 
Nutrition
Serving:
1
Bun
|
Calories:
231
kcal
|
Carbohydrates:
24
g
|
Protein:
11
g
|
Fat:
10
g
|
Saturated Fat:
4
g
|
Cholesterol:
32
mg
|
Sodium:
406
mg
|
Potassium:
167
mg
|
Fiber:
1
g
|
Sugar:
2
g
|
Vitamin C:
1
mg
|
Calcium:
10
mg
|
Iron:
2
mg