Every single one of us has had pot pie before, but you've never had Chicken Pot Pie like this before. This recipe is great for those days that you want a nice warm cooked meal, but you don't want to spend all day in the kitchen.
Making Chicken Pot Pie is like enjoying a meat pie. Just like you would enjoy pumpkin pie or apple pie, you can also enjoy chicken pie. Sometimes there is a crust on this pie and sometimes there is not. You get to decide how it's made. However, it's important to remember that it's delicious.
Chicken Pot Pie
Are you looking for something that's comforting? This recipe is the epitome of comfort foods. It's also very creamy and tasty! There are tons of recipes out there, but this one is the best. I may be a little biased, but it is the best!
We make chicken pot pie at least once a month, especially in the wintertime. It's just a matter of mixing ingredients together and you can't go wrong with that.
What Should I Serve with Pot Pie?
You may have whipped up this delicious dish and now you aren't sure of what to serve with it. This is simple! You can serve cornbread, homemade bread, or biscuits. You can never go wrong with serving any kind of bread with this meal!
How to Store Chicken Pot Pie
Are you curious about how you can store this pot pie? EASY. Grab an airtight container and place the pot pie inside. You can store it here for around 3-5 days, but then it needs to be eaten or thrown away. This is also an easy meal to freeze and get out later. It'll be safe in the freezer for 3-6 months. I love having this recipe available to pull out for a potluck or for bringing to a friend.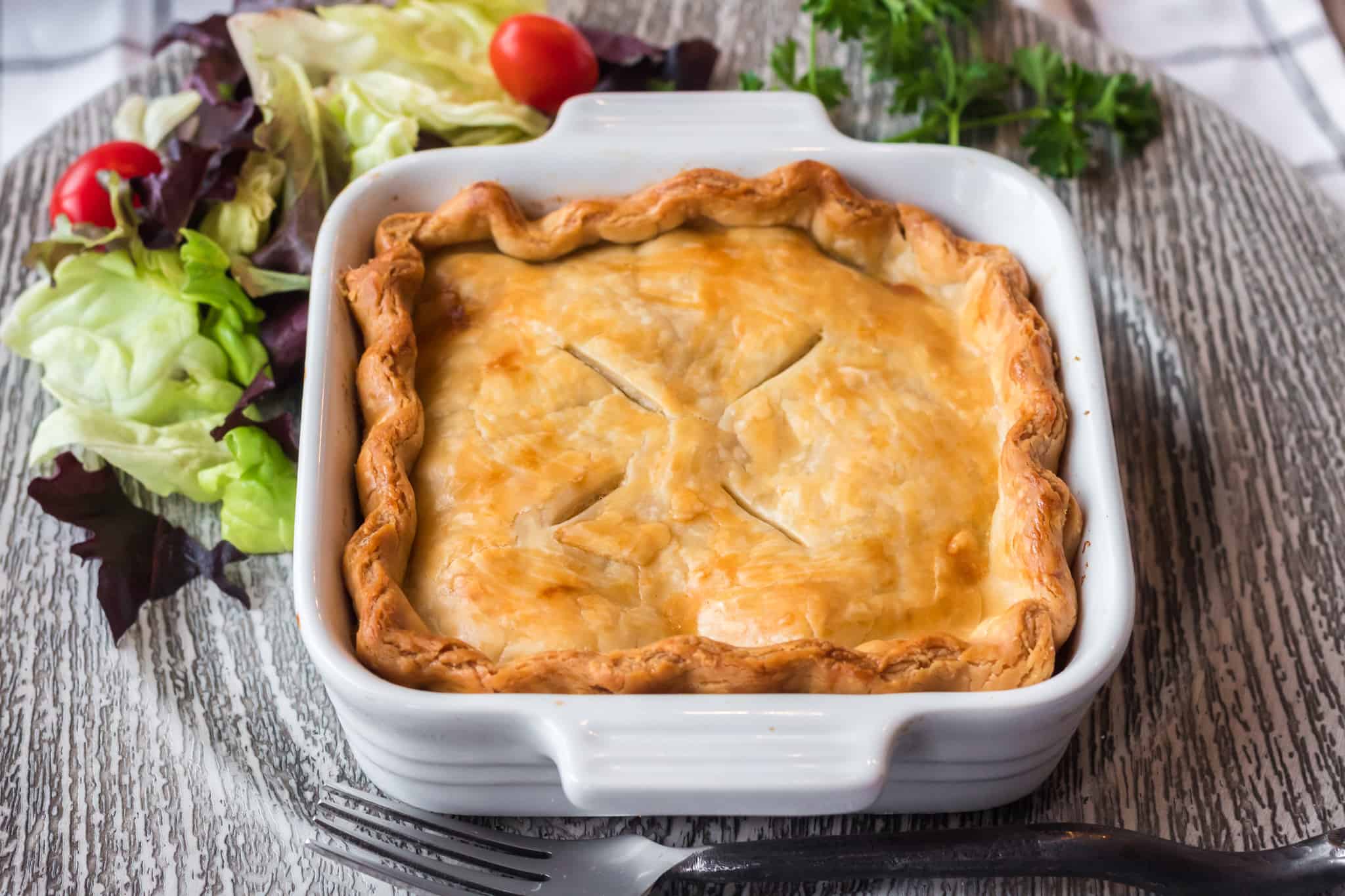 Variations of Pot Pie
Are you wondering what variations of this meal you can make? I always say there are different ways to make meals, you just have to get creative. One of my favorite variations of this meal is changing up the meat. You can easily use steak or venison. Whatever kind of meat you have on hand, I'd be willing to use it in a pot pie. You could use sausage or even ground beef.
If you don't have milk on hand to make this meal, you can always use heavy cream. Don't be shy about adding different vegetables that you love too. You can also use veggies that are going bad in your fridge. I'm a no waste kind of girl, anything that I can use up I try and do.
The next time you want a delicious meal, make sure you give this meal a try. Chicken Pot Pie is something you can make often too and no one will get tired of it. Make two and freeze one for later. Take one to a friend and allow them to enjoy it.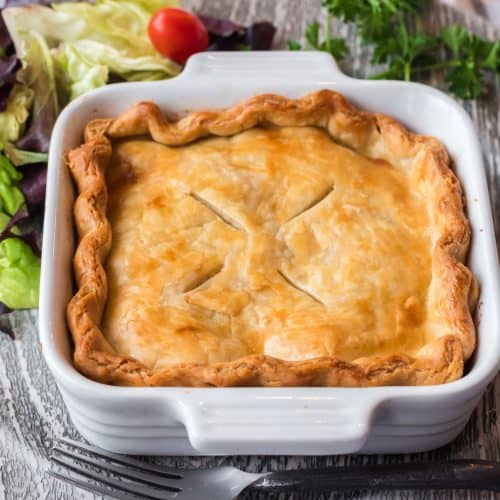 Ingredients
4

tablespoon

salted butter

4

tablespoon

all purpose flour

1

can

cream of chicken soup

10.5 oz

1 ½

cup

half and half or milk

1 ¾

cups

chicken broth

2

cups

cooked chicken

diced

2

cups

frozen mixed vegetables-

thawed

½

teaspoon

poultry seasoning

½

teaspoon

salt

¾

teaspoon

thyme

1

pkg

refrigerated pie crusts

1

egg plus 1 tablespoon milk
Instructions
Preheat oven to 425 degrees.

Spray baking dishes with non-stick cooking spray.

Lay out the box of refrigerated dough and allow to come to room temperature.

Melt butter over low heat.

Stir in flour to make a smooth paste. This is called a roux.

In separate pan, bring chicken broth to a boil. Lower heat to medium high.

Add roux, a tablespoon at a time to the chicken broth, continually whisking

Keep adding roux and whisking until the mixture is thickened.

Add milk, a little at a time and continue stirring over heat until mixture is smooth and a pudding like consistency. Do not allow to get too thick as it will continue to thicken as it bakes in crust. You can add more milk if it becomes too thick.

Add chicken, mixed vegetables, thyme, salt and poultry seasoning. Stir and set aside.

Unroll pie dough onto floured surface.

Using one of the dishes you are baking in as a template, cut the shape of the bottom of the dish out of the pie dough. You may need to gather pieces and reroll dough as you cut.

Place a piece in the bottom of each dish.

Cut pieces out of dough to fit the top of each dish plus one extra inch all the way around.

Fill each dish about ¾ full with the chicken filling.

Mix egg and 1 T. milk with a fork, whipping lightly.

Brush around edges of each top piece.

Flip pieces over onto the tops of the filled dishes

Fold top pieces under about 3/4 inch onto itself and crimp the edges. Brush the surface of the tops with egg wash. Cut several slits in tops to allow steam to escape.

Bake on center rack of oven for approx. 30-35 min. or until golden brown.
Notes
I made this recipe into three mini pies.  However, you can make them into one large 9 inch pie if you would like. 
Nutrition
Serving:
1
pie
|
Calories:
683
kcal
|
Carbohydrates:
38
g
|
Protein:
37
g
|
Fat:
44
g
|
Saturated Fat:
22
g
|
Cholesterol:
218
mg
|
Sodium:
1935
mg
|
Potassium:
808
mg
|
Fiber:
5
g
|
Sugar:
1
g
|
Vitamin A:
7382
IU
|
Vitamin C:
24
mg
|
Calcium:
204
mg
|
Iron:
5
mg