These tender, sweet, and sticky Instant Pot BBQ Wings are what your dreams are made of! They come together without much effort and cook up quickly in the pressure cooker.
One of my favorite things about the Instant Pot is that I don't have to remember to thaw the meat before putting it in the pot. I am the world's worst at remembering to take the meat out of the freezer the night before and it's the main reason that I bought and use my pressure cooker.
My Instant Pot was a Christmas gift from my mother in law. And, I'm getting pretty good at using it now. I will admit it does have a little bit of a learning curve. But, I've made several dishes that my family loved. Like this Instant Pot Chicken Fried Rice. Now, that I'm loving these pressure cooker recipes I'm kicking myself for not getting an Instant Pot sooner! What in the world was I thinking waiting so long?
This Instant Pot BBQ Wings recipe is perfect for game day, family parties or gatherings or even just for a weeknight dinner with your family. We love wings in our house, however when we go out to eat and order wings I just feel like they are so expensive. When we started budgeting to get out of debt the first thing that we cut was eating out. I still wanted my family to be able to eat their favorite foods but not spend the extra on eating out. So, I started recreating our restaurant favorites at home. This BBQ Wings pressure cooker recipe has really replaced that desire to go out for wings for our family.
My girl has some food texture issues and these Instant Pot BBQ Wings are always a hit with her. She says they are the perfect moist texture plus she loves the sticky sauce on top of the wings. We also have to keep the spice level down for her, and she says these have the perfect amount of spice. These Instant BBQ Wings have become a dinner staple in our house. We make them at least once every other month. I'm looking forward to pulling out these pressure cooker wings for a family barbecue this spring. I can't wait to wow my family their tender and delicious flavor.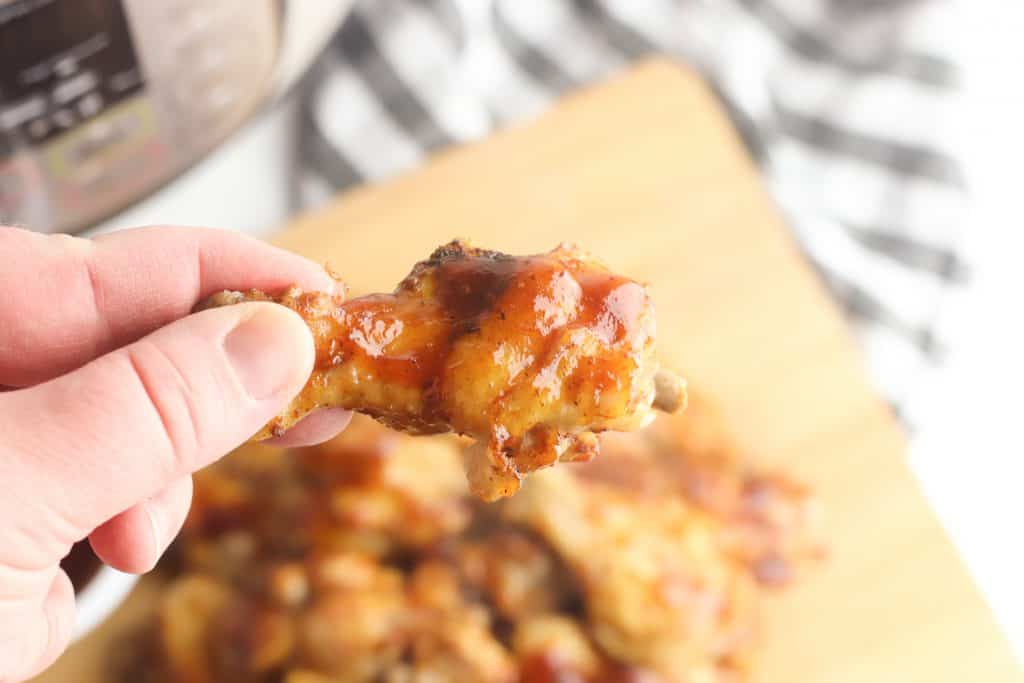 To make these wings I started with making a dry rub of sorts. You will want to take your wings and drizzle them with vegetable oil and then sprinkle on your rub. This is what gives your wings their amazing flavor. When you are placing these wings into your Instant Pot be sure to not allow them to fall into the water. You want them to stay dry and on top of the trivet. This helps me get crispy instead of soggy. You don't have to put your wings in the broiler like I do, however I feel like broiling them for just a few minutes is what gives them their amazing sticky flavor.
Ingredients
1

tablespoon

paprika

½

tablespoon

brown sugar

1

teaspoon

chili powder

1

teaspoon

salt

½

teaspoon

cumin

½

teaspoon

pepper

¼

teaspoon

ground mustard

¼

teaspoon

garlic powder

½

teaspoon

onion powder

pinch of cayenne

1

tablespoon

vegetable oil

3

lbs

frozen chicken wings

1

cup

water

½

cup

bbq sauce
Instructions
In a small bowl, combine the paprika, brown sugar, chili powder, salt, cumin, pepper, ground mustard, garlic powder, onion powder and cayenne. Stir to combine and set aside.

Place chicken wings in a large bowl. Add vegetable oil and toss to coat. Sprinkle seasoning over the top of the wings and stir until all the wings are coated.

Place the trivet in the bowl of the Instant Pot and add one cup of water. Place the wings on top of the trivet, making sure to keep the wings from falling into the water.

Place the lid on top of the Instant Pot and seal the vent. Set the pot to pressure cook for 12 minutes.

When the cook time is up, do a natural release for 5 minutes, the do a quick release to remove remaining pressure.

Remove the wings from the Instant Pot and place them on a baking sheet. Coat the wings in BBQ sauce and place them under the broiler for 5 minutes before serving.