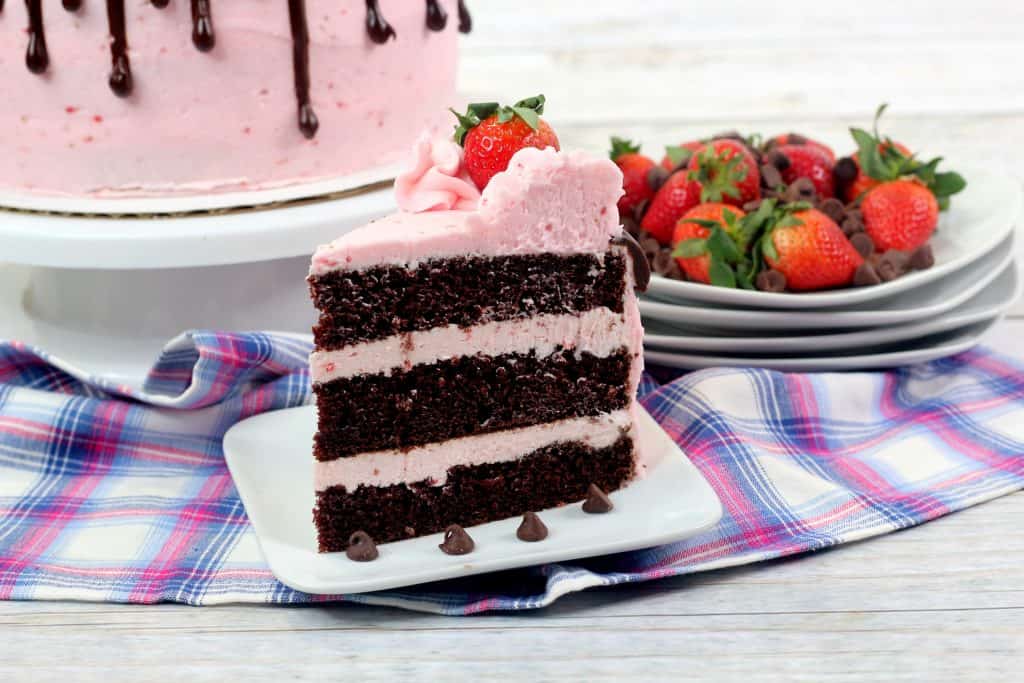 Rich dark chocolate cake with fresh strawberries, strawberry cream frosting and chocolate ganache, all topped with fresh strawberries. The espresso powder gives this cake a deep rich chocolate flavor which is bound to wow your taste buds.  The creamy strawberry frosting tastes like the strawberry and cream that you were used to eating at your grandmother's house as a child.   It always reminds of me a See's Candy.  Oh gracious my mouth is watering just thinking about it.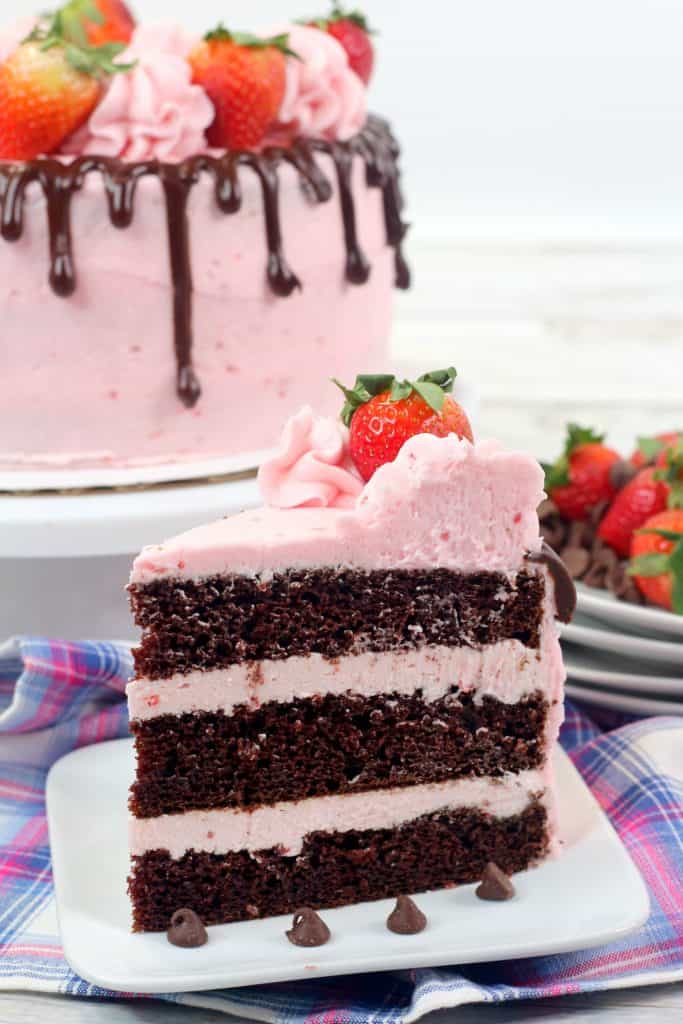 The best part of this Chocolate Strawberry Cake recipe is definitely the combination of the sweet and creamy strawberry frosting combined with the slight bitterness of the dark chocolate rich cake.  The mixture of those two flavors is amazingly delicious.
I love to make this cake for birthdays or even for Valentine's Day.  The beautiful color of this Amazing Chocolate Strawberry layer cake looks like you've spent a fortune on a bakery made cake yet instead it's a more budget friendly and tasty homemade cake.  Let's be real for a minute, a cake that is made with love tastes so much better than any grocery store cake that you could buy.
To bake this cake I used three 9 inch cake pans.  I love a triple layered cake.  It just looks so inviting when you slice into the cake and see the layers of fluffy rich cake, topped with creamy and sweet frosting. It makes your mouth just crave a tasty bite of it's sweet flavor.  And, that first bite is always the best.  I think the fresh strawberries on top of this Strawberry Chocolate Layer Cake makes it even more beautiful and provides a freshness that you can't compare to a store bought cake.
I'm serving this Amazing Chocolate Strawberry Layer Cake for my family for Valentine's Day this year.  This cake is definitely one of the most popular cakes that I've made.  Then simpleness of just the fresh strawberries on the top of the layered cake really seems to add so much beauty to the cake.  What is your favorite cake to make?
Ingredients
Cake Ingredients
3

cups

all purpose flour

1

cup

granulated sugar

1 ½

cups

special dark chocolate cocoa powder

1

tablespoon

baking powder

1 ½

teaspoon

baking soda

1 ½

teaspoon

kosher salt

4

large eggs

½

cup

sour cream

1

cup

buttermilk

1 ½

cup

warm water

½

teaspoon

espresso powder

½

cup

canola oil

1

tablespoon

pure vanilla extract
Strawberry Frosting Ingredients
2

cups

unsalted sweet cream butter, softened

6

cups

powdered sugar

4

teaspoon

vanilla extract

½

cup

finely diced strawberries

5 - 7

tablespoon

tbsp heavy whipping cream

Strawberry for topping
Chocolate Ganache Ingredients
1

cup

semi sweet chocolate chips

½

cup

heavy whipping cream
Instructions
Preheat oven to 350 degrees and spray three 9 in cake pans with pam baking spray

In a small bowl, whisk together the espresso and the warm water until combined

Using your standing mixer, whisk together the flour, sugar, cocoa powder, baking soda, baking powder and salt until combined

Gradually add in the eggs, sour cream, buttermilk, espresso, oil and vanilla extract until combined and

Divide the batter between the 3 pans

Place in the oven to bake for 25-35 minutes or until a tooth pick comes out clean

Allow cakes to cool for 20 minutes
Strawberry Frosting Directions
Using a standing mixer, cream together the butter, vanilla, powdered sugar, diced strawberries and heavy whipping cream until combined and creamy and stiff with peaks

Scoop 1 C of frosting into the piping bag

Directions to build the cake

Place 1 layer of cake onto the cake board

Using the ice cream scooper, scoop out 4-6 scoops of frosting and smooth evenly on one layer of cake

Place another layer of cake on top and spread more frosting

Place the last layer on top and frost the remaining cake with remaining frosting

Using a small pot, heat up the heavy whipping cream until steaming

While heavy whipping cream is heating up, place chocolate chips into a
heat-proof bowl

Once the heavy whipping cream is heated, pour over the chocolate chips

Allow to sit for 1 minute before whisking until smooth

Pour ganache into the squeeze bottle

Pipe dollops of ganache over the edge of the cake

Pipe dollops of frosting onto the top of the cake

Place strawberries into the dollops of frosting