Tender and juicy chicken breasts filled with cheese and bell peppers.
How many of you got a new air fryer for Christmas and are dying to use it? Air Fryer Fajita Stuffed Chicken Breast is one of the best recipes you can make in that new air fryer of yours. When I cook in my air fryer, everything comes out tasty, and perfectly golden. It's such a nice change to any fried food I've had in the past. If you are trying hard to think of what to do for dinner, then this recipe might be for you!
Air Fryer Fajita Stuffed Chicken Breast
You know, trying to find meals that the whole family will love can be super hard. I feel as though chicken is always a safe bet. You can get chicken on sale, freeze it, and then pull it out when you're ready to make something! Pairing chicken breast and the air fryer is a genius move. Not only can you make this recipe, but you can make many more to come. This is a juicy and tasty recipe that you'll enjoy for many more years to come. It's made a regular appearance on our weekly menu. Air fryer recipes are a true win!
Can You Cook Frozen Chicken in the Air Fryer?
Do you have a heap of frozen chicken breast that you aren't sure what to do with? If you want success with cooking frozen chicken in the air fryer, then it needs to be at a really high temp. I'm talking 390 degrees. Of course, you'll want to make sure you read the manual and see what your specific air fryer says. In the air fryer, you'll need to cook the chicken breast for at least 20-25 minutes. Again, make sure you read the manual of your air fryer brand to get the best results.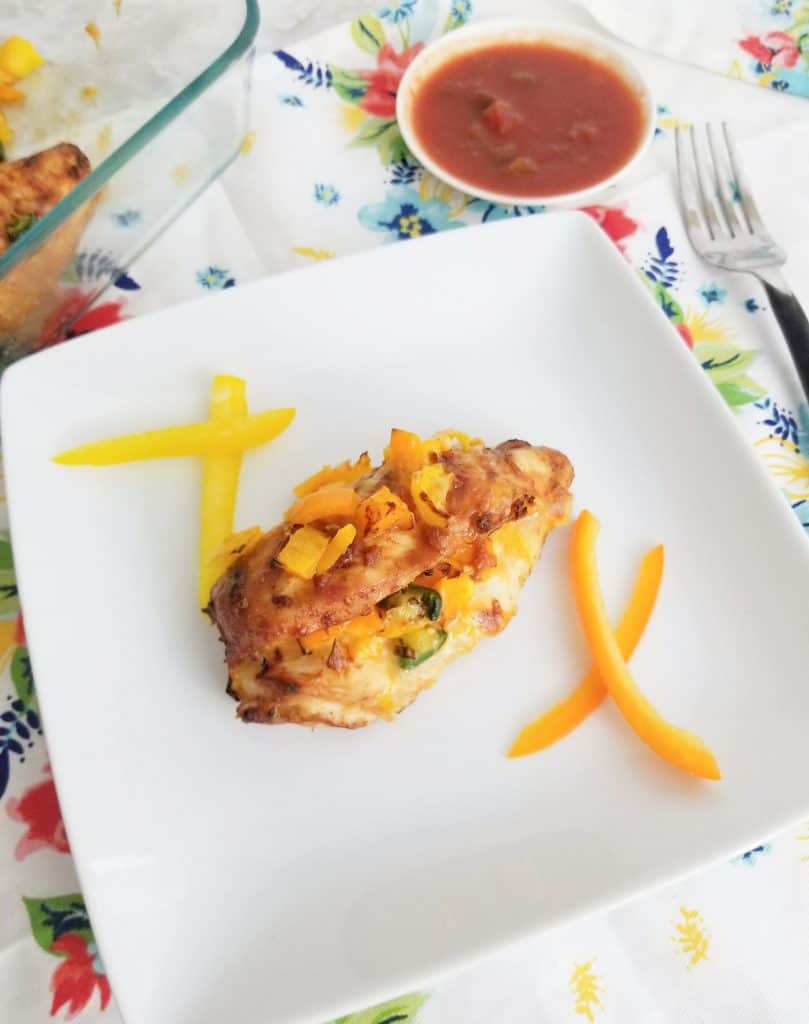 Is Air Fryer Chicken Healthy?
You may be wondering if this Air Fryer Fajita Stuffed Chicken Breast is Healthy. Most foods that you cook in the air fryer are going to be healthier than the ones deep-fried. This is because of the air frier using a lot less oil than a deep fryer. Essentially, you can cook foods that aren't necessarily healthy, but they will be a healthier version of themselves in the air fryer. For example, french fries may be slightly healthier because they're not cooked in a ton of oil.
What Are the Best Foods Cooked in an Air Fryer?
If you are new to the air fryer scene, you may be wondering what kind of foods are best cooked in here. Well, some of the best foods are chicken, chips, fries, baked potatoes, roasted veggies, and potatoes wedges. Really, if you can think about making it in a deep fryer then you can make it in an air fryer. The possibilities are endless.
The next time you're looking for delicious food to make for your family, consider making this Air Fryer Fajita Stuffed Chicken Breast. It'll be one of your favorite meals to make for your family!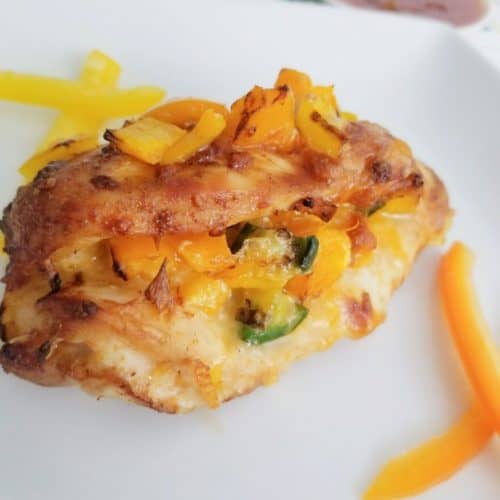 Ingredients
4

boneless skinless chicken breasts

1

tablespoon

olive oil

1

fajita seasoning packet

1

yellow bell pepper

1

orange bell pepper

1

jalapeno

1

cup

shredded colby jack cheese
Instructions
Make a slit in the side of chicken breasts creating a pocket.

Brush olive oil on chicken and dip each chicken breast into fajita seasoning.

Dice bell peppers and jalapeno and add to a medium bowl.

Add cheese to the peppers and mix.

Spoon pepper mix into chicken breasts and close securing with toothpicks. Reserve any leftover pepper mix.

Place into Air Fryer basket and set temperature to 375 and cook for 20 minutes. Or until internal temperature of 165 degrees.

Remove toothpicks and add remaining pepper and cheese mixture over top of the stuffed chicken breasts and cook for another 5 minutes.

Serve hot with toppings of choice, sour cream, salsa, ht sauce, cilantro! 
Notes
If you do not have an Air Fryer you can baked these in your oven. 
Nutrition
Serving:
1
serving
|
Calories:
309
kcal
|
Carbohydrates:
5
g
|
Protein:
32
g
|
Fat:
17
g
|
Saturated Fat:
8
g
|
Cholesterol:
104
mg
|
Sodium:
332
mg
|
Potassium:
586
mg
|
Fiber:
1
g
|
Sugar:
2
g
|
Vitamin A:
1391
IU
|
Vitamin C:
98
mg
|
Calcium:
239
mg
|
Iron:
1
mg