Chicken Breast chunks battered and coated in a sweet and tangy sauce.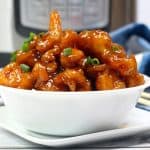 Enjoy takeout at home with this Instant Pot Honey Chicken.
My Instant Pot Honey Chicken recipe is chicken breasts, covered in a sweet sticky sauce.
I really enjoy remaking my favorite takeout recipes at home. When I make them at home I know that I'm eating something healthier and it's a lot better on the wallet at the same time!
My family loved this instant pot recipe. And, well I did also because it's simple and I got dinner on the table in under 30 minutes. I did serve my Honey Chicken with white rice. If you want to get extra fancy you can use my Chicken Fried Rice Recipe to go with your Instant Pot Honey Chicken.
If you want to use frozen chicken for this recipe, you will want to thaw the chicken first. The chicken needs to be dry so that the batter will stick to the chicken. You can also substitute low sodium soy sauce if you want to use it instead of regular.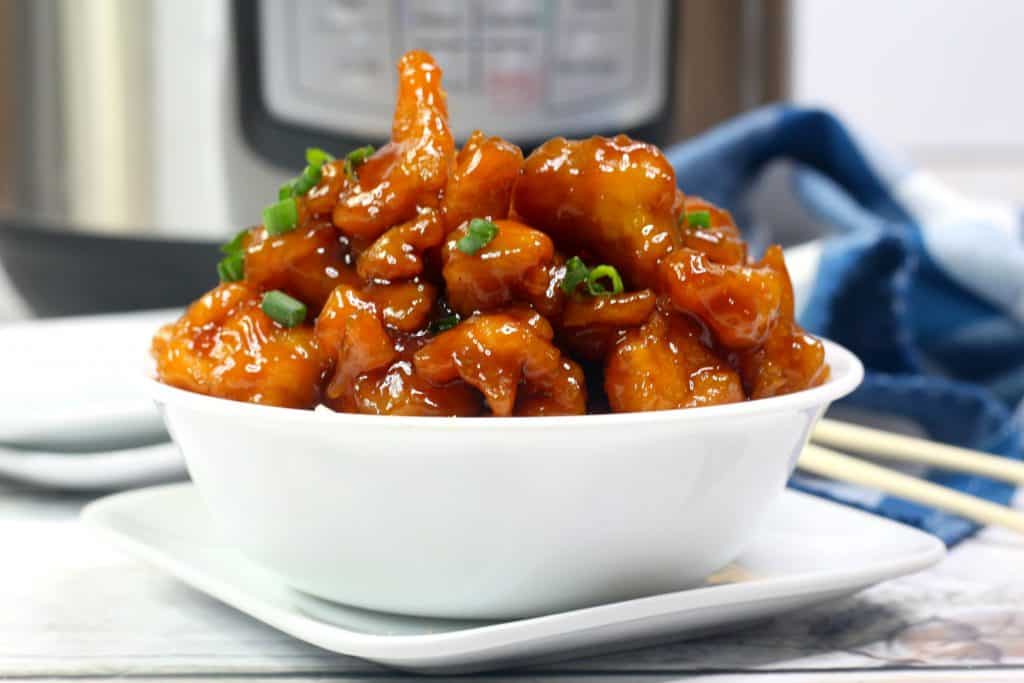 I made sure to keep the ingredients for the recipe simple so that you wouldn't need to spend extra money on ingredients for dinner. One of the ways that I keep my grocery budget as low as possible but I try to make sure that I also make great food for my family. This recipe fits that need perfectly.
You will need all purpose flour, corn flour, baking powder, salt, water, and sesame oil to make a batter for your chicken. This batter is what makes your recipe more authentic and brings in the takeout texture and flavor.
The sauce requires ketchup, sugar, honey, soy sauce and water. Just a note I did not use low sodium soy sauce, however you are welcome to use it if you would like. If you've been reading my blog for awhile, you would know that I love honey chicken.
It is always one of my first orders when we order take out. What I love the most about making this recipe at home is that it comes out consistent every time and lately my Chinese takeout restaurant has been very inconsistent with their food.
To prepare your chicken you will need to pat it dry, chop it into chunks and then set it to the side. In a small bowl you will want to whisk together all of your sauce ingredients until they are combined. Then you will set that to the side while you work on the batter.
Add all your batter ingredients but keep the water to the side. After you have whisked all your batter ingredients you will want to slowly whisk in the water. You are looking for a thicker batter. You don't want the batter to be runny.
After you have mixed up your sauce and batter, you will want to dip each piece of chicken into the batter, and then place it on a parchment lined sheet pan. You will want to repeat this step until all the chicken has been dipped into the batter and placed on the baking sheet.
Once you have all the chicken prepared, place the oil into the Instant Pot and press the saute function. Allow the oil to heat up, and then place the chicken in the oil once it is bubbling hot. The chicken has to be in a single layer in the Instant Pot. So, you may need to cook your chicken in batches.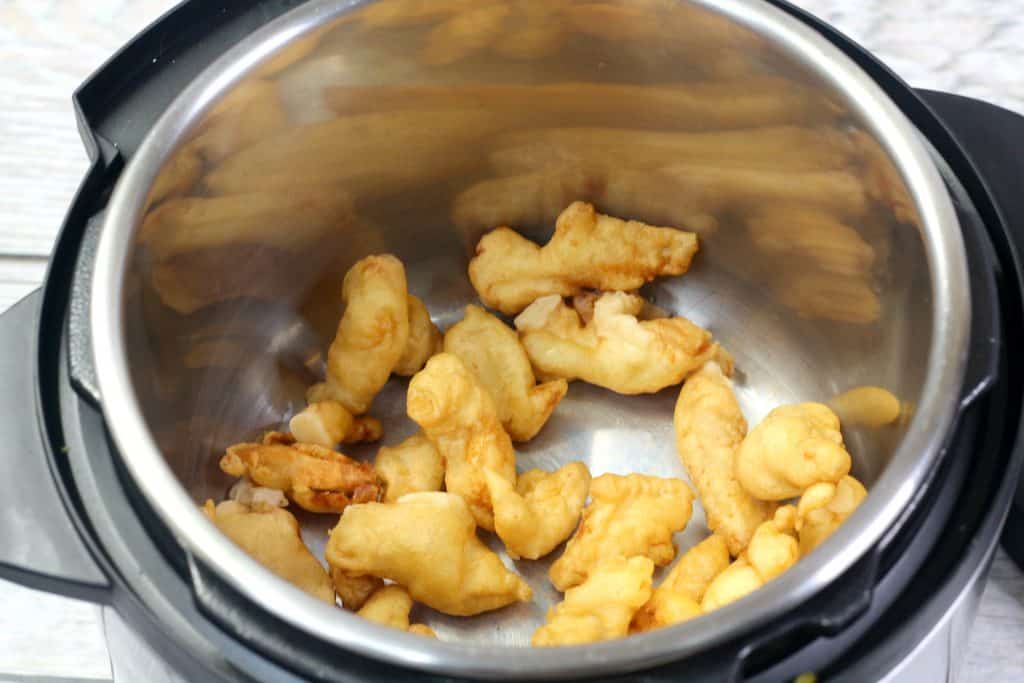 Cooking the chicken in a single layer allows your chicken to get crispy just like your favorite takeout restaurant. You will want to turn the chicken over, so that the chicken cooks evenly. You are waiting for the chicken to take on a golden brown color to ensure that the chicken is cooked thoroughly. After your chicken is finished cooking, you will want to transfer it to a paper towel lined plate to drain off the excess oil.
After all your chicken has been cooked and drain thoroughly, wipe out your Instant Pot insert and add the cooked chicken back into your Instant Pot. Pour your sauce that you made earlier onto the cooked chicken, and toss until the chicken is covered with the sauce, and then sauce is spread evenly.
Once your chicken is thoroughly combined you will place the lid onto your instant pot and set your valve to the sealing position. You will set your Instant Pot to manual high pressure for four minutes. Once the timer goes off you will want to quick release the steam by changing your valve to release.
You will want to serve this Instant Pot Honey Chicken hot. We serve ours over a bed of white rice. I also like to serve broccoli with my Honey Chicken.
I just lightly steam the broccoli for a couple minutes in the microwave. We prefer jasmine or basmati rice than the usual plain white rice.
I always top my Instant Pot Honey Chicken with sliced green onions as a garnish mostly because I like them, but I also think they add a little pop of green color to the meal. If you want to get a little fancy you can also use a little sesame seeds sprinkled on the top of the Honey Chicken.
I really wish the Instant Pot was popular when I was first married. I can't tell you how many dinners having an Instant Pot would have saved when I was working crazy hours as a grocery store customer service manager.

NEVER MISS A RECIPE. LIKE MY FACEBOOK PAGE
Instant Pot Honey Chicken
Chicken Breast chunks battered and coated in a sweet and tangy sauce.
Print
Pin
Rate
Ingredients
1 - 1.5

lbs

chicken tenders, sliced into chunks
Batter Ingredients
½

cup

All Purpose Flour

½

cup

corn flour

¼

teaspoon

salt

¼

cup

water

¾

teaspoon

sesame oil

for frying
Sauce Ingredients
½

cup

tomato ketchup

2

tablespoon

sugar

3

tablespoon

honey

1

tablespoon

soy sauce

2

tablespoon

water
Instructions
Prepare your chicken and pat dry. Be sure to thaw your chicken if frozen.

Set to the side.

In a small bowl add all of the sauce ingredients, mix to combine.

Set aside.

Add the batter ingredients in a bowl, whisk to combine.

Add the water slowly and make it into a semi thick batter.

Dip each chicken in batter and then place on a parchment lined baking sheet.

Place the oil in the Instant Pot and set to saute.

Place the chicken in the oil once bubbling hot.

Chicken has to be in a single layer.

Turn the chicken over to evenly cook.

Cook chicken until golden brown.

Remove the chicken and place onto a paper towel covered plate, and set aside.

Wipe clean the Instant Pot insert.

Add sauce into the Instant pot and add the chicken.

Toss to combine.

Close the lid and seal the valve.

Set to manual high pressure for 4 minutes.

Once the timer sounds open the valve.

Serve over white rice and garnish with sliced green onions

Serve hot..
Nutrition
Serving:
4
servings
|
Calories:
427
kcal
|
Carbohydrates:
54
g
|
Protein:
39
g
|
Fat:
5
g
|
Saturated Fat:
1
g
|
Cholesterol:
109
mg
|
Sodium:
870
mg
|
Potassium:
750
mg
|
Fiber:
1
g
|
Sugar:
26
g
|
Vitamin A:
205
IU
|
Vitamin C:
3
mg
|
Calcium:
13
mg
|
Iron:
2
mg