This Elvis Blue Suede Shoes Cake is rich, decadent, and beautifully colored.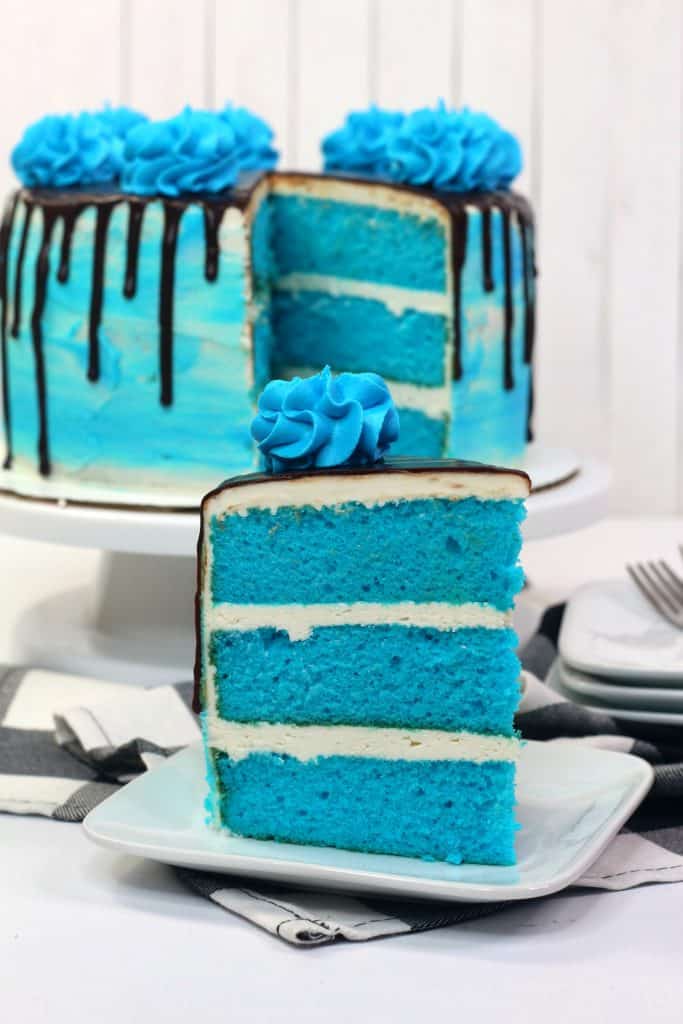 Another name for this beautiful cake is blue velvet cake. This cake recipe is made from scratch but will wow your friends with it's beautiful color and sinfully rich taste. Everyone that tries it will think you spent a lot of money at a bakery but in reality you just whipped out a few of your pantry and fridge staples out and ended up with this decadent dessert.
My mom has always been a huge Elvis Presley fan. She loves to go around and sing his songs. When I was trying to come up with a name for this cake I couldn't help but think of her love of Elvis and that's why I named this cake Blue Suede Shoes.
If you've never made a blue velvet cake recipe before let me tell you, they are one the best cakes you will taste. Its bright blue color makes it seem like it might be complicated but it's simple to make and doesn't require much effort at all. So, don't let the color overwhelm you.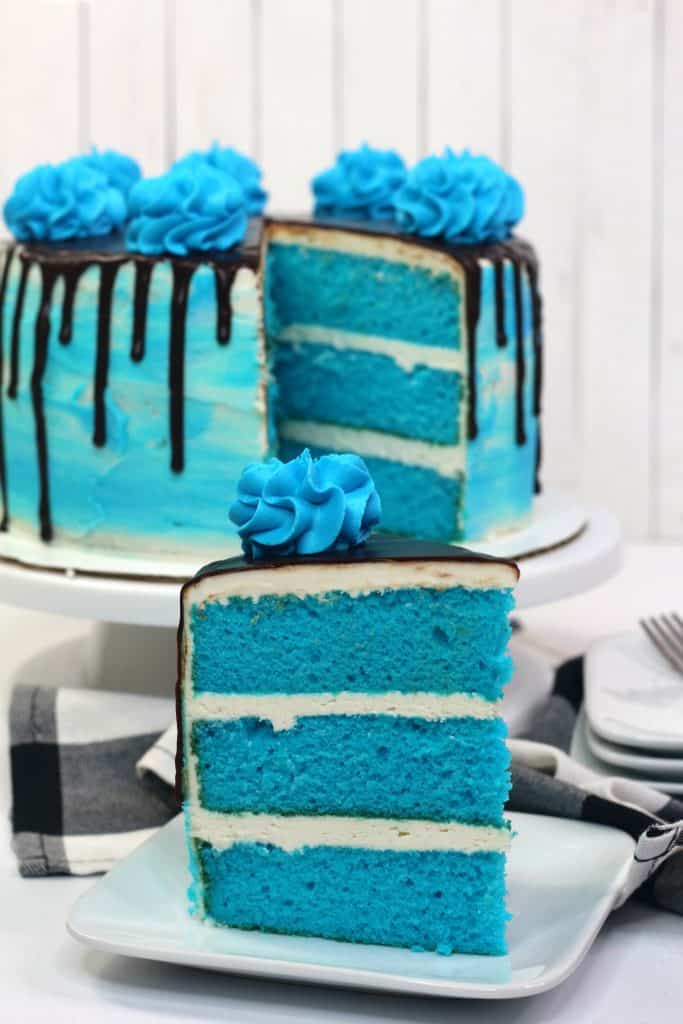 One of the ways that I helped our budget the most was by not paying the premium price at bakeries but learning to make bakery quality treats at home. It's amazing how much a homemade cake can save on your budget.
Your family and guests will think you slaved forever or that you spent so much money on this cake. But, in the end it's not complicated and doesn't require anything fancy. I want you to take all the complaints you get. No need to be modest! No one has to know, it can be our little secret.
Ingredients
1

cup

whole milk

2½

teaspoon

pure vanilla extract

1

cup

unsalted butter, softened

2

cups

sugar

3

cups

flour

1

teaspoon

baking powder

5

large egg whites

3 -5

drops sky blue gel food coloring
Vanilla Frosting
3

cups

unsalted butter

6

cups

powdered sugar

2

tablespoon

pure vanilla extract

5 - 6

tablespoon

heavy whipping cream

Sky Blue Food Coloring Gel
Chocolate Ganache Ingredients
1

cup

semi sweet chocolate chips

½

cup

heavy whipping cream
Instructions
Cake Directions
Preheat oven to 350 degrees and spray all 3 cake pan with pam baking
spray and set aside

In a medium mixing bowl, whisk together the milk and vanilla and set aside

Using a standing mixer, beat together the butter and sugar until light
and fluffy

In a large mixing bowl, whisk together the flour and baking powder

Alternating between the milk and dry ingredients, gradually pour into
the butter mixture. Mixing on low to medium speed until combined

Using another large mixing bowl and a hand mixer, beat the eggs until
stiff peaks form

Fold into the cake batter

Mix in the sky blue gel food coloring until combined

Divide the batter evenly between the three cake pans

Bake in the oven for 23-26 minutes or until a toothpick comes out
clean in the center

Allow the cakes to cool completely before removing from cake pans

Place the cakes onto a cutting board

Using a cake slicer, remove the domes from the cakes

Place one layer of cake onto the cake board
Frosting Directions
Using a standing mixer, beat all ingredients together until stiff
peaks form. About 5-7 minutes

Scoop about 1 C of frosting onto the first layer and smooth out with a
angled spatula


Place the second layer of cake onto the first layer of frosting

Scoop another cup of frosting onto the second layer of cake and smooth
with evenly

Place the remaining layer on top of the cake

Scoop about 2 C of frosting onto the cake and frost the entire cake

Mix in the sky blue gel food coloring into the remaining frosting

Scoop about ½ C of the sky blue frosting into the piping bag

Scoop remaining frosting into the large piping bag with star tip

Pipe lines of the blue color onto the entire cake using the disposable
piping bag

Smooth evenly so that the colors blend
Chocolate Ganache Directions
Using a small pot, heat up the heavy whipping cream over medium to
high heat until slightly simmering

Pour the hot cream over the chocolate chips in a heatproof bowl

Allow to sit for 1 minute before whisking until smooth

Pour into a squeeze bottle

Drizzle the chocolate ganache around the edge of the cake

Using the large piping bag with a star tip, pipe dollops of frosting
around the top of the cake

Place into the fridge over night before cutting into slices and
enjoying with a large glass of coffee or milk.