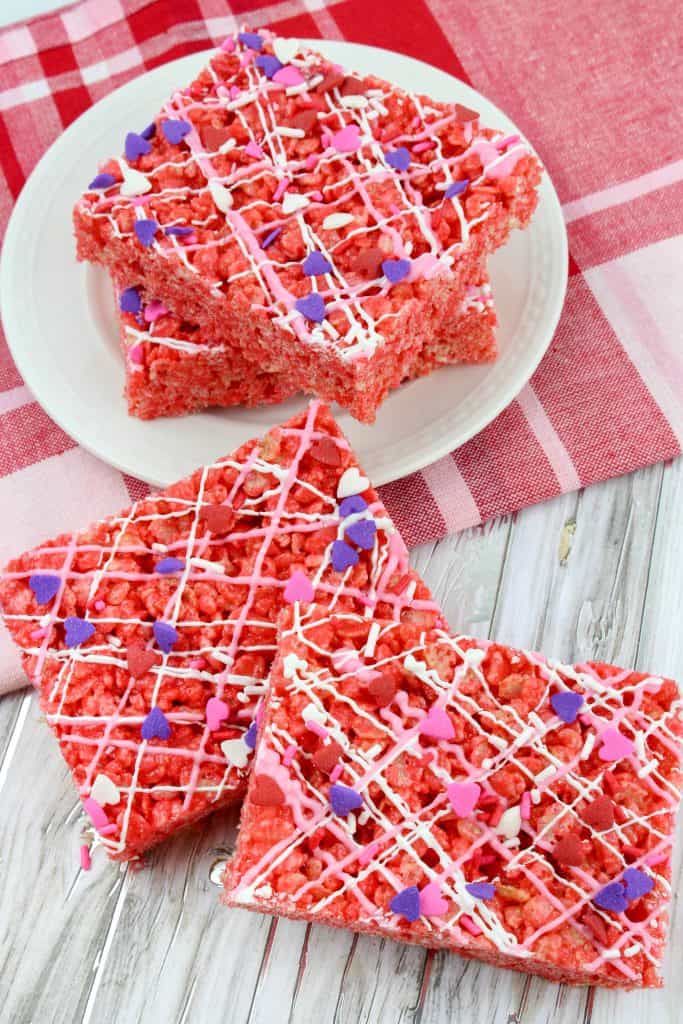 This twist on Rice Krispies Treats brings together the delicious flavor of Rice Krispies treats that you expect and then takes it up a notch by adding in cherry flavor. This is perfect for Valentine's Day or anytime of the year. This Rice Krispie treat recipe is so brightly colored that you won't be able to stay away from them!
One of my favorite things about making Rice Krispie treats is that they are so simple and quick to make.  They take very little effort but yet yield an ooey, gooey, delicious result.    But, when you add in a flavor on top of that already delicious snack, you will be amazed at how much the flavor really pops!  Plus, it makes them such a beautiful color.  These would be perfect if you are having a pink birthday party or even for a school Valentine's party.
What do you call this yummy dessert?  Do you call it Rice Krispy Treat?  Or maybe Rice Cripsy Treat?  I know some that call it Rice Krispies Treats like I do.  And, I know others that call it Rice Cripsy Treats.  No matter what you call this mouth watering snack you are bound to enjoy this recipe and it's beautiful color.  If you want to jazz up the color a little bit.  You can melt some chocolate or white chocolate.  Even melting some frosting would work.  And, then you top them with your favorite sprinkles and you've got a snack that is bound to please every one.  Even the pickest of eaters!
These Cherry Rice Krispies Treats give a different flavor to your old time favorite.  There are a couple members of my household who are addicted to Rice Krispie Treats.  And, this Rice Krispies Treats recipe is always a hit with both of them!  If you love chocolate covered cherries then I want you to try this recipe with a thin layer of melted chocolate on the top!  Just melt down some milk chocolate chips or dark chocolate if you are a fan.  Spread the chocolate on top of the treats and allow it to hardened.  It will have you thinking back to eating that box of Cordial Cherries with your parents or grandparents as a child.  Trust me, it's worth the extra few minutes that it takes!
Ingredients
6

cup

rice krispies

10

oz

bag of mini marshmallow

4

tablespoon

butter

3

oz

box of Cherry gelatin

¼

cup

each of Pink and White Wilton's Chocolate Discs

Valentine Sprinkles
Instructions
In a large pan, melt butter, then stir in marshmallows until combined and melted together.


Add box of cherry jell-o and mix together.

Add rice krispies and mix well.

Place mixture in a 9x13 pan and pat down with spoon. Adding a little butter to the back of your spoon will help the mixture from sticking to it.

Let cool. Once cool, melt chocolates according to package directions. Drizzle each color over rice krispies with a spoon or piping bag.

Immediately add the sprinkles.

Let dry, then ready to eat and enjoy.