These Red Velvet Donuts are the perfect treat and you can feel less guilty about feeding them to your family because they are baked and not fried! Homemade donuts sound like they are a pain to make but they are really easy and delicious.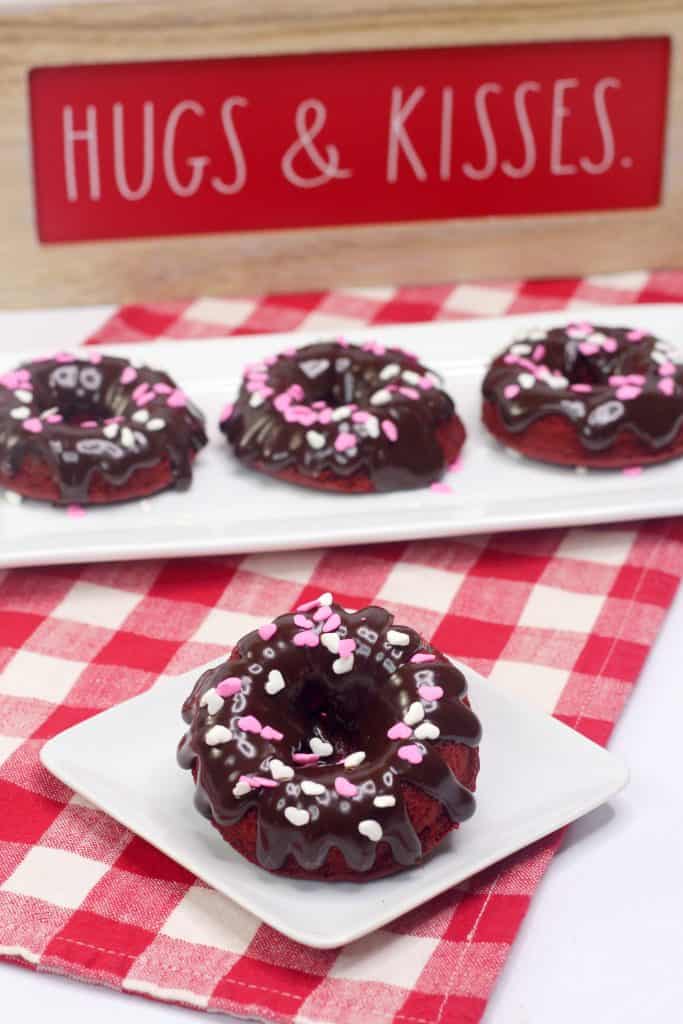 These Red Velvet Donuts are rich and moist. I had some heart sprinkles in the pantry and I couldn't help but sprinkle them on these donuts to make them more festive.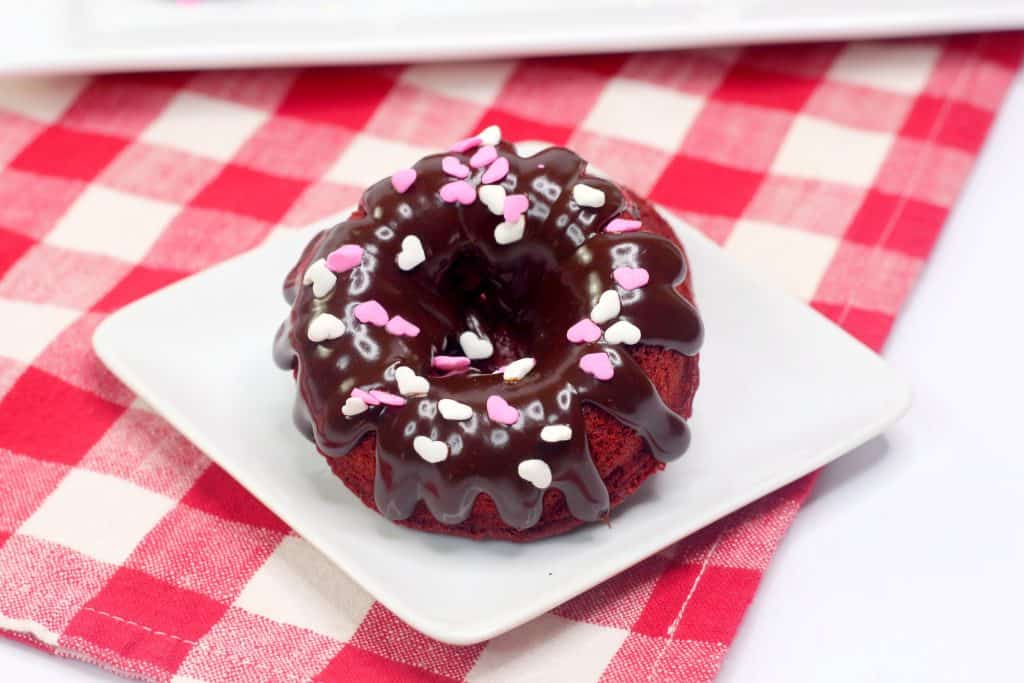 Whenever I think of Valentine's Day, I immediately think of chocolate. But, in our household we tend to be the type of people that wants to avoid the crowds so we prefer to stay home and enjoy our Valentine's day at home instead of in lines at Krispy Kreme or Dunkin Donuts. Plus, ya'll know that I'm that I'm all about saving money and these are simple and budget friendly and really don't take much effort to make.
These Red Velvet Donuts are even perfect for National Doughnut Day, you can simply just change the sprinkles from hearts to something else. Or just leave the sprinkles off all together. I promise they will still be delicious!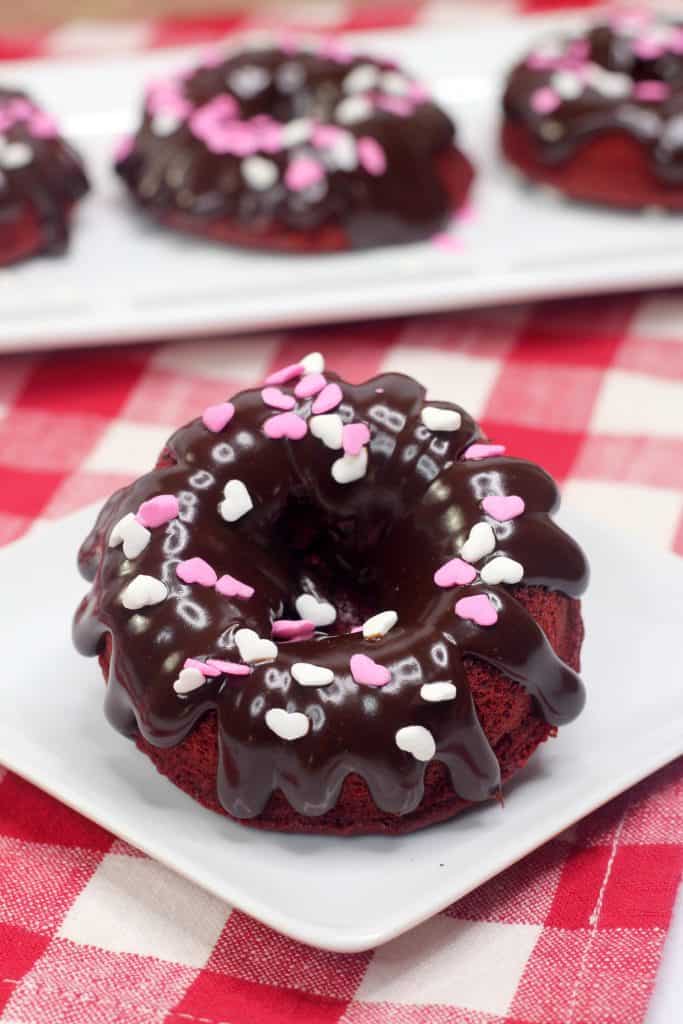 These Red Velvet Donuts would also be the perfect donuts for a class party. They aren't fried so are a little bit of a healthier treat for the children but yet they still feel like they are having a yummy fun Valentine's Day treat. My husband loves donuts Krispy Kreme is by far his favorite. However, they are fried and really not the best for him. So, on Valentine's Day I pull out these Red Velvet donuts to make him a special treat without all the fried fat.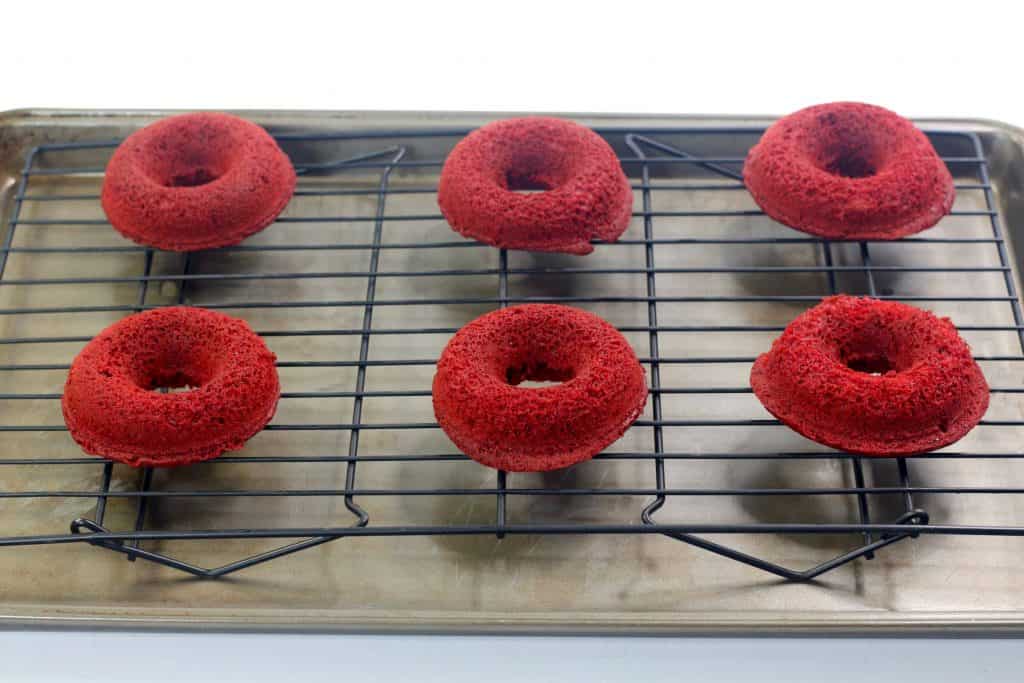 I used a donut pan to make these Red Velvet Donuts. These are budget friendly and helpful to keep on hand. You can make so many other types of homemade donuts with this pan. I've linked the one that I use here for you.
If you are looking for another way to use your donut pan. Next time you are throwing a party pour a little juice into the pan and freeze them. They make great ice rings for punch or juice for the kids! Plus, when it melts it doesn't water down your drink! Do you have any other ways to use a donut pan that is not donuts? Leave me a comment and let me know what you use yours for I would love to hear it!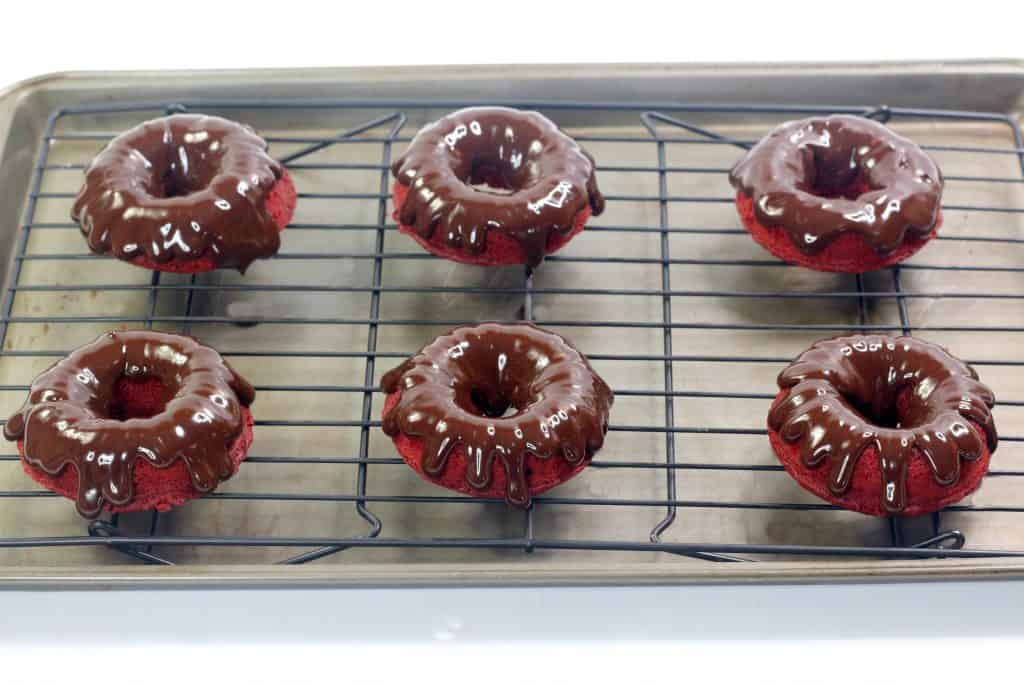 Just a little tip about this donuts. I have found that baked donuts dry out pretty fast. So, if you are not going to eat them all right away I recommend putting a little glaze on them while they are still warm. Water, powdered sugar, and vanilla makes a simple and thin glaze. I use about a half cup of powdered sugar, 1/2 teaspoon of vanilla and a tablespoon of water. You want this to be thin and runny to help seal in the moisture. You would place this glaze beneath your chocolate ganache. The glaze will add a little sweetness but it also seals that moisture in!
Ingredients
1 ¼

cups

all purpose flour

½

teaspoon

baking soda

½

teaspoon

kosher salt

2

teaspoon

Hershey's Cocoa Powder

¾

cup

granulated sugar

½

cup

milk

½

cup

canola oil

1

large egg

2

tablespoon

red gel food coloring

½

teaspoon

pure vanilla extract

½

teaspoon

white distilled vinegar
Chocolate Ganache
1

cup

semi sweet chocolate chips

½

cup

heavy whipping cream

Pink and White Heart Valentine's Day Sprinkles
Instructions
Preheat oven to 350 and spray a donut pan with pam baking spray

Using a large bowl, whisk together flour, baking soda, salt, cocoa, and sugar until combined

Whisk in the milk, oil, egg, red food coloring, vanilla and vinegar until combined and batter is smooth

Spoon batter into donut pan about ½ way full

Bake in the oven for 10-12 minutes or until they are set

Allow to cool for a few minutes before removing and placing onto a wire rack
Chocolate Ganache Directions
Using a small pot, heat up the heavy whipping cream until slightly boiling

Pour chocolate chips into a heat safe bowl

Pour heavy whipping cream over the chocolate chips and whisk until smooth

Pour the ganache over the over the donuts and let sit for a few minutes

Sprinkle some valentine's day sprinkles over the donuts

Allow the donuts to sit for 20 minutes before serving!