Do you have hectic weeknights?  You know those nights when you get home from work just in time to rush out the door to dance or sports?  Then you arrive home with starving kids and bedtime looming?  These 15 Crockpot Recipes for Weeknight Meals are here to save dinner.   I always feel better when I know that I have something going in the CrockPot so no matter how our day winds up there's food ready for hungry children.
15 Crockpot Recipes for Weeknight Meals
I love pot roast.  It's one of my favorite meals.  It reminds me of Sunday's at Grandma's house.  This Crock Pot Balsamic Roast brings back all the feels for me.
Crock Pot Italian Sausage Spaghetti
Your family's favorite pasta dish can be made in the Crock Pot.  This Crock Pot Italian Sausage Spaghetti is delicious, easy to just toss in and go, and your family will rave about it.
Do you love Shrimp Scampi? Want to make it easier?  Toss it the slow cooker and voila you have an amazing dinner without much effort at all.
Cheesy Chicken and Yellow Rice
This Cheesy Chicken and Yellow Rice recipe is filled with cheesy flavorful goodness.  This recipe is bound to be a hit with everyone young and old.
This Crock Pot Beef Stew is a comforting warm bowl of delicious beef and veggies.  It's the perfect easy weeknight dinner to fill up bellies with a hearty meal.
Slow Cooker Chicken Marsala
This Slow Cooker Chicken Marsala is tender, juicy chicken in a wine and mushroom sauce.  This is perfect to serve with a side of pasta for a quick and easy weeknight dinner.
This Crock Pot Enchilada Bake has all the flavors of your favorite baked enchiladas without all the work.  It's a great busy weeknight dinner.
We love Chinese takeout in our house but it doesn't fit in our budget very often anymore.  This Slow Cooker Teriyaki Chicken helps us beat those cravings without spending the extra cash.
This Easy Crock Pot Chicken Curry is an easy flavorful chicken dinner for your family!  This is the perfect way to get dinner on the table without much effort.
This Western Beef Casserole is loaded with  hamburger, beans, corn and tomatoes.  This is a delicious crowd pleaser.
Crock Pot Stuffed Peppers Ground Turkey
These Crock Pot stuffed peppers are loaded with lean ground turkey, cooked rice, and then topped with a tomato sauce.  It's a gluten free recipe that your entire family will love.
This Crock Pot Chicken Soup is a comforting bowl of grain free, dairy free, paleo friendly chicken soup.
Crock Pot Hash Brown Potato Soup 
Crock Pot Hash Brown Potato Soup is creamy and hearty.  When you are craving a bowl of comfort food that you can make  in your Crock Pot this soup is just what you need.
Tacos are a favorite in our home!  We have tacos on a weekly basis with these Crock Pot Chicken Tacos we can still enjoy our love of tacos on a busy weeknight.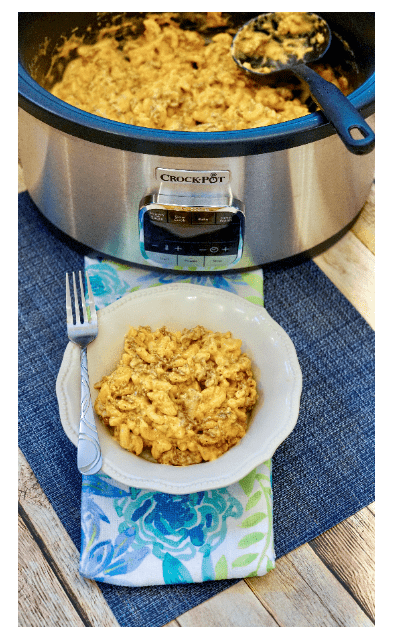 Cheeseburger Mac And Cheese
This Cheeseburger Mac & Cheese is creamy, cheesy and so easy to make! This dish is bound to be a HUGE hit with your family! It's what our mom dreams are made of!